Etihad Aviation Group chief financial officer Adam Boukadida believes there will be further sustainability-linked financing deals both within the industry and beyond after striking a $1.2 billion transaction tied to environmental, social and governance targets.
The Gulf carrier had previously agreed a €100 million loan in 2019 tied to UN Sustainable Development Goals and a $600 million sustainability-linked transition sukok in 2020. It has now struck a $1.2 billion environmental, social and governance (ESG) financing, working with HSBC and First Abu Dhabi Bank as strategic partners and financiers.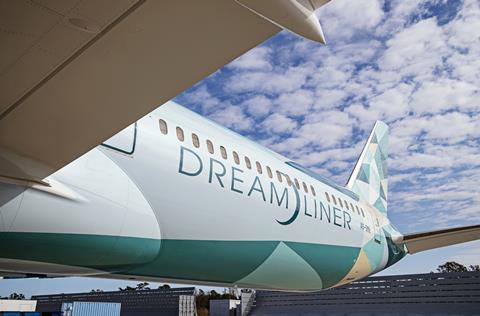 "This the third of three sustainable transactions we have done," Boukadida tells FlightGlobal. "This is definitely the most complex, the largest in scale and as long in terms of maturity as the second deal. This is the first for us, the first for global aviation and the first for the region that is fully ESG compliant.
"From a sustainable finance perspective, this is as broad as it can get," he adds.
The financing is split into two tranches: $500 million under a four-year term and $700 million over five years. The deal includes $5.5 million in potential financial benefits and penalties over the five-year term tied to meeting various ESG targets.
On the environmental strand, Boukadida says it is a continuation of the work Etihad has already been undertaking.
"It's largely linked to our sustainable fleet strategy, and in particular our Greenliner, which contributes to us aiming to reduce our net emissions by 50% by 2035 and then aggressively to zero net emissions by 2050." Etihad's Greenliner programme is a partnership with Boeing under which a 787 has since early last year been used to test potential carbon emission saving products and initiatives.
Boukadida flags announcements to follow next month which will further support achieving these goals. "If we deliver on these financial KPIs, which we are confident we will do – and they are aggressive – it will yield us $2.5 million of financial benefit, in terms of the cost of the borrowing."
A further potential $2.5 million upside could come from its social commitments. "On this part we have committed heavily to gender diversity and empowerment. This KPI is linked to a key part of my remit here, which is our GBSS division – which is our support services function. It is 97% Emiratised and largely female dominated.
"This is not just ticking a box in terms of numbers. There is a structure of development and a training plan overlaid over the five year period to again enhance and empower the 300 members who are there."
A further $500 million is tied to meeting corporate governance and ethics objectives, under its 'Integrity Score' programme.
"It's not just a financial beneficial transaction, this is something that is core to our DNA and our broader sustainability strategy," Boukadida says.
"We like to think we are pretty cutting edge. We humbly believe we can lead by example, and we have no issues with sharing our knowledge – post-execution – for the better of the industry, and beyond aviation. Because there are a lot of transferable learnings that can help finance, banks, CFOs around the world make a more positive impact.
"There are now very many banks who are happy to partner with the right institution to take this agenda forward," he says. "I think you will see the industry, and globally outside of aviation, a lot more focus [on it] and a lot more to come."
The airline says the financing will be used for general corporate business.
Etihad had already embarked on a major restructuring programme after heavy losses before the pandemic hit. It has since continued to restructure, repositioning itself as a mid-size carrier focusing on widebody aircraft.
"Before the impact of Covid, we were well on track [with the restructuring]. We had made vast improvements, even better than we had predicted and I would have been reasonably confident if you had asked me at that time that we were anywhere between six and 12 months ahead of where we predicted we would be," says Boukadida.
"Now is a bit too early confirm what the broader impact [of the pandemic] is – as we are not through it all," he says Boukadida though does point to positive signs. "We are seeing the busiest load factors since the start of the pandemic. We are seeing really tangible signs that we are back on track to a recovery.
"We look forward to a strong close to the year," he says, but adds: "There is still a lot to be done."