A slew of state aid of interventions by governments risks leaving European regional carriers at a competitive disadvantage as they are being implemented disproportionately.
Director general of the European Regions Airline Association (ERA), Montserrat Barriga, says that government bailouts are focusing on bigger, state-owned airlines, creating a market distortion for smaller and private operators.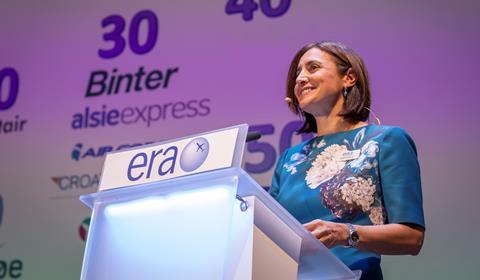 "We represent more the smaller and medium-sized [airlines] and the money is not reaching them, not all of them and not equally," Barriga tells FlightGlobal.
"There are different things that are happening that are distorting the competitive landscape. So the governments are doing what they think are best for their airlines, but not every airline," she says. "The money should reach all the airlines proportionally to their size."
She acknowledges governments are having to take "really tough decisions" during this crisis, but adds: "I hope they take the strategic view, not just the short-term solutions, but [consider] in the long-run how will airline A or airline B develop the country in the next [recovery] phase?"
A string of European governments have set out or provided financing packages to support the struggling sector since the coronavirus grounding. Whilst this has included measures easing the financial burden on a sector-wide basis, it also includes specific financial bail-outs – with much of it handed to the large national carriers.
In many cases these funds include conditions – such as those aimed at improving the environmental performance tied to the up to €11 billion ($12.1 billion) support package from the Dutch and French governments to support Air France-KLM.
"The funds are reaching the airlines with conditions and not all the airlines are able to comply," notes Barriga. "There are certain commitments the large airlines are able to make while the small ones, because they don't have the fat or the volumes that the large ones have, they are simply not able to do things like that as they have the minimum structure anyway."
The ERA comprises a wide variety of carriers, including a mix of state-owned and private operators, as well as scheduled operators and wet-lease capacity providers.
"There are so many different models, and [it can] depend on geography, business model, the ownership, the diversity of the business they operate, the type of aircraft [how they are impacted]. There is not a general rule," she says.
One result of the crisis has been an increase in membership of the association. ERA has announced nine new airline members since the crisis began - and will announce more new members shortly - amid increased interest from carriers in lobbying at a regulatory level. "Its more important than ever to be together," notes Barriga.
ERA, in keeping with other airline industry bodies, has been pressing for a number of regulatory changes to help carriers ride out the crisis. That includes an amendment to EU compensation rules that would change the existing requirement for airlines to refund passengers within seven days of a cancelled booking. A group of 12 EU member states called for this flexibility at a transport ministers meeting last month.
"That is important and will throw more cash into the system and will enable airlines to breathe for a few more months, but that is a short-term measure that will help the airlines, it is not a structural solution," notes Barriga.
"There will be less airlines, less aircraft and less passengers – at least for the next two or three years. If we say that 80% is new normal, than that will be okay for the industry to rise from the ashes and come back again to what it used to be. But the problem is the airlines that are lost now, are lost for ever," she says. "And that will reduce the competition within Europe."
Barriga though does see opportunities for regional airlines, particular as the big low-cost carriers make cuts and network evaluations of their own. "They may decide to abandon some of the routes that may not be profitable for them any more because there are not enough volumes of passengers on those routes. So those routes may become available for regional carriers to operate, and I think that is a possibility," she says.
She also cites continued pressure to shift to rail within Europe and there will probably less routes point-to-point in certain areas, particularly where there are multiple airports. "But connectivity is so basic and has made Europe unique. There is nowhere else you can fly from secondary airport to secondary airport, and that has to be much more efficient. I think we can't go back to where we were 50 years ago [in connectivity]."
Barriga though does see a chance to use lower aviation levels as a chance to improve the green credentials of flying. "We have an opportunity now there is less congestion in the skies to progress on things like, for example, the perfect flight and continuous [climb and descent] operations and…to modernize the fleet," Barriga adds. "I think we have an opportunity. We have to take it."