The Airlines for Europe (A4E) Aviation Summit on 29 March saw the chief executives of Europe's biggest airlines make familiar pleas to the European Commission for action on topics such as sustainable aviation fuel, EU261 and air traffic management.
But amid discussion of those subjects, there was a notable shift in tone regarding how Europe's airlines might achieve better policy outcomes in the future.
"If we are considered an industry which is just complaining about the three remaining open items, I don't think we will ever get the energy, including the energy to mention… positive things," said Lufthansa Group chief executive – and outgoing A4E chair – Carsten Spohr.
"This event today is a reflection of European aviation, which is one of the few industries where Europe is still on par with other parts of the world," he states.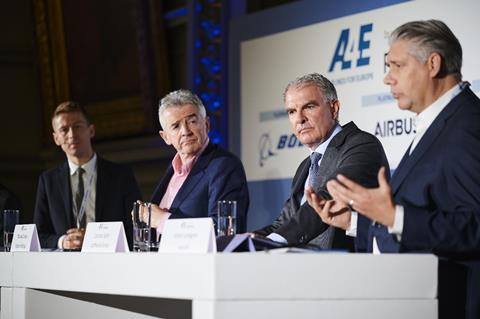 Indeed, Spohr's view – which he shared alongside Michael O'Leary of Ryanair and Johan Lundgren of EasyJet on the event's showcase panel – is that airlines should adopt "more pride and strength" regarding the industry's status.
"Somebody buys a watch, they buy a Swiss watch," Spohr says. "Somebody buys a car, they buy a German car. Somebody buys a handbag, they buy a French handbag. And somebody wants to fly in style, they fly a European airline.
"That's how I see our industry and that's how we create the traction to have the impact on policymakers to solve those issues which we have not solved yet."
His view is that people want to work for – and fly with – "winners". And politicians might want "politics for winners".
Furthermore, he suggests that with airlines seeing record margins in recent months, they lack credibility with policymakers when they claim Europe is a "terrible place" to run an airline.
"The fact that this industry becomes a landmark industry in Europe rather than an industry where we have to hide behind Asia and all the rest will also help us to push policies through which we have been discussing," he states.
Achieving such a shift in perception of the airline industry might be easier said than done, and Lundgren believes it must now be "crystal sharp" in its messaging. Helpfully, he also notes that while before the pandemic, "the connectivity was taken for granted", consumers and policymakers have since experienced the long list of downsides to months spent without a fully functioning commercial aviation sector.
And in an uncharacteristic nod to his network-carrier partner in A4E, O'Leary states: "I agree entirely with what Carsten said."
Read the newsletter for free every week by signing up to the Airline Business Weekly Briefing