A report published this week highlights the huge amount of new infrastructure and investment required to ensure there will be enough clean energy to produce the alternative fuels that will power the aviation sector towards decarbonisation.
According to the Alternative Fuels for Sustainable Aviation: Energy and Infrastructure report from consultancy Atkins, demand for clean energy to produce aircraft fuel could reach 44,000TWh per year by 2070 – almost all of it supplied as electricity. For context, the report notes, total global electricity use in 2021 was about 27,500TWh. Just 780TWh of the latter figure was attributed to the aviation sector.
Its calculation for 2070 is based on aviation traffic growth of 5% per year, alongside the sector adopting a mix of biofuels, e-fuels, hydrogen and batteries – "the combination of which will change over time" – to bring about its decarbonisation.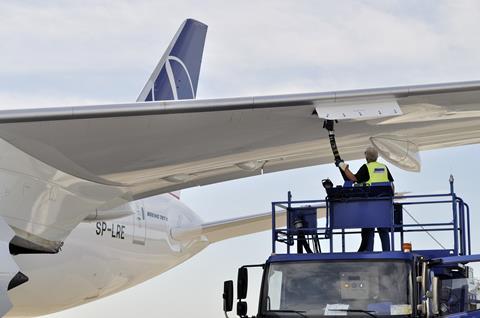 The stark figures on clean energy demand reflect the need to ensure "whole lifecycle" sustainability when it comes to powering aircraft, by ensuring decarbonisation is considered from "source-to-force", the report states. That challenge is exacerbated by the production of alternative fuels requiring far more energy than is needed for jet fuel, Atkins says, meaning investment will be required to ensure that energy is available.
"The low-carbon energy generation required to produce the fuel must… be factored into the equation, to ensure both that sufficient infrastructure is built to meet aviation demand, and that this infrastructure is in the right locations to match demand for that specific fuel and aircraft class," the report states.
Fortunately for airlines, Atkins believes that when it comes to governments, "the social and economic benefits from aviation are likely to be sufficient to support the massive investment required".
But the big infrastructure challenges relating to clean energy – before one even considers the pressing need for facilities to produce the actual fuel – mean the sector is vulnerable to supply falling short, the report suggests. It further points out that aviation's soaring demand for clean energy will occur alongside similar demands from other industries.
In a scenario where demand for clean energy is not met by sufficient supply, Atkins highlights the potential introduction of measures designed to cap demand for air travel as a possible consequence – a clearly suboptimal outcome for the airline industry.
"Planning the wider aviation ecosystem must take into account future energy projections, while national governments are key stakeholders and enablers who may provide the up-front investment to enable the necessary changes," it concludes.
Atkins' report was released as airlines including Norwegian and Wizz Air this week became the latest to announce sustainable aviation fuel (SAF) investments. The European Union meanwhile announced it had tentatively agreed to hike targets for SAF use.
Read the newsletter for free every week by signing up to the Airline Business Weekly Briefing