Cargo carriers and those airlines with existing or which developed their freight operations when the pandemic hit were among the few to find profit or mitigate the financial damage in 2020. But for most passenger operators, revenues collapsed and losses spiralled like never before.
Revenue among the 100 biggest airline groups was slashed by more than half last year, from $787 billion in 2019 to $364 billion for the same group of operators, the World Airline Rankings show.
Just six of these operators – all dedicated freight carriers – increased revenues in 2020 against the previous year.
FedEx Express, which lifted revenues almost a fifth, to $42 billion, was the biggest airline operator by revenue in 2020.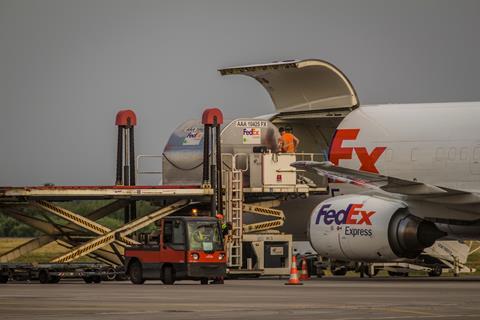 Cargolux, Atlas Air, ATSG, Polar Air Cargo and Volga Dnepr Group – full-year figures for which are unavailable, but for which revenues were 40% higher at the six-month stage – were, alongside FedEx, the only six of last year's biggest 100 operators to increase their revenues in 2020.
Nippon Cargo Airlines, Canada's CargoJet and US charter operator Omni Air also increased their revenues in 2020, moving into the top 100 biggest airlines by revenue last year. Their arrival helped contribute to overall revenues of $373 billion among this year's 100 biggest operators.
By contrast, the biggest airline groups to incorporate passenger operations – Lufthansa Group, American Airlines and Delta Air Lines – had revenues of less than half that of FedEx. Luthansa Group, the largest passenger airline group in 2020, was itself aided by a 10% jump in its cargo revenues last year but still reported an overall fall in revenues of 59%.
Biggest airline groups in 2020 by revenue (US$)
Airline Group
Counry/district
2020 revenue ($m)
Change v 2019
Source: World Airline Rankings, data sourced from Cirium
FedEx
USA
42,078
18.5
Lufthansa Group
Germany
17,857
-59.0
American Airlines Group
USA
17,337
-62.1
Delta Air Lines
USA
17,095
-63.6
United Airlines Holdings
USA
15,355
-64.5
China Southern Airlines
China
13,437
-39.8
Air France-KLM Group
France
12,697
-58.2
Air China
China
10,722
-47.1
Emirates Group
UAE
9,689
-65.8
China Eastern Airlines
China
9,352
-49.5
Notably, cargo revenues among leading airline groups jumped a quarter last year as they upscaled their freight operations, including converting or deploying passenger aircraft to carry cargo, to meet heightened demand.
The ability for the big airline groups to meet improved cargo demand, and the pivoting by big passenger transit hub players such as Emirates into increasing freight activity, means there was slightly less churn in the top 10 of leading airline groups by revenue than was seen by passenger traffic.
But this increased freight demand was in part a result of the reduced belly capacity, as passenger capacity was slashed, and cargo remains a relatively small part of most airlines' overall business models.
As a result of this exposure to the passenger business, almost two-thirds of airline groups in the top 100 saw revenues fall in 2020 by at least half. Nearly a fifth of operators endured a collapse in revenues of 70% or more last year.
Which airlines delivered a profit?
Unsurprisingly, freight specialists – or those passenger operators with a larger presence in the cargo market – have been the businesses best positioned for profitability since the pandemic hit.
Out of 89 airline groups among the 100 biggest operators in 2019 to disclose an operating result, just 11 recorded a profit in 2020. That included six dedicated freight operators – all of whom increased their profits – led by express giant FedEx.
Airline groups by biggest operating profit in 2020
Airline Group
Country/district
Operting result 2020
Operating result 2019
Source: World Airline Rankings, data sourced by Cirium
FedEx
USA
$2,810m
$996m
Cargolux
Luxembourg
$991m
$114m
Atlas Air Worldwide Holdings
USA
$495m
-$461m
Ethiopian Airlines
Ethiopia
$381m
$265m
UPS Airlines
USA
$278m
$223m
Air Transport Services Group
USA
$206m
$177m
Korean Air
South Korea
$202m
$246
China Airlines
Taiwan
$166m
$3m
SkyWest Inc
USA
$109m
$512m
Mesa Air Group
USA
$80m
$121m
While Ethiopian Airlines is the most profitable passenger operator in the rankings – this reflects that its financial year runs to June and that these figures include only around three months of the coronavirus impact. The airline has, though, benefited from the expansion of its cargo activities since the crisis.
Of operators with a financial year covering the 2020 calendar year or the 12 months to March 2021, Korean Air and China Airlines are the standout passenger operators. Helped by their active cargo businesses, they delivered operating profits of $202 million and $166 million respectively.
US regional carrier Skywest also recorded an operating profit for the year. But it was far from a bright story for US regionals, as mainline carriers restructured their feeder agreements. Compass Airlines, ExpressJet and Trans States Airlines all shut down during 2020 – though plans are under way for ExpressJet to resume operations this year.
But for most operators, the bigger they were, the larger their exposure to the virtual shutdown of international air travel markets was. Neither was the pandemic any respecter of business model, regardless of its success prior to the crisis. This was underlined by Delta Air Lines, the poster child for industry profits among airlines over recent years, losing almost $12.5 billion in 2020.
Though not all airline ills could be blamed on coronavirus. Nine of the loss-making airline groups were already in the red in 2019, before the pandemic struck.
The World Airline Rankings, based on financial and traffic data for the 100 leading airlines groups, are published by FlightGlobal and Airline Business using data sourced from Cirium. Click here to download the Top 100 airline groups by revenue and traffic in 2020
World Airline Rankings: How deeply the crisis hit the industry in 2020
1

2

3

4

5

Currently reading

World Airline Rankings: How crisis slashed revenues and drove industry to the red

6