Though some regions were bolstered by recoveries in key domestic markets, the World Airlines Rankings underline how the collapse of international traffic meant nowhere escaped the impact of the pandemic in 2020
While some Asia-Pacific operators benefited from access to large domestic markets and strong freight activity, international operators in the region were among the hardest hit in terms of reduced passenger traffic.
No carrier in the region was harder hit than Singapore Airlines Group, facing tight international travel restrictions with no domestic market to fall back on. Passenger traffic for the year ending March 2021 – incorporating a full year of Covid disruption – was down an incredible 98%. Group passenger numbers fell from 35.8 million to under 600,000.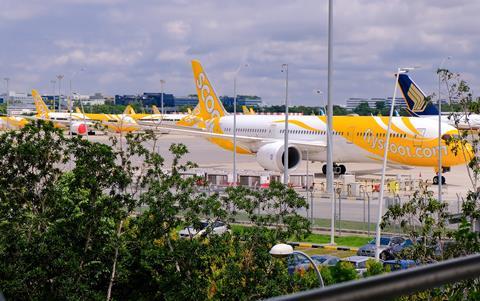 However, the scale of its pre-crisis operations over the first two months of 2020 means that when adjusted to a calendar year, the group did just enough to retain a place among the 30 biggest operators by traffic.
Five of the 10 top 100 airline groups from 2019 incurring the biggest drops in passenger numbers were from Asia-Pacific, including Cathay Pacific, which similarly found itself shorn of its international passenger business and with no domestic market to fall back on.
Yet passenger traffic among Asia-Pacific carriers as a whole was down the least of all bar one region. Only Latin America, from which leading carrier traffic fell only 59%, reported a smaller impact than the 62% reduction among Asia-Pacific operators.
Regional split by traffic and revenues (2020)
Traffic (RPKs m)
Change v 201
Revenue ($m)
Change v 2019
Source: World Airline Rankings, data sourced from Cirium
Asia-Pacific
1,053,110
-62.1%
103,112
-53.1%
North America
697,317
-64.8%
136,196
-48.0%
Europe
644,569
-69.6%
85,478
-60.3%
Latin America
148,397
-59.3%
11,550
-60.9%
Middle East
193,671
-71.6%
25,346
-57.6%
Africa
25,798
-62.3%
5,235
-30.7%
Total
2,762,861
-65.5%
367,517
-53.7%
That reflects the better demand picture in countries with a strong domestic market, most notably China and India. While first hit by the crisis, Chinese domestic traffic levels were the first to return to pre-crisis levels last year. Though international traffic was heavily curtailed by restrictions, the shift to greater activity in the domestic market meant Chinese carrier traffic among the top 100 operators last year was down only 49%.
The big Gulf operators, Emirates, Etihad and Qatar Airways – unsurprisingly, given the transit-connecting basis of much of their traffic – were also among the most hard hit in lost traffic. Indeed, the Middle East was the region with the largest drop in passengers.
Notably, though Middle East carriers were heaviest hit in terms of passenger traffic, their strong cargo activity meant the region was not lagging in terms of revenues. Middle East carrier revenues were still down 58% in 2020, but this was not as pronounced as the 60% and 61% falls among leading European and Latin America carriers respectively.
Europe was the second-most affected region, with passenger traffic dropping by almost 70% last year.
The strong US domestic market helped limit the drop in passenger traffic in the North American region to 65%. Revenues among leading North American carriers fell by less than half in 2020, by 48% – although this figure was boosted by a number of air freight operators from the USA featuring among the leading top 100 airlines last year.
The World Airline Rankings, based on financial and traffic data for the 100 leading airlines groups, are published by FlightGlobal and Airline Business using data sourced from Cirium. Click here to download the Top 100 airline groups by revenue and traffic in 2020
World Airline Rankings: How deeply the crisis hit the industry in 2020
1

2

3

4

Currently reading

World Airline Rankings: No region left unscathed by crisis

5

6