Union endorses Kirby choice as successor to Munoz at Star Alliance carrier while analysts see appointment as continuation in strategy
United Airlines' move to name Scott Kirby as its next chief executive has been firmly endorsed by the airline's pilot union, which views the change as a sign that United will continue its aggressive expansion.
"Scott has helped deliver on the promise to grow our global network and return United to the ranks of the world's best airlines," Todd Insler, chair of the Air Line Pilots Association's United Airlines council, says in an upbeat 5 December letter to members.
"Scott has the opportunity to continue the momentum for our airline," Insler adds. "I congratulate Scott on this promotion. He has earned it."
Kirby, who has been United's president since 2016, will succeed Oscar Munoz as chief executive in May 2020. Munoz will remain with United as executive chairman for one year.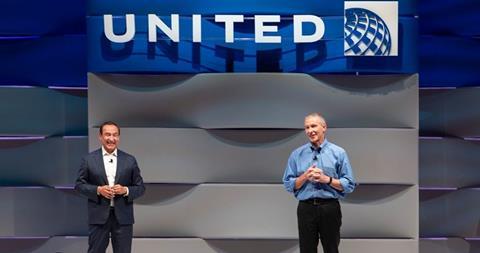 The union's warm endorsement comes at a time of relatively harmonious relations between United's management and its pilots, which are now negotiating a new pilot contract.
Labour relations improved significantly under Munoz, a former railroad executive who succeeded Jeff Smisek in 2015. Smisek resigned amid a federal investigation into alleged kickbacks involving the Port Authority of New York and New Jersey.
Since taking the helm, Munoz has led United through what some view as a rebound.
But it was Munoz's right-hand-man Kirby who seemed the force behind many of United's recent strategic moves.
Kirby, who previously worked for American Airlines and its corporate predecessor America West, made his intentions for United clear in 2017.
That is when he announced a major expansion aimed at re-establishing dominance in major markets and increasing connections at hubs.
"Over the past five or six years, United has been shrinking, while our competitors have been growing at our expense," Kirby said in a February 2017 letter to employees.
United was now aiming to realise "the full potential of our network", he said.
That same day United announced it was adding service on some 30 domestic routes. The carrier's capacity in available seat miles increased 5% between 2017 and 2018, and another 4% in the first nine months of 2019, year-on-year – despite the grounding of United's Boeing 737 Max.
Kirby is "an aggressive thinker," says Michael Boyd, president of airline research company Boyd Group International. "You are going to see innovation going forward."
Boyd notes United's recent decision to rip 20 seats out of 70-seat Bombardier CRJ700s to create a new 50-seat derivative called the CRJ550. The move enables United to get around pilot-contract restrictions on regional flying, while giving passengers a roomier ride.
That move went "against the grain of everything" in airline management, but will work, Boyd says.
United also recently took the step of ordering 50 Airbus A321XLRs to replace aging jets like 757s. The order marked a step away from Boeing by United – the only narrowbodies previously in United's order book had been 737 Max.
Boyd predicts United will use the A321XRLs to launch novel new routes, such as from places like Norfolk, Virginia or Columbus, Ohio to Frankfurt, where United's alliance partner Lufthansa operates a major hub.
He also envisions A321XLR routes like Buffalo-Newark-Frankfurt.
"They are going to be expanding," Boyd says. "It's a very flexible airplane."
Hunter Keay with New York investment research company Wolfe Research says Wall Street has been fairly "blasé" about Kirby's new role because Kirby was largely seen as already running the show. Analysts therefore do not expect a strategy change. Keay says pilots have supported Kirby because they view the company as heading along a winning path.