While the Boeing 777-200/200ER has been an airline icon for the last 25 years, the coronavirus pandemic is likely to accelerate its disappearance from the skies.
The collapse in air travel demand and its attendant groundings come almost exactly a quarter century after the 777-200 operated its first commercial service with United Airlines on 7 June 1995.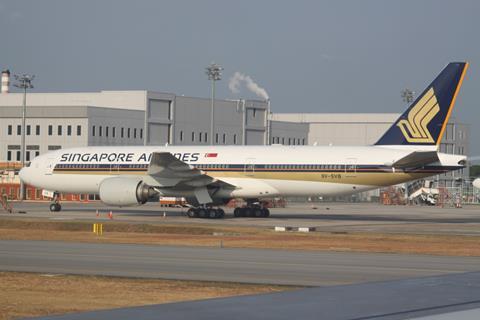 Recent news has been unkind to all aircraft types, but along with the Airbus A380 and 747-400, the ageing 777-200/200ER will find its future in increasing doubt.
Singapore Airlines (SIA) recently confirmed that it will retire its last trio of -200s ahead of schedule, all of which are parked in Alice Springs, Australia. Delta Air Lines will phase out all 18 of its 777s – 10 200LRs and eight -200ERs – before the end of the year.
Separately, Japan Airlines (JAL) recently told FlightGlobal it will retire a pair of -200s it uses for domestic services. However, that decision is driven by the arrival of replacements in the form of A350-900s. JAL is retaining 10 -200s for domestic use and 11 -200ERs for international services, but it is inevitable that these will also eventually be phased out.
The widebody twin has proven remarkably adaptable. Early in its career the 777-200 was developed into an increased maximum take-off weight version, the 777-200ER, as well as the stretched 777-300. These original iterations of the 777 (-200, -200ER, and -300) - sometimes retrospectively dubbed "classics" - were offered with a choice of engines from all three of the major manufacturers: the GE Aviation GE90-95BL, Pratt & Whitney PW4000, and Rolls-Royce Trent 800.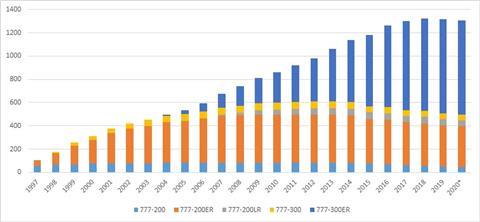 In February 2000, Boeing went ahead with a family of advanced 777 variants for which GE was selected as the sole engine supplier with its GE90-115BL. The updated family, based on the existing -200 and -300 platforms, featured a number of changes. Key differences include a revised wing with extended wing-tips and increased weight, to deliver increased payload-range. Variants include the 777-200LR, 777-300ER, and 777F. The venerable -200/200ER is also the ultimate ancestor of the new GE9X-powered 777X family, which was launched in 2013 and is currently in flight test.
Cirium fleets data shows that 294 -200/200ER-series jets are now in storage, as defined by one week on the ground, compared with just 104 examples in service. Of the in-service jets, 45 are flying in the Asia-Pacific, followed by 36 in Europe and just 19 in North America.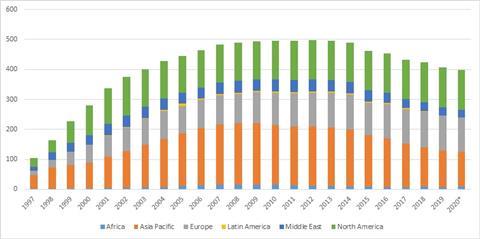 Regional in-service numbers are distorted given the massive fleet disruptions wrought by the coronavirus, in that North American operators have more -200/200ERs than those in the Asia-Pacific, and European carriers operate almost equal numbers. Still, for most of the variant's history, its dominant market has been the Asia-Pacific.
This peaked in 2008, when the 205 777-200/200ERs operated in the Asia-Pacific accounted for 42% of its global footprint. While United Airlines and American Airlines were the world's two biggest -200 operators that year, with a combined 99 examples, 10 of the world's top-20 777-200/200ER operators were in the Asia-Pacific led by SIA (46), JAL (26), All Nippon Airways (23), Korean Air (18) and Malaysia Airlines (17).
Boeing 777 key milestones
Date
Event
October 1990
Programme launch
12 June 1994
777-200 first flight
7 June 1995
777-200 enters service (United Airlines)
May 1998
777-300 enters service (Cathay Pacific)
February 2000
777-200LR/300ER launch
May 2004
777-300ER enters service (Air France)
February 2006
777-200LR enters service (PIA)
November 2004
777F launched (as derivative of -200LR)
February 2009
777F enters service (Air France)
March 2012
777 deliveries reach 1,000 aircraft (-300ER to Emirates)
July 2013
Final 777-200/300 series delivered (-200ER to Asiana)
November 2013
777X (-8/-9) family launched
25 January 2020
777-9 first flight
2021
Scheduled delivery of first 777-9 (Emirates)
As a share of the global twin-aisle fleet, the 777-200/200ER peaked in 2008 when 489 examples made up 14.6% of the world's 3,346 widebodies. Deployed numbers rose to 497 in 2012, during which the -200/200ER's share of overall widebodies stood at 13.7%.
Today, the biggest operators of -200/200ERs are United (74), American (47), and British Airways (43). Only three out of the world's top 10 operators are in Asia: JAL (21), ANA (20) and Thai Airways (12). Malaysia Airlines exited the type several years ago.
The 777-300 stretch, however, remains largely a product for the Asia-Pacific, with 43 examples held by carriers in the region, out of a global fleet of 53. Of these, 35 are in storage and 19 in service. The world's biggest operator of the type is Cathay Pacific, with 12 examples. ANA, Thai, SIA, JAL, and Korean Air also operate the -300.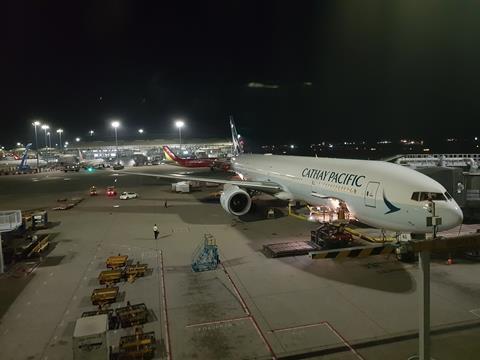 As for the -200/200ER, Cirium indicates that 84 examples have been retired, up from 71 in May 2019 and 56 in 2018.
"Retirements for Boeing 777-200/200ER variants started picking up in late 2014 which was complemented by the first delivery of the A350-900 in December 2014," says Ascend by Cirium in a March research note.
"The A350-900 offers similar capacity and higher range for lower operating costs. Additionally, the service entry for the 323-seat 787-10 in 2018 has provided another replacement, albeit with a narrower cabin. The 787-9 can also provide some competition on slightly thinner routes because it can get close to the 777-200ER in seating and has more cargo capacity."
The airline industry's recovery from coronavirus will be complicated and long. Airlines and industry officials have predicted a return to 2019 traffic levels by 2023 or later, but this could be too late for the world's grounded 777-200s and -200ERs. The type was already being steadily eased out before the crisis, but its disappearance is likely to accelerate.