Organisers and visitors alike will be hoping that the biennial Dubai air show has bookended the worst of the Covid-19 crisis, proving the maxim that 'timing is everything'.
There were certainly strong indications of better times ahead at this week's event, which featured a packed exhibition hall and static display, and a level of attendance at Dubai World Central that appeared to rival any 'normal' year.
When it came to commercial aircraft orders – often a bellwether of the success of otherwise of these international industry gatherings – the themes weren't entirely new to the Covid-19 recovery narrative: confident low-cost carriers were responsible for the bumper deals among named airlines, while widebodies only accounted for around 15 of the commitments. For the local network carriers whose hub-based business models do not lend themselves to a speedy pandemic comeback, few orders were announced.
Driving the deals were low-cost airline investor Indigo Partners, which ordered 255 Airbus A321neo and A321XLR aircraft for Wizz Air, Frontier, Volaris and JetSmart, while Indian low-cost start-up Akasa Air signed for 72 Boeing 737 Max 8s.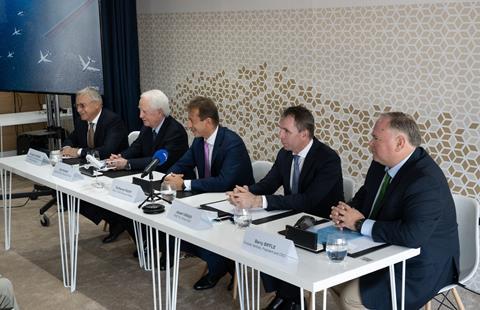 An 111-aircraft order from lessor Air Lease helped Airbus to dominate proceedings. Indeed, the deal launched the airframer's new A350 freighter and meant the rumoured unveiling of a Boeing 777X freighter programme did not materialise.
Among other aircraft-related developments, ATR secured a raft of small orders and announced a re-engining initiative, while Embraer said e-commerce was set to drive a long-term increase demand for air freight as it begins to study a freighter conversion programme for its E-Jets. Cargo was further evident as Boeing secured 20 more freighter conversions from DHL Express and Icelease.
For the UAE's network carriers, the focus was on product and sustainability efforts, rather than repeating the bumper aircraft orders seen at previous Dubai air shows.
Etihad Airways made so many announcements around sustainability that it was difficult to keep up.
Emirates Airline meanwhile announced that it will retrofit more than 100 of its widebodies with premium economy seats.
Speaking during a roundtable at the show, Emirates boss Tim Clark also reiterated his caution around delivery dates for the first 777X aircraft, and his belief that there will be no structural changes to travel demand post-Covid.
His latter comments reflect the fact that while the event was an indicator of genuine industry recovery momentum, there are still uncertainties over how the coming months and years will play out.
For show visitors, glimpses of lines of parked Emirates A380s on the approach to Dubai World Central were perhaps the best reminder not to get carried away, with cautious optimism still being the order of day.
Subscribers to the Airline Business newsletter receive the Weekly Briefing first every week. For more information, click here.