When Air France accelerated the retirement of its Airbus A380s in the early weeks of the pandemic, questions were being asked about the sumperjumbo's future at many other operators.
So far, however, the pandemic recovery is showing that the type still has a role to play at some carriers – in the near-term, at least – as travel demand surges and aircraft delivery delays prompt fleet rethinks.
On Wednesday, for example, Korean Air said it will operate A380s on its services from Seoul Incheon to Hong Kong and Tokyo Narita by September. That is on top of plans to operate the type on New York flights from July.
"Passengers love the plane and we have a lot of business-class seats on it, so it's a very good aircraft to fly on high-demand routes," Korean Air chief executive Walter Cho said during a media briefing at the recent IATA AGM.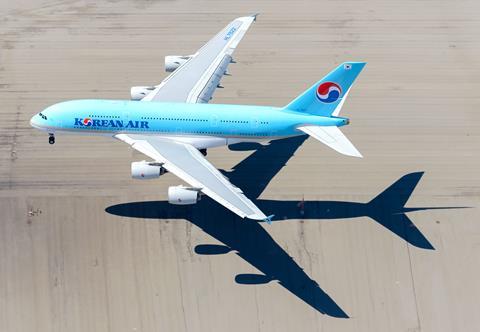 Korean acquisition target Asiana had earlier in June said that was to begin operating its A380s again, to ease a shortage of seats amid an "explosive" increase in travel demand as borders reopen.
Lufthansa, meanwhile, is looking further ahead, announcing on Monday that it will re-introduce A380s in next year's summer season to counter aircraft delivery delays – the carrier has Boeing 787s and 777-9s on order – and to address the sharp rise in passenger demand.
Among other owners of the type, Qantas is already bringing some of its A380s back from storage, while Qatar Airways – whose chief executive Akbar Al Baker has been particularly critical of the type – is operating some of its superjumbos again amid the legal fight with Airbus over its grounded A350s.
The news, however, is not all positive.
Malaysia Airlines' chief executive Izham Ismail told FlightGlobal earlier this month that the carrier is still looking for buyers of its examples.
"The A380 is not in our network plan anymore," he says.
And it remains the case that as of late June, there are 114 A380s in service around the world, according to Cirium fleets data, compared with 234 at the end of 2019. Other major widebody types have been way ahead of that return-to-service trend for some time.
For now, therefore, Emirates Airline president Tim Clark remains a lone voice in openly questioning how airlines will cope with rising demand in the future without recourse to new Airbus A380-sized jets.