For Emirates Airline, being a key driver of new and existing widebody programmes has long been a double-edged sword, with recent issues at airframers leaving it particularly vulnerable to several unfavourable developments.
The Dubai carrier has almost 200 widebody jets on order, Cirium fleets data shows, as it eventually seeks to replace ageing Airbus A380 and Boeing 777-300ER types, while also expanding its network to serve smaller markets.
But as the Middle Eastern operator emerges from the pandemic, its wait for new aircraft keeps getting longer.
The news in late April that Boeing has delayed first delivery of its 777-9 by up to two years until 2025 is a case in point.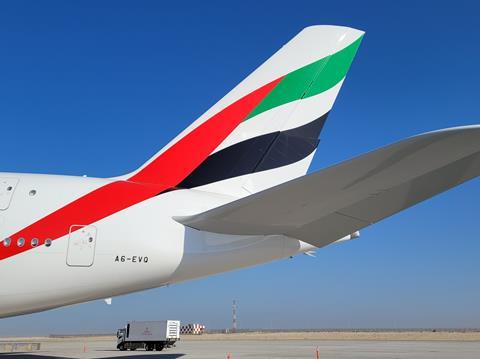 "Delivery of the first 777-9 airplane is now expected in 2025, which reflects an updated assessment of the time required to meet certification requirements," Boeing said on 27 April.
Emirates holds 115 orders for the aircraft – mostly 777-9s alongside 14 777-8s – which it committed to at the Dubai air show in 2013 and were originally meant for delivery from April 2020. Airline president Tim Clark has frequently been critical of a lack of clarity on when it will begin taking the large aircraft, which are a vital component to its fleet refresh effort – particularly given the end of A380 production last year.
In a late-April interview with The Seattle Times, Clark suggests Emirates will retain its 777X order, but that he remains sceptical on delivery dates. At the same time, he is concerned that with a dozen or so of the type already built, many of first of its first jets will essentially be second-hand aircraft by the time they arrive in Dubai – a point the airline will need to address with Boeing.
The future of Emirates' Boeing 787 order, however, appears much less certain.
Emirates was due to take its first 787-9 next year, but clearance for Boeing to recommence deliveries of the type depends on US Federal Aviation Administration approval, after the body identified manufacturing defects in early 2021.
"Clearly they are at high risk to be delivered at any time in the contractual timeline," Clark tells The Seattle Times. "So, frankly, I wouldn't be surprised if we just drop those out of the mix completely."
Boeing stopped delivering 787s in October 2020, resumed deliveries briefly in March 2021, then stopped them again last May after the FAA declined to approve a Boeing-proposed algorithm related to fuselage inspections.
"Rework has been completed on the initial airplanes and the company continues to work closely with the FAA on timing of resuming deliveries," Boeing said in late April. "The company has submitted the certification plan to the FAA."
Cirium data shows Emirates has 30 787-9s on order.
When it comes to the A350, meanwhile, Clark has in recent months expressed concerns about the paint-degradation issues affecting Qatar Airways examples, insisting that Emirates would expect any related problems with its incoming aircraft to have been addressed before it takes delivery of the type.
A legal fight between Airbus and Qatar Airways on the issue was continuing in late April. Airbus insists the aircraft does not suffer from a design defect and that skin-paint deterioration is not an airworthiness issue.
Emirates is due to begin taking A350-900s from a 50-aircraft order in 2023, Cirium data suggests.
Amid the challenges with Emirates' widebody orders, Clark also recently talked of a more fundamental issue with fleet-planning: an A380-sized hole in the airframers' product slates.
Speaking during the CAPA Airline Leader Summit in early April, Clark continued to lament the fact that Airbus failed to develop an enhanced version of the A380 – sometimes dubbed the A380neo – noting that he had "tried so hard" to convince the airframer otherwise.
He is concerned about what happens in the mid-2030s, as Emirates seeks to serve what he expects to be increasingly slot-constrained hubs including London Heathrow, Hong Kong International, Sao Paulo and Sydney without recourse to an A380 replacement.
"We are going to need that," Clark says of such an aircraft. "The future for me is not a whole raft of single-aisles."
Clark has previously explained how Emirates' A380s will be crucial to the carrier's hub strategy through to the mid-2030s, as he insisted the airline's business model holds up in a post-Covid world.
Indeed, with so much uncertainty around incoming jets, Emirates is attaching increased importance to the refresh of its existing cabins.
At last year's Dubai air show, for example, the carrier announced an 18-month retrofit programme that is set to begin at the end of 2022, which will see it add a premium economy cabin to 52 of its Airbus A380s and 53 Boeing 777s.
"The most critical thing is to retain our fleet as large and versatile as it has been," Clark said at the time. "If that means we have to retain older aeroplanes for longer and upgrade them, then that's what we will do."
But that does not mean he will let airframers off the hook.
Speaking in October last year, Clark said he was pressing for future aircraft sales contracts to include language that holds Boeing and other airframers more responsible for quality issues and delays.