If you knew where to look you could spot them: gathered in the lounge, there was something that set them apart from the regular passengers – groups of men not in uniform, but locked in earnest conversation. That was what made them stick out. Their talk was strictly business, no idle chit-chat; and if you happened to be within earshot for long enough you could tell it was their aircraft – their project, effectively – we would be boarding.
For them the inaugural passenger flight of Etihad Airways' new Airbus A350-1000 on 31 March was the final act of a process that began back in 2015. "It's been a long journey to get here," said one.
No-one seemed nervous exactly even though they had been working towards this moment for years – but maybe just on edge, burdened by the knowledge that as with any project, there are always unknowns waiting to trip you up.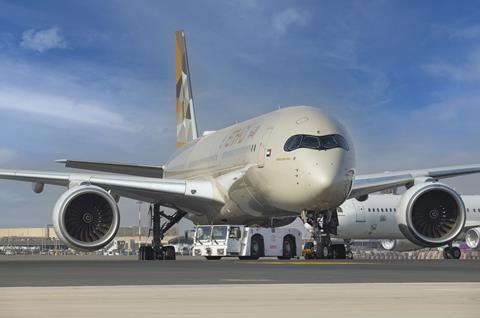 "Have you got your Superman costume on underneath?" joked a new arrival to his colleague. "Where are the pliers and screwdrivers in case you need to fix a squeaky seat?" It quickly became evident he was addressing the person who had actually designed and specced the seats.
Mind you, given the challenges of carrying out a project like this during Covid-19 pandemic – when product inspections were conducted in online meetings, and trust replaced touch and feel as the currency of the quality control process – it must have seemed at times as though super powers really were required.
The seven years between the start of the A350-1000 project and service entry brought a great deal of change, both at Etihad and the wider industry. The airline began taking delivery of the jets in 2019, except they were not really delivered: the first aircraft was flown – an empty fuselage – on a short hop from Airbus in Toulouse to Bordeaux, where it remained on the tarmac for the next two years. One by one another four A350s joined their sister ship to sit quietly in the west of France, while thousands of miles away in the Middle East Etihad was in the throes of reinventing itself.
In the period between ordering 50 A350s in 2013 and the deliveries to Bordeaux, things had not gone so well for the airline: an investment strategy painfully unraveled and the carrier was forced to retrench and restructure, including the deprture of chief executive James Hogan, to be replaced in 2017 by Tony Douglas.
All this boardroom change meant that by the time Etihad decided it did need the A350s after all, albeit only 20 of them, all -1000s, the deadline had passed for ordering the interior it wanted. By most reckonings there is a two-year lead time when it comes to ordering an aircraft's cabin, but that very much depends on the state of the market, the complexity of the product, and whether external factors – a severe pandemic, for instance – are weighing on the supply chain.
For Etihad, already playing catch-up, that supply chain disruption and an airline industry in stasis – even if it had received the jets they would have been parked – meant service entry slipped ever further to the right.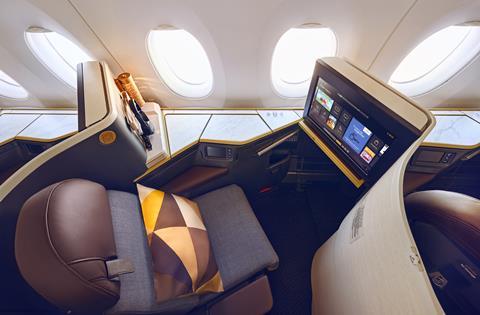 But this pause for thought gave back to Etihad the opportunity to fine-tune the A350's interior that it seemed to have lost: without the change in strategy the twinjet would probably have ended up with the same cabin layout as the carrier's Boeing 787-10s. Instead, the widebody is debuting Etihad's latest product, what Douglas calls the airline's "new standard". Unlike its A380 fleet and a handful of 787s there's no ultra-opulent first-class cabin, just economy and business. "It's very, very difficult to make a profitable first class in this day and age with where ticket prices are," Douglas says, noting the sheer amount of cabin real estate it occupies.
Of course, Douglas thinks the business cabin is closer to first than those of certain of its rivals; "business-plus", he calls it. Regardless of what label you stick on it, the cabin is certainly a pleasant place to spend a few hours – spacious and roomy, but with each passenger cosseted in a little pod of their own: in other words, very much what you'd expect. However, the luxury has been achieved through a certain frugality elsewhere – that new economic reality, remember. Cabin density is higher than on the 787s, 44 against 32, thanks to the herringbone layout; the Collins Aerospace Super Diamond seats are also more off-the-shelf than fully bespoke.
But for the inaugural service, with a cabin full of media – save for the odd Etihad employee dotted through the cabin, including Douglas in front row seat 5A, obviously – that sense of cosseted calm is lost. Boarding is a chaotic process, as journalists mill through the cabin taking pictures of seats, cushions and what-not, and generally get under the feet of the cabin crew trying to prepare the aircraft for departure.
"It's great to see – everyone is up and talking to one another. Normally people sit down and close themselves off," says Terry Daly, Etihad's executive director, guest experience, brand and marketing. Whether his sentiment is entirely shared by the cabin crew is hard to gauge: they all seem excited, and each sports an Etihad A350 pin badge on their uniform, but there's a growing sense of frustration as they 'excuse me' past yet another journalist taking a selfie in the middle of the aisle.
Perhaps, too, there are nerves at play – entirely understandable when it is the first service of a new type and your boss of bosses is on board.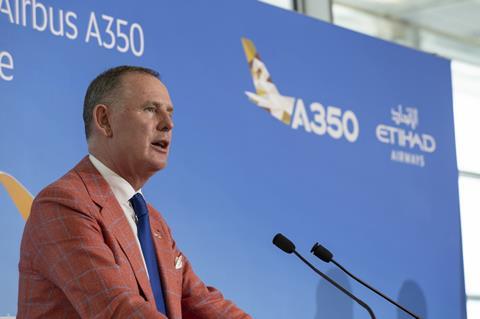 Douglas, resplendent in a brick red jacket with a blue check pattern, prowls the cabin ahead of take-off, casting an eye over his surroundings. It is tricky to read his expression. Is he looking for faults or as pleased as punch about what he sees? It is a big day for him as well – the A350 is the first new type he has brought into service since becoming Etihad chief.
He delivers a speech, the effect of which is only partly spoiled when it is interrupted by a cabin-service announcement. Days like this, he says, serve as a reminder of the "absolute joy of travelling we enjoyed before the pandemic".
There are three stories around the flight, he notes: the first service into Charles de Gaulle; the widebody's interior – "the next step in the evolution of what the Etihad brand represents"; and the jet's special livery with its 'Sustainable 50' paint scheme. The aircraft – pronounced as "errcraft" in Douglas's proudly preserved Lancastrian accent – will highlight environmental initiatives and serve as a flying testbed for new technologies, he says.
Back in the cheap seats – albeit the very roomy "economy space" cheap seats – Daly explains that the interior is designed to "set the new standard going forward", taking Etihad's "signature elements" and applying them to the new jet. In sharp contrast to the amount of time the A350s lingered on the ground in Bordeaux, once they began to be delivered to the airline's Abu Dhabi base in May 2021, installing the interior took relatively little time: a month and a half initially, but by the end "we'd shaved three weeks off it". The remaining four aircraft will enter service later this year.
As if to illustrate that not everything can be prepared for, a member of the cabin crew stoops nearby to deal with a loose piece of plastic trim. Daly tells her not to worry, he'll sort it. "I can tell you, I've done loads of new aeroplanes, you always get little teething problems, always happens," he says. "There's always something that you need to go and look at."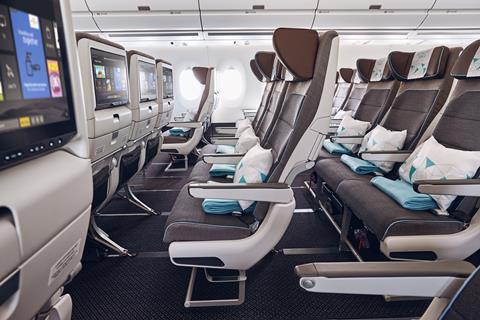 Fast-forward several hours and we've landed in a wintery Paris. Douglas delivers more or less the same speech again, this time for the benefit of French media, at a press conference held in the airport's arrivals area. This time he runs the risk of interruption by gate announcements. It is, he says, gesturing to the widebody parked behind him, "a stunningly beautiful aircraft, in a stunningly beautiful city, in a stunningly beautiful country. It is my absolute delight that we can share it together". The selection of Charles de Gaulle as the first destination for the A350 was, he continues, designed as a "show of respect from the Etihad family to the Airbus family" for the support the airframer provided the carrier during recent difficult times: "Great families and great relationships become stronger when the going gets tough," he says.
Next day in a Paris hotel the same group of men from the airport lounge are gathered for breakfast, idly watching snowflakes tumble from a leaden sky. There's an air of relaxation about them this time: yesterday's nervous energy is gone. They seem quietly satisfied, basking in the glow of a job well done. "Yes," says one – with the calm that only success affords – "it all went pretty smoothly."