The shortage of air freight capacity amid the coronavirus pandemic has offered opportunity for airlines, lessors, and cargo carriers to eke out some precious revenue.
Half of global air freight in 2019 was carried in the bellies of passenger aircraft, so the grounding of thousands of aircraft this year depressed supply even more than demand. The 28% year-on-year decline in global air freight traffic in April was the sharpest drop IATA had ever recorded, yet capacity that month had been cut by even more: 42%. Cargo traffic had improved a little by September, when, IATA records, it was down 25% year on year.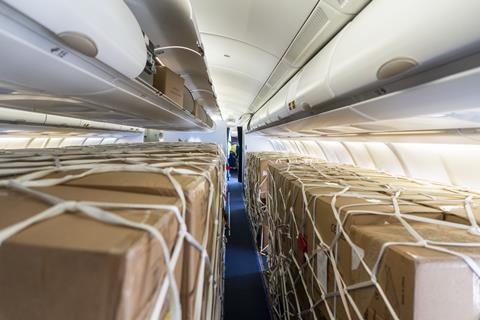 Those who can provide cargo aircraft have been somewhat insulated from the pandemic downturn, meeting the demand for delivering emergency medical supplies and the e-commerce orders placed by people sheltering at home.
Cargo flights are likely to represent 36% of all airline revenue in 2020, IATA reports. The association is also forecasting that air freight will represent a third of airline revenue during 2021.
Revenue generated by cargo carriers such as Atlas Air skyrocketed compared with 2019, when trade tensions between the USA and China drove global air freight into a slump and air freight represented only 12% of annual airline revenue.
The global shortage of air freight capacity has raised the incentive for airlines to convert Boeing 777s, 737NGs and other newer-generation aircraft for cargo flights. Airlines that want to spend less on shifting to air freight simply remove seats on passenger aircraft to fly cargo.
Air Canada has done both during 2020. The Montreal-based flag carrier is finalising plans to convert several of its owned 767-300ER aircraft to freighters and amended agreements with its pilots to include more cargo flights.
Air freight revenue for Air Canada during the second quarter surpassed passenger revenue for the first time ever, reaching C$269 million ($207 million) yet shrank to C$216 million during the third quarter. As of November, the airline was operating "up to 100 international, all-cargo flights weekly". In 2021, it will seek "to continue growing its cargo business across the global supply chain", it said on 27 November.
The parent company of Mesa Airlines meanwhile diversified its business in October by leasing two 737-400 freighters from DHL as part of a contract to fly cargo through 2025 for DHL Express Americas from Cincinnati/Northern Kentucky International. Mesa aims to operate 10 cargo aircraft for DHL by 2022.
Air freight carriers and lessors have been exceptions during the pandemic, reporting profit while many passenger airlines report losses and burn millions in cash every day. Air Transport Services Group made an operating profit of $74 million in the third quarter, up 80% year on year. Ohio-based ATSG plans to seek long-term lease commitments to secure cash returns as the pandemic eventually recedes and passenger aircraft return to the sky to contribute to air freight capacity.
Cargo flights are a reliable source of revenue during the pandemic, yet air freight demand is unlikely to keep pace with the return of air freight capacity when airlines return passenger jets to service. The trade disputes that drove the air freight slump in 2019 will still be unresolved after the pandemic recedes. The damage wrought by coronavirus on the global economy will also stifle demand for air freight, says Steve Fortune, the head of consultancy Fortune Aviation Services.
"E-commerce growth rates will decline as the recession begins to impact higher wage earners, and PPE [personal protective equipment] will be carried in by less expensive means," says Fortune, whose experience includes positions at FedEx and Potomac Capital Investment. "As passenger traffic returns, I think the airlines will largely revert to their pre-pandemic business models, albeit with smaller fleets."
Despite the long-term doubts about the profitability of air freight it will remain an option for airlines to generate revenue next year amid a "prolonged recovery", outgoing IATA director general Alexandre de Juniac said during the trade group's annual meeting on 24 November.
"Airlines have cut costs by 45.8%, but revenues are down 60.9%," de Juniac noted. "The result is that airlines will lose $66 for every passenger carried this year for a total net loss of $118.5 billion. This loss will be reduced sharply by $80 billion in 2021. But the prospect of losing $38.7 billion next year is nothing to celebrate"
Looking ahead to 2021, IATA forecasts there will be a 13% rise in air cargo volumes as prospects emerge for a coronavirus vaccine that could enable a gradual recovery of air travel which would increase cargo capacity on passenger aircraft. The growth of passenger travel will also depend upon the availability of virus testing to safely bypass any quarantine restrictions, and on consumer confidence in public health precautions.
The trade group expects that cargo revenues will grow to an historic high of $140 billion in 2021.
This analysis is written by Tom Risen, part of Cirium's North American reporting team