IndiGo has, among compatriot airlines, the highest number of new aircraft deliveries at risk as India began a three-week lockdown today.
Cirium fleets data shows that it is scheduled to receive 38 aircraft for the rest of 2020, comprising 16 Airbus A320neos, 11 A321neos and 11 ATR 72-600s.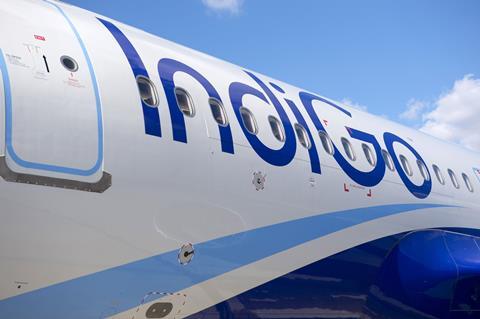 By comparison, fellow budget carriers GoAir and SpiceJet expect to receive 12 and 19 aircraft, respectively, for the rest of the year. Most of SpiceJet's deliveries are for the grounded Boeing 737 Max.
IndiGo has temporarily suspended all services until 31 March, and chief executive Ronojoy Dutta said on 24 March: "I'm sure you'll agree that, at this point, it isn't an exaggeration to say that we are at war against the coronavirus and that it is a war we must win. The next few weeks are critical in this battle."
He adds: "We understand that these are difficult measures, but much needed in our national interest to curb the spread of coronavirus."
The rapidly expanding IndiGo has 255 aircraft in its fleet, and 53 were added in the past 12 months, more than any other Indian carrier. This comprises 29 A320neos, 13 A321neos and 11 ATR72-600s.
Major Indian carriers' recent and upcoming deliveries
Airline
Deliveries over past 12 months
Deliveries from 25 March - 31 Dec 2020
Air India
2
0
GoAir
13
12
IndiGo
53
38
SpiceJet
5
19
Vistara
11
11
Total
84
80
Source: Cirium fleets data
Over the same period, SpiceJet received five aircraft, all De Havilland Canada Q400s, while GoAir took delivery of 13 A320neos.
State-owned Air India, which is undergoing a sale process, is not taking delivery of any aircraft for the remainder of 2020 and has only taken delivery of two A320neos over the past year.
Vistara, a full-service joint venture between Singapore Airlines and Tata Sons, received 11 aircraft over the past 12 months, all A320neos except for one 787-9 Dreamliner that arrived in February.
It plans to take 11 more before the end of the year, comprising four A320neos, two A321neos, and five 787-9s. Two of the Dreamliners are scheduled to arrive next month.
Vistara declines to tell Cirium whether it plans to defer delivery of these aircraft, saying only it will "share information at an appropriate time.