On 14 November, Qantas made the second of three research flights – under the ambit of its ambitious Project Sunrise – by flying a brand-new Boeing 787-9 (pictured below) from London to Sydney direct, carrying only 50 passengers and crew. This Project Sunrise initiative is Qantas's bid to open nonstop services to the Australian east coast from New York and London from around 2022-2023. A trial batch of three flights – also including New York-Sydney – is due to be completed by year-end.
The move follows the carrier's 2018 introduction of direct Perth-London services, and Qantas on 12 December tentatively selected the Airbus A350-1000 over the Boeing 777-8 to operate the Project Sunrise ultra-long-range flights.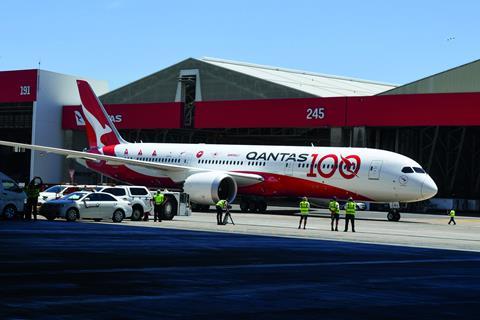 Qantas is not alone in testing ultra-long-haul services. In 2018, Singapore Airlines (SIA) restarted direct flights between its home base and Los Angeles and Newark. Then, in 2019, it launched a direct service to Seattle, its fourth nonstop US destination.
Ultra-long-haul dates as far back as the 1960s. Yet, marathon flights were – and still remain – largely a niche market served by modified versions of existing aircraft types. In the 1970s, Boeing developed the 747SP as a response to the need for ultra-long-haul flights. It looked to sell 200 units, but delivered only 45. More recently, the A340-500, with only 34 jets delivered, suffered a similar fate, hampered further by fuel prices. The 777-200LR also proved to be niche, with only 50 aircraft built.
Airbus's current offering, the A350-900ULR, builds on the popular A350, but only sees SIA operating it, primarily on its Singapore-USA nonstop services. Boeing has the 777-8, the latest ultra-long-range iteration of the 777 family, but said in August that it was delaying development after reviewing the twinjet's programme schedule and customer needs.
Qantas aims to order up to a dozen A350s for the Project Sunrise operation, and says a final "go or no-go" decision will take place in March 2020. And while Airbus's success at Qantas is not huge in commercial terms, it will provide Toulouse with important bragging rights over its US rival.