Any questions about the ambitions of Saudi Arabia's newly established Riyadh-based national airline were quickly answered by an opening fleet commitment for up to 72 Boeing 787-9s.
The planned order came just two days after details of the new carrier, Riyadh Air, were formally announced. Those launch details also confirmed the airline will be led by former Etihad Airways group chief executive Tony Douglas, who stepped down from the Abu Dhabi carrier last year.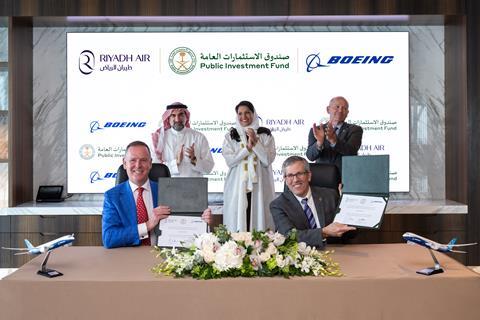 The new airline project is being developed on behalf of the government by the Saudi Arabian Public Investment Fund. "Establishment of the airline is aligned with [our] mandate to further enable the aviation ecosystem in Saudi Arabia," says the fund, of which the carrier will be a wholly-owned subsidiary. Riyadh Air will operate from a hub in the Saudi capital with a network expanding to more than 100 destinations by 2030.
Within 48h details of the airline's fleet plans emerged when it announced a purchase agreement for 39 787-9s and options for a further 33 aircraft. First deliveries are set for early 2025.
Douglas says: "By positioning the airline as both a global connector and a vehicle to drive tourist and business travel to Saudi Arabia, our new 787-9 airplanes will serve as a foundation for our worldwide operations." Douglas is joined in the airline's management team by former Malaysia Airlines chief executive and EasyJet chief operating officer Peter Bellew, who has taken the latter role at Riyadh Air.
The airline has yet to set a launch date or detail its network, but Riyadh Air – as its branding suggests – will operate from the Saudi capital. King Khalid airport in Riyadh is itself set to undergo expansion and be transformed into King Salman airport, plans for which envisage it being developed to handle up to 120 million passengers annually by the end of the decade.
Saudi's existing national carrier Saudia has its main base located in Jeddah but also has a sizeable operation out of Riyadh. It is unclear how this network will be impacted by the new Riyadh-based airline, but the Saudi government's continued backing is certain after Saudia also ordered more Dreamliners. Saudia already operates 13 787-9s and five 787-10s – and has three more on order. It plans to take 39 more 787s and will take options on 10 more. These will again be split across -9 and -10 models.
The total commitment for 121 widebodies would be the fifth largest commercial order for Boeing by value. The US airframer says both purchase agreements will be added to its order and deliveries website once finalised.
SAUDI AVIATION HUB AMBITIONS
The aircraft orders and launch of Riyadh Air form part of Saudi's wider ambitions to develop its aviation and tourism sector under its Vision 2030 strategy. That programme outlines plans to create a new global aviation hub in the country – which would pitch it against the operations of regional rivals Emirates and Qatar Airways – via the tripling of passenger numbers by 2030.
"We forecast to fly more than 330 million passengers in 2030 and 5 million tonnes of freight, establishing connections to more than 250 destinations," Saudi minister for transport Saleh bin Nasser Al-Jasser said in May last year, outlining a government plan to drive more than $100 billion of public and private investment into the country's aviation sector over the rest of the decade.
That plan also includes creation of a new aircraft lessor, AviLease. It carried out its first deliveries, a pair of Airbus A320neos, to local low-cost unit Flynas.
It has also seen foreign carriers establish a foothold in the market. European low-cost carrier Wizz Air notably embarked on an expansion into the country, launching a number of routes beween Europe and Saudi Arabia.
Kuwaiti budget carrier Jazeera Airways has also now disclosed preliminary steps to establish a new operator in Saudi Arabia. Jazeera, which will work with Saudi partners to establish the new airline, says the intended low-cost carrier would be based at Dammam's King Fahad airport. Dammam is the next largest city in the kingdom outside of the holy sites of Mecca and Medina.
Saudi Arabia already has its own low-cost carriers in the shape of Flynas' operations from Riyadh and Saudia unit Flyadeal's from Jeddah.