With aircraft piling up at Asia-Pacific airports amid the coronavirus crisis, airline engineering teams will play a key role in keeping grounded jets ready for the day when demand for air travel returns.
Singapore Airlines, Cathay Pacific Airways, Qantas Airways, and Korean Air represent just a handful of carriers that have cut over 90% of capacity given the collapse in travel demand. Jetstar Asia is grounded entirely, as are AirAsia and AirAsia X.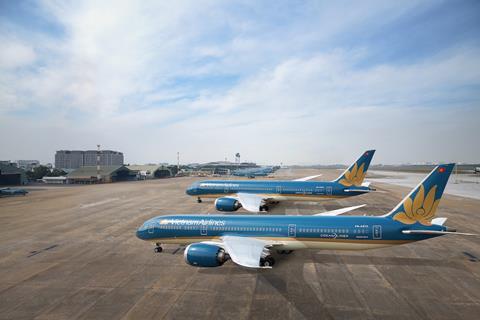 Recent figures from Cirium suggest that the global total of inactive airliners is above 8,500 and rising. Images on social media present a grim picture: at Changi, row upon row of Singapore Airlines and Scoot jets are parked nose-to-nose and nose-to-tail.
Yet when the rebound happens, as it eventually must, all this grounded metal will need to return to the air and drive revenue. Until then, maintainers have their work cut out for them.
One immediate challenge is storing aircraft at airports that are designed to keep aircraft moving and not parking them for days and weeks on end. In extreme times such as these, of course, taxiways and runways can be pressed into service as emergency storage locations. Still, airports increasingly resemble jigsaw puzzles of expensive jets.
As for the aircraft themselves, Boeing, Airbus and the other airframers provide detailed procedures for how to prepare aircraft for storage periods of varying lengths of time. An aircraft that is on the ground for a few weeks, as opposed to flying several hours every day, will still be subject to the standard roster of weekly checks.
Raymond Tan, an independent aviation consultant, has decades of engineering experience with airlines. He says that while aircraft manuals provide detailed storage instructions, storing aircraft for extended periods is not without its challenges, particularly in the unforgiving environment of Southeast Asia, which is characterized by high humidity and proximity to the sea.
"Every seven days you want to do some maintenance inspections, greasing, and maybe run an engine just to get things going," he says. "When airlines want to park aircraft sometimes they use old tires, because when you park an aircraft you can get flat spots. You have to move them, but looking at the way some aircraft are parked there's not much you can move."
When things return to normal the older tires can be switched off for fresh tires.
SNAKES ON A PLANE
Another issue, especially at remote airports in the region, can be wildlife. Snakes crawl into landing gear bays, birds nest in vents and engines, and rats make their way into an aircraft. Insects work fast. The Australian Air Transport Safety Bureau said that between 2008 and 2018, there were at least 15 incidents where a pitot tube blockage was detected in aircraft departing Brisbane, with at least four traced back to insect nests.
Tan estimates that checks for such interlopers should take place at least once a week.
For some airlines the grounding presents an opportunity to perform maintenance on items such as landing gear. One regional airline that operates A320neos is using this time to de-pair Pratt & Whitney PW1100G engines that are subject to a European Aviation Safety Agency service bulletin related to low-pressure turbine blade damage. De-pairing can be a time consuming process that affects ordinary operations.
One vexing challenge for airline chief executives in gauging when things will get back to normal. In the early days of coronavirus in January and February, airlines referred to the Severe Acute Respiratory Syndrome (SARS) crisis of early 2003 for some guidance as to how things would play out. Airlines such as Cathay Pacific and SIA were hard hit by SARs and they grounded large portions of their fleets. Yet, when the tide turned demand for air traffic quickly rebounded, and Asia's carriers were back in full swing after a short-lived – albeit harrowing - dip.
As bad as SARS was, it was by no means an international phenomenon such a coronavirus. Though both SARS and coronavirus originated in China, the more recent virus has found a far more globalized world. It has deeply affected not only the global aviation industry, but shaken the foundations of the global economy. It is certain that air travel will return, but the economic disruption wrought by the coronavirus crisis, which has yet to play itself out, could mean that it will be a long, hard recovery for air travel demand. At some points airlines may need to decide whether to keep part of their fleet ready to resume service and place part in longer-term storage.
Martin Eran-Tasker is the technical director of the Association of Asia Pacific Airlines.
"If an airline thinks it is going to bring an aircraft back into service quickly, they may treat it just like a normal aircraft at the gate where they do the normal maintenance," he says. "They do everything they do on a daily basis."
Should an airline decide to decommission a jet for an extended time then the ideal location is hot and dry, such as the Mojave Desert in the United States. Again, he stresses that the airframers provide detailed instructions on longer term storage, such as draining fluids, moving the aircraft periodically, covering all inlets and vents, and sealing windows.
While this saves in day-to-day maintenance and parking costs, it means the aircraft must go through a re-commissioning process before returning to service. While there are clear procedures for the technical side of the equation, it's also key for the aircraft's paperwork to be brought fully up to date. This will require working with regulators. As with everyone else amid the coronavirus crisis, government officials are working under different conditions. This can slow things down.
IN THE DESERT SUN
One longer-term storage option that has become available in recent years is Asia Pacific Aircraft Storage (APAS), which is located next to Alice Springs Airport in the arid desert of central Australia.
APAS chief executive Tom Vincent has seen a notable uptick in demand for storage in recent months.
"We're extremely busy at the moment…we've got multiple deliveries over the next week," says APAS managing director Tom Vincent.
"Technically you can park aircraft anywhere with a space, but the concern is if it's in a high humidity environment next to a coast then this can lead to corrosion in a very short time span."
APAS, which received its first stored aircraft in 2014, is in the midst of an expansion that will allow it to store 70-80 aircraft. Presently about ten aircraft are in storage at the site, pending the arrival of more given the coronavirus crisis.
Vincent points out that Alice Springs is only a five-hour ferry flight from Singapore. While the particular storage regime an aircraft undergoes is up to the operator, Vincent leans toward longer term programmes as this reduces the amount of weekly work necessary.
"[Longer term programmes] don't necessarily mean that the return to service is that much longer," he says. "But we feel it's better for the aircraft. You can put corrosion protective compounds on leading edges and engine inlets, inhibit the engines and APU systems, and just have better overall preservation of the aircraft."
As the coronavirus unfolds, airlines and leasing companies across the region and globally will have to make decisions about what to do with aircraft for which there is not, for the time being, a great deal of work. The rebound will eventually come, but it could be months, or possibly years, until demand for aircraft capacity returns to levels seen as recently as January.