Faced with effective isolation on the world stage, Russia – and by extension Russian industry – has had little choice but to turn inwards.
Therefore the news that flag carrier Aeroflot intends to order up to 339 Russian-built jets to replace its domestic fleet of Western types came as little surprise.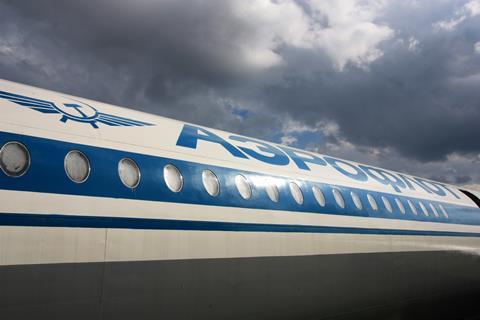 Deliveries of the initial aircraft from the deal are due to begin next year, with the first "firm contracts" covering shipments in the 2023-2025 period due to be signed off in the final quarter.
Aeroflot chief Sergei Aleksandrovsky says the pact is the largest purchase order in the company's history.
"Signing of this agreement clearly demonstrates to the whole world that Russia is a great aviation power with great potential and rich experience in the field of aircraft construction, capable of producing reliable and modern aircraft," he adds.
The intended distribution among Aeroflot Group carriers, which include Aeroflot itself as well as Rossiya and budget airline Pobeda, has not been disclosed.
But as ever the devil is in the detail, not least the composition of the order: 210 Irkut MC-21s, 89 Irkut SSJ-New aircraft and 40 Tupolev Tu-214s.
All three aircraft – the pride of Russia's aerospace industry – will be powered by domestically developed engines and otherwise free of sanction-afflicted Western content.
The two design bureaux sit within holding company United Aircraft (UAC), which in turn is controlled by Rostec, the state-owned industrial giant that has progressively hoovered up Russia's entire aerospace supply chain, including powerplant specialist United Engine.
In essence, with the Aeroflot deal the Russian government is telling two state-controlled companies that they must do business together – a throwback to the heady days of the Soviet Union. Back then, Aeroflot had a fleet full of smoke-belching Ilyushin, Tupolev and Yakovlev aircraft, before the end of the Cold War enabled access to modern – read efficient and comfortable – Western-built types.
"What's happening in Russia is that the state is going to be responsible for the entire economy. We have seen this movie before and it doesn't end well," notes Richard Aboulafia, managing director of consultancy AeroDynamic advisory. He likens the order to the Potemkin villages of the 18th century – sham settlements that were built to fool Russia's aristocracy about the country's progress.
Although the developmental MC-21 has some of the credentials to make it the carrier's narrowbody flagship, on the other hand, the selection of the SSJ-New – an updated version of the Superjet 100 - and the Tu-214 appears to have been driven by political and economic necessity.
That the SSJ 100 has not set the world alight is well documented. Since service entry in 2011, a total of 200 examples of the regional jet have been delivered, according to Cirium fleets data, of which 54 are currently in storage. On average, the manufacturer has handed over 16 aircraft per year, rising to a maximum of 28 units in 2018.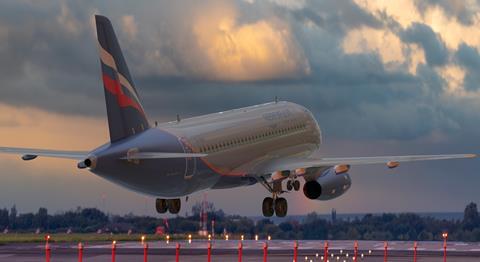 Little enthusiasm for the aircraft has been shown outside of Russia's borders beyond a handful of orders from carriers in CIS countries, and two western airlines, CityJet and InterJet, whose operations were hindered by shortages of spare parts. (Defunct InterJet alone accounts for 22 of the stored SSJ 100s.)
Even before the imposition of sanctions on the Russian aerospace industry, Irkut – and Sukhoi Civil Aircraft before it – had been working to create a 'Russified' version of the Superjet, replacing its around two-thirds of Western content with domestically sourced parts.
Western suppliers included Honeywell, Thales, and France's Safran, which developed the SSJ 100's SaM146 engines alongside Russian firm NPO Saturn through their PowerJet joint venture.
But the sanctions that were brought to bear in March following Russia's invasion of Ukraine have created a more urgent need for the Russified jet, not least that deliveries for the year to date have slumped to just three aircraft, down from full-year totals of 18 in 2020 and 26 in 2021.
Ignoring for a moment an acute shortage of semi-conductors, which could derail the whole Russian aerospace project before it even starts, the success of the SSJ-New and the MC-21 hinges on the performance of their respective Russian powerplants – the Aviadvigatel PD-8 and PD-14 (the latter replacing the Pratt & Whitney PW1400G).
Aviadvigatel claims the PD-14 family will deliver a 10-15% fuel-burn saving over "other contemporary engines of similar thrust range and application", however what that performance is being benchmarked against is unclear.
Although the fuel consumption of an engine is driven by numerous factors, those with a higher bypass ratio – how much air moves around the core rather than through it – are generally regarded as more efficient. For the PW1400G that figure is around 12:1, while for the PD-14, it is more like 8.5:1, according to their manufacturers' data. Of course, there is a drag and weight penalty from a larger fan - 206cm (81in) on the PW1400G versus 190cm on the PD-14 – but that should be more than offset by the gain from the higher bypass ratio.
Little data is available on the 17,000lb- (78kN)-thrust PD-8, but even the competing PW1700G for the Embraer 175-E2 has a 142cm fan with a 9:1 bypass ratio, P&W figures show; in comparison, the SaM146 boasts figures of 122cm and 4.4:1.
Aboulafia, though, doubts that Russia's propulsion industry can deliver products that match the performance of those from Western rivals.
"They simply have not had the kind of technological investment you need to maintain competitiveness. It's all about design teams and experience – and there's a reason why there are only three countries in the world that can design world-class jet engines," he says.
Although the Soviet Union was able to maintain some engine design and production know-how "in the last 30 years that capability has badly deteriorated", he says.
The result, he argues, will be an engine "that burns a lot more fuel and requires a lot more maintenance.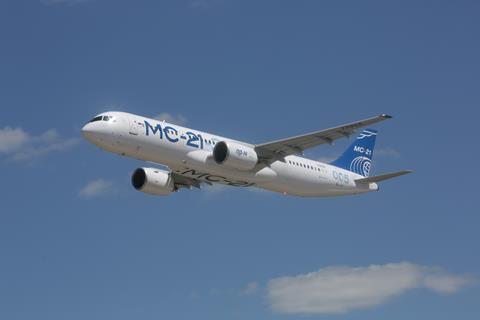 Phil Seymour, president of aviation data and advisory company IBA Group, concurs. "Maybe I'm doing the Russian industry a disservice but I don't think they have the resources and technology to develop something that competes against the Pratt engine," he says.
Reliability – of the engines and the aircraft - will be a key metric to watch, he says. "I think they may need to have several aircraft as spares because I don't think they are going to get the reliability – we have already seen that with the Superjet which had awful issues around that."
"It's going to be like the Aeroflot of old – operating Russian equipment that require a much larger spares inventory."
IBA even had a positive view of the pre-Russified MC-21, says Seymour: it was "going to be a reasonable aircraft in that space", and the P&W geared turbofan engine should "give it reasonable economics", granting it "some sales potential outside of Russia".
"We saw it as having a global market appeal but that has kind of been kicked into touch now with the move to using all-Russian technology," he adds.
Financing the aircraft will also be tricky: even if the sanctions are suspended "to finance a domestic Russian-built aircraft is not going to appeal to the international aircraft lending world", he says.
But if the acquisition of the MC-21 and SSJ-New can be justified if you try hard enough, an order for the Tu-214 is indicative of an airline that has run out of other options. After all, why else would a supposedly 21st century carrier like Aeroflot touch the Tu-214? It is an aircraft that has never sold in any noticeable quantity, and is powered, in the form of twin Aviadvigatel PS-90As, by engines that are very much of the previous generation, if not the one before that.
Cirium fleets data lists just 23 examples in service and a further six in storage; of that 29-unit total, just four jets – all stored – are passenger aircraft. Indeed, even Tupolev parent UAC does not list the Tu-214 as a passenger jet, instead categorising it as a "strategic and special purpose aircraft".
Yet, Aeroflot plans to operate 40 Tu-214s – more than have ever been built – taking a significant chunk of the 70 examples UAC intends to produce in the period until 2030.
Ultimately though, as Aeroflot will largely operate in a vacuum with precious little competition, the performance or comfort offered by its new fleet may not matter at all.
"Maybe in a closed market like in the old Soviet days that will be enough, in an awful sort of way," says Aboulafia. "The whole thing gives the word Potemkin a bad name."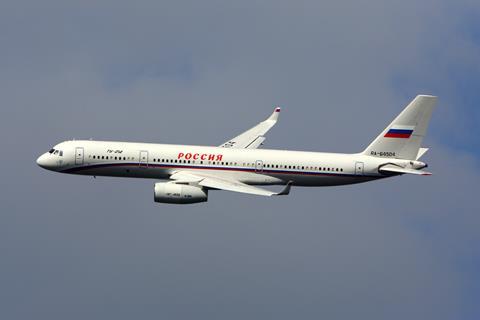 Dominic Perry is deputy editor of Flight International but also contributes extensively to flightglobal.com. Although specialising in the coverage of the helicopter industry, he has written on most topics in aerospace – be they commercial, defence or business aviation. In addition, there has been an increasing focus on the decarbonisation of the industry and zero-emission flight initiatives.
View full Profile