A year ago, Cameron Lampert, a flight instructor in the San Francisco Bay area, thought his path to the cockpit of a commercial airliner had hit a brick wall.
With the world in the throes of the global pandemic, passenger carriers went into financial meltdown. The industry seemed likely to face a years-long hibernation before recovering from the effects of Covid-19.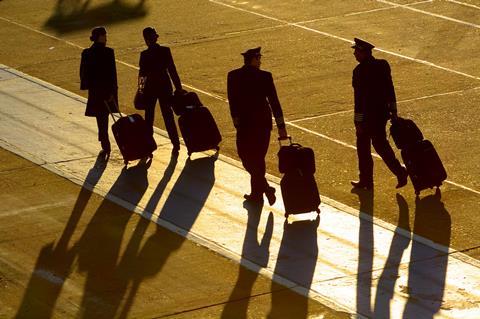 But in early 2021, as vaccinations ramped up, air travel – especially in the USA – returned with a vengeance. Passenger traffic climbed dramatically, blowing away expectations, as customers scrambled to book flights after governments eased shelter-in-place orders and other travel restrictions.
So Lampert, who had spent two years shepherding dozens of students through training, went looking for an airline job.
To his surprise, he found open doors.
"Airlines are hiring like mad right now," he says. Within a few weeks of applying earlier this summer, he secured a first officer job at a regional airline and began training in September.
HERO TO ZERO
In pre-pandemic 2019, with demand for air transport at historic highs and that growth forecast to continue, the industry's biggest pilot problem was trying to find enough of them.
Looming age-driven retirements at many carriers – about 38% of commercial pilots are over the age of 50, according to simulator and training provider CAE – coupled with an air travel boom, a weak pilot pipeline and staggeringly high training costs, suggested demand would rapidly outstrip the one human resource that makes it all possible: the individuals at the front of the aircraft.
In 2019, then-Boeing chief executive Dennis Muilenburg warned that a growing shortage of flightcrew was "one of the biggest challenges" facing the airline sector.
CAE echoed this assessment in a study released in November 2020, a time when many in the industry were still convinced the pandemic would take years to overcome.
The company put the professional pilot deficit number across civil aviation at 264,000 by 2029. Alone in 2021, the company said, 27,000 additional pilots would be needed to accommodate the rebound worldwide.
With at least 3.8% of airline pilots retiring every year for the next 10 years, 126,000 new ones will be needed to offset those retirements and attrition, and another 93,000 to accommodate the industry's expansion, CAE said. Its analysis added that at least 7,800 additional aircraft were expected to join the commercial airline fleet in that period.
After a year of pain, the industry has again launched a massive effort to recruit pilots to fly them. It turns out that CAE might have been right.
CHALLENGING PATH
The path to becoming a professional pilot is arduous, lengthy and costly. The US Federal Aviation Administration tightened rules in 2013 to require that commercial pilots have – in addition to their certificate – at least 1,500h of flight time before qualifying to fly for passenger or cargo carriers, up from 250h. Recurring training and regular medical check-ups are also needed to keep those certificates valid.
Pilot education, including private and commercial licenses, can easily cost $100,000. After initial training, many aspiring commercial pilots, like Lampert, earn instructor certificates, then teach for several years to log the required flight time.
Prior to the global health crisis, airlines had set up their own training schemes to alleviate the looming pilot shortage. United Airlines launched "Aviate", Delta Air Lines has "Propel" and Southwest Airlines set up "Destination 225".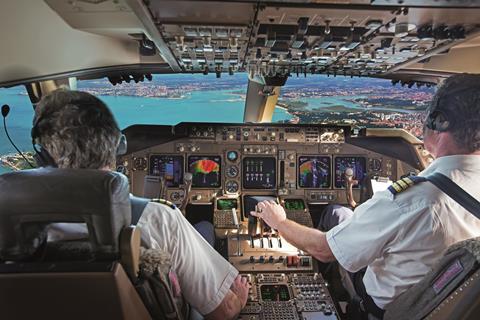 Desperate to attract candidates, airlines had been luring recruits with generous incentives. Sign-on bonuses were common, as were partial scholarships and low-interest loans to soften the financial burden.
But in March 2020, talk of a pilot shortage vanished as Covid-19 brought the industry to its knees.
As the virus spread and governments imposed lockdowns, air travel demand plunged. Airlines could not cut costs – or shed pilots – fast enough. They slashed networks, sent jets into long-term storage, furloughed staff and offered others voluntary leave and early retirement.
Within weeks, pilots who had spent decades training, flying and keeping current, found their careers decimated; their certificates worth less than the paper or plastic they were printed on.
Indeed, for the first few months of the pandemic, some airlines and pilot unions encouraged aspiring aviators to pursue other careers, warning of the sector's uncertainty and instability.
TRAINING CONUNDRUM
All that changed in early 2021, when much of the world decided it had had enough of lockdowns, Covid-19 be damned. With the success of vaccination efforts, demand for domestic air transport quickly returned, especially in North America, catching airlines unprepared.
All that rapid growth created what Geoff Murray, aviation consultant at Oliver Wyman, calls a "pilot re-shortage".
"Airlines had to adopt some different strategies when this crisis hit," he says. "Early retirement seemed like an easy one, as did the leave programmes."
But these retirements, Murray says, accounted for as much as 15% or even 20% of the airlines' seniority lists, leaving pilot ranks gutted of experienced aviators.
"Unlike previous recoveries – where [airlines] could recall people and pretty much put them right back into the seat they left – this time the airlines are saying, 'Holy smokes, we lost all of the senior captains. So we need to take the senior first officers, and move them into junior captain seats'," he says.
Recalling pilots is more complex than other work groups due to strict regulatory currency requirements and medical assessments. After months away from the cockpit, pilots must complete recurrent training in their aircraft – or new training if shifting to a different type.
And for the open positions, airlines now must train two pilots: the replacement and the replacement's replacement, Murray says. Such factors have created a training bottleneck that has proven difficult to relieve – even with simulators working 24h a day, he adds. "It's a training conundrum."
Thousands of airline passengers have in recent weeks experienced the ripple effects.
American Airlines cancelled hundreds of flights in July, and Spirit Airlines scrapped 2,826 flights during 10 days in early August – knocking $50 million off that company's third-quarter revenue forecast. The airlines have cited staffing issues as contributing to their operational problems.
Both carriers have since recovered from those temporary disruptions and US airlines continue recalling pilots and ramping up hiring. Still, a longer-term post-pandemic pilot shortage remains all but inevitable, and could make itself felt as soon as 2023, analysts say.
According to pilot consultancy Future and Active Pilot Advisory (FAPA), major US carriers hired just 1,685 new pilots between January and July 2021, with half of those going to cargo companies FedEx, UPS and Atlas Air.
But while the numbers are progressively rising, they remain far from enough to satisfy the industry's needs.
In its most recent pilot hiring bulletin, published on 25 August, FAPA says that "pilot interview and hiring numbers keep climbing".
"The twelve major [US] airlines continue to recruit pilots and celebrate increased hiring numbers," it says. "At this time, only three of our major airlines have yet to announce new pilot hiring numbers in 2021, all evidence points to the likelihood that they will in the coming months."
UNEVEN RECOVERY
But as the industry scrambles to get pilot ranks up to speed, airlines must remain mindful of potential pitfalls accompanying what has proven to be an uneven recovery.
The rapid spread of the virus's "Delta" variant during the summer travel months showed just how tenuous the recovery remains.
In early August, airlines cut earnings forecasts for the third quarter as cancellations increased, bookings fell and fears of new restrictions sent a shiver through the sector.
At the end of the same month, the EU once again recommended that its member states re-impose restrictions for US travellers, delivering a blow to the industry, which had expected to welcome back more long-haul corporate travellers in the coming weeks.
Eric Rhea, a flight instructor in Las Vegas, is also on the hunt for his next aviation job. To him, the post-pandemic era feels like a bit like a gold rush, tempered by short-term apprehension that the virus could again strike a blow to the industry.
Rhea's sights are set on a seat in the cockpit of a business jet – also a good choice, according to CAE. With the global business jet fleet set to increase by about 3,600 aircraft in the next decade, it estimates the segment will need 45,000 new cockpit crew by 2029.
Here too, at least 7.6% of pilots will exit the ranks into retirement or the commercial airline sector annually, making room for many more, the company says.
"There's still a fair number of places hiring, but it feels like it's slowed down a little bit as people are worried about another shutdown," Rhea says. "It almost feels like everyone's kind of just pausing and holding their breath as this Delta variant passes, as opposed to the big mad rush that there was two months ago."
STRONG ALTERNATIVES
FAPA says that Part 135 carriers – named for the section of US code that governs most business jet charter and air taxi operations – "remain strong alternatives to flying for the airlines". Of the 113 operators it monitors, 99 of them are hiring, it adds.
Murray notes that as the recovery has shown to be uneven – across North America and around the world – so too is demand for cockpit crew.
"North America, Asia-Pacific and the Middle East are likely to see the largest shortages, while Europe, Africa and Latin America remain closer to equilibrium," he wrote in a recent Oliver Wyman study.
Causes vary across geographies. An ageing workforce and barriers to training are affecting the North American market, while operators in China and other regions face surging demand driven by a burgeoning middle class. Murray estimates North America and Asia together will have a deficit of almost 45,000 pilots by 2029 if no mitigating action is taken.
And he anticipates the biggest losers in this war for aviation talent in North America will be regional airlines that fly smaller aircraft on shorter routes for major legacy carriers.
"The mainline airlines primarily draw from the regionals," Murray says. "So the majors are going to be able to find pilots. Where we will feel the pain from the shortage first is with the regionals."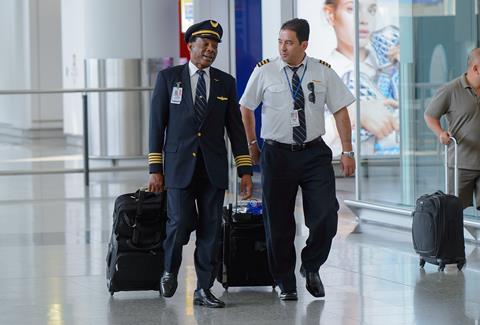 Oliver Wyman expects annual regional carrier pilot turnover to rise as high as 40%. Under normal circumstances, that number would be in the teens.
The problem may become so critical, Murray adds, that some regional carriers may cease operations or consolidate with others because they cannot find enough qualified flightcrew.
FAPA's August hiring bulletin notes that some regional carriers are currently offering sign-on bonuses as high as $15,000, and referral bonuses of $10,000.
On 31 August, Envoy Air, a regional carrier affiliated with American, announced a programme by which pilots can earn up to $150,000 in retention compensation and captain bonuses.
But the high cost of pilot training – going from zero hours to a plateau that makes an aspiring commercial pilot employable – remains a significant barrier to entry.
Murray says in the USA there were traditionally two ways to a commercial cockpit career. The first was via the military, which covers all training costs in return for a service commitment, and the second is going it – and paying for it – alone.
"Historically there was never a middle ground between those two paths," Murray says.
But CAE says that less than 10% of aspiring pilots in North America have access to sufficient funding. Many would-be pilots raid their savings, borrow from family or friends and take out hefty loans to pay for training.
"If you look at other regions in the world – Western Europe, Asia – the airlines there sponsor students," Murray notes. "I think we are going to see models like that evolving in the United States and it will benefit the industry tremendously."
"There's a whole untapped pool of capable, talented young people who need encouragement and sponsorship to make their way into the airline flight deck."
United's Aviate, which is looking to train 5,000 pilots in the next 10 years, is already going there. The programme offered more than $2 million in scholarships this year to help finance training for candidates who might otherwise struggle to afford the education. United also partners with financial institutions to offer loans at favourable conditions.
EUROPEAN MODEL
UK-based flight school Skyborne Academy, which trains pilots for British Airways, EasyJet and India's IndiGo, recently acquired a flight school in Vero Beach, Florida, and is working on bringing its European model to the USA.
"Every pilot at Skyborne is heading towards an airline," says chief executive Lee Woodward. While candidates do not receive a guaranteed job offer from the outset, the school makes sure they are suited to an aviation career before taking their first lesson.
"Our focus is very much driven by quality. We are very selective about who we take into the academy, which is what our partner airlines want us to do." This professionalisation of the selection process gives the school's airline partners the confidence to grant conditional offers, as well as some financial support, without much risk.
Woodward says the 18-month coronavirus crisis has given the industry time to rethink how it sources pilots and to consider improvements.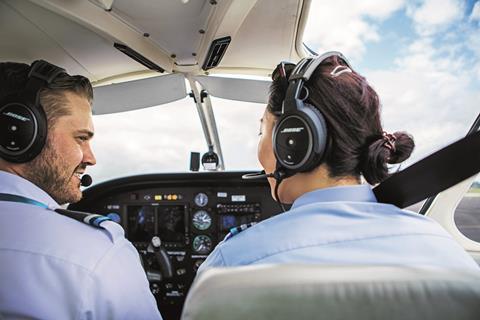 "There will be no pilot shortage if we remove the barriers to entry," Woodward says. "We need more creative, innovative and equitable funding solutions, and to find ways of better diversifying what we do."
But after the repeated shocks of the past 20 years – 9/11, the global financial crisis and now the Covid-19 pandemic – is aviation as stable and attractive a career as the industry likes to think it is?
"Aviation an extremely resilient industry," Woodward says, adding that after every crisis the sector has returned to a growth trajectory, and come back stronger.
"The pilot profession is as attractive, maybe even more attractive, than ever," says Murray. Career prospects, he says, are "unlike anything we have seen in decades".
Both Rhea and Lampert, on the cusp of launching into aviation's big leagues, agree.
"This is a very stable career," says Rhea. "You might bounce around a little bit. It's hard to get that first break because everyone wants the bare minimum of 1,500h. But once you get in that first job, then it's really your oyster where you want to go."
"Nothing's changed for me," Lampert adds. "If you want to go do it, you just do it. And now is probably the best time to give it a shot."
Story updated on 24 September to correct the spelling of the company called Skyborne Academy.

Pilar Wolfsteller, Americas Air Transport Editor, is based in Las Vegas and brings a pilot's perspective to her beat. She covers airlines across the hemisphere and her interests also include future-oriented sustainable aviation technology and urban air mobility projects. Pilar began her journalism career at the global news agencies Bloomberg and Reuters, and has reported from more than 50 countries.