While securing a resolution that committed airlines globally to achieving carbon neutrality by 2050 at last year's AGM underpins the industry's decarbonisation efforts, it marked only a first step in translating ambition to reality.
"After the political statement, the pathway started," explains Sebastian Mikosz, vice-president of environment and sustainability at IATA, on the eve of this year's gathering in Doha. "This remaining 28 years will be our implementation and in the short-term, at least the next three years, there are two priorities.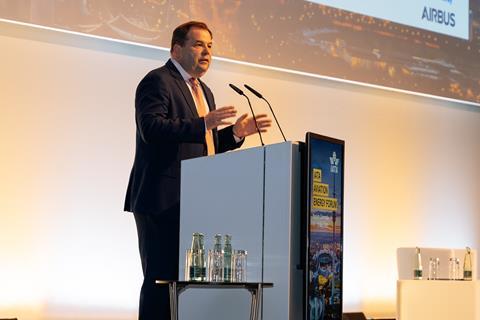 "Priority number one is to push the supply of sustainable aviation fuel (SAF). To some extent we have created the signal of demand, now we need to do everything possible to have companies and states creating the environment so that SAF is produced from various feedstocks in various places. This is the main form of decarbonisation that we are relying on as we speak."
In outlining its base-case roadmap to net-zero CO2 by 2050 at last year's AGM, IATA estimated SAF would account for almost two-thirds of the industry's total fuel requirement by 2050. That requires a sharp ramp-up from current levels, where work is required even to reach IATA's aspiration of being at 2% in 2025 and 5% by 2030.
"There is a mismatch between demand and supply. So we create a positive thing where there is more demand than supply, therefore the momentum will be there until this market balance reaches an equilibrium – which at the moment is not even starting to be close because we are using less than 1% of SAF in overall fuel usage," say Mikosz.
Part of that push was the bringing together of various players in the market during IATA's Aviation Energy Forum held in Munich last month, which merged its Fuel Forum and Sustainable Aviation Fuel Symposium events.
Mikosz adds that while he is confident there will be a significant technology breakthrough to support reaching net-zero CO2 emissions, the heavy reliance on SAF reflects IATA's desire to build a "credible plan" on what could be achieved today. "It was not about having a resolution, it was about having a plan on how to deliver this resolution. And from that perspective, we cannot have a public scenario saying we have no clue how we are going to do it, but we are going to do it."
Mikosz notes that even if there is a technological breakthrough, SAF will still be a key component because of the timeframe needed to update the global fleet. "It is about energy transition; how do you transit from conventional energy to completely new types of energy," he says.
The second key near-term priority in terms of decarbonisation is offsetting.
"Before we have SAF, before we have hydrogen, before we have electric planes, before we implement new propulsion technologies in our planes, offsetting in the short-term is what we have at hand. Offsets is how we are going to start the decarbonisation process."
In that regard, 2022 is a pivotal year given ICAO – under whose auspices the existing Carbon Offsetting and Reduction Scheme for International Aviation (CORSIA) is in place – holds its triennial general assembly this autumn. Agreement on CORSIA ensured a global approach is in place rather than individual regional offsetting schemes. That in turn hinges on maintaining the political balance between states with widely differing views – particularly between emerging and developed nations – on the pace and fairness of meeting environmental goals.
"For us this is the ultimate goal, to have CORSIA alive," says Mikosz. "We have a view at IATA on the potential baseline [post-pandemic] and this is what we advocate when we are talking to the ICAO council and the environmental community and those bodies that make the decisions, because CORSIA will be a political decision, and the baseline will be a political decision.
"But the industry and our members have an important say in that, because they are the ones bearing the cost of CORSIA, so it's question of balance. And this is why ICAO is so important to us, because this is the only place we have where every state to talk to other states about aviation."
While decarbonisation efforts dominate, momentum is picking up in another notable area in line with global efforts to tackle plastics pollution. In early March the UN Environment Programme (UNEP) committed to reaching a legally binding agreement to tackle plastic pollution by 2024. For IATA this provides a key framework to step up efforts to eliminate single-use plastics onboard – itself tied to the key issue of making catering more sustainable and reducing food waste.
"You have a paradoxical situation when you are an international operator that when you take a plastic bottle that it is legal in one country, but is not legal in another," Mikosz explains. "And in countries like Inida, you have those regulation changing between provinces and even between the airports.
"The biggest isuse we have is harmonisation so we can respect the same rules. We have 250 items onboard the plane that we identified could be more sustainable, but…. we need harmonisation.
"Plastics over the next few years is going to be one of our big topics," he adds. "It is an easier shot than decarbonsiation because we know there is pathway within a visible period of time."