Royal Air Maroc is preparing to issue a tender for 22 aircraft as it turns its attentions to developing a growth strategy following what chief executive Abdelhamid Addou describes as the carrier's 'big transformation' during the Covid-19 crisis.
The tender would cover a mix of regional, short-haul and long-haul aircraft, and would support the carrier's ambitions to further develop traffic connecting Europe and the Americas with Morocco.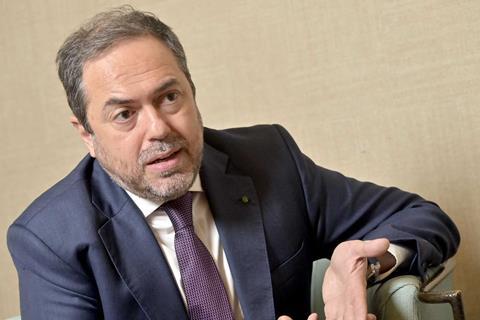 Addou tells FlightGlobal in an interview during the recent IATA AGM in Doha that the airline is already the African carrier connecting the most points in Europe and the USA to Africa, and plans to further develop this role.
"For us as a connector on the African continent, our ambition is to become a global connector and there is room for that," Addou says. "When you look at the success of the GCC airlines or Turkish Airlines that are global connectors between Asia and the European continent and Africa, we can do the same thing between Africa and Europe, and Africa and the Americas, north and south,
"For that we need first to invest in more planes, we need to have an airport with a much bigger size and a more efficient quality and customer experience. We need to train and coach more people; we need to have a much more ambitious HR strategy.
"So it's a big step to transform the airline. That comes at the right moment because we are coming back from a crisis where we have reviewed completely our processes, so we are much more agile. Now we need to invest to grow.
"We are in the process of discussing with the shareholders and presenting with them the new vision to enhance the size of the airline and after that we should launch a tender to buy the right planes," he adds.
Addou points to the way the airline capitalised on two years of Covid-19 to carry out a wide-ranging transformation of its business.
"We went full digital on many subjects. We changed lots of processes in terms of technical and operational aspects, sales," he explains. "We reviewed our relationship with the unions, in order to introduce a new way of working altogether and bring in more efficiency and productivity."
That latter process was in part helped by "more solidarity" the crisis created within the company. "Everyone understood that we were in a very tough situation," he says.
JOINING THE ONEWORLD ALLIANCE
Ironically the crisis came just as the airline was about to mark another key step in its development: alliance membership. Royal Air Maroc formally joined Oneworld at the start of April 2020, just as countries around the world shut their borders as the first Covid-19 wave hit.
Addou says the very fact the airline was attractive enough to be invited to join Oneworld underlines the strong fundamentals of the business. "They would not invite anybody," he says. "That they did it shows we have some strengths that are very interesting for the airlines."
He also sees the opportunity to develop Royal Air Maroc's own service proposition by working with its peers in the alliance. "Because we are dealing with big airlines that are very powerful and efficient, it will lift us up of the way we have to do business and the way we have to serve our customers. This is the most important point: how to enhance customer experience and how to enhance customer relationships.
"Those were pain points we needed to address," he says. "We have evolved a lot. We are still are far from the level we would like to reach that are coming from some of our partners, but the distance between where we were and where we would like to be has shortened a lot."
At the same time the airline also continues to face strong competition from low-cost carriers, especially from Europe where Morocco has long had an open-skies relationship and is an attractive tourist destination.
"We have to have the position of being a global connector, but we also have to serve our tourism. So we are a point-to-point destination, that is where we compete a lot with low-cost," Addou says, estimating at least 80% of the 45 airlines that serve Morocco are budget sector operators and that this requires the right product to compete in that market.
"We are working on some new products that could help the development of new tourism in our country and fit much more to the needs," he says. "If you offer for a two-hour flight free meals and luggage, your prices go up, so we need to find a way to be more adapted to the market."
EXCEPTIONAL CIRCUMSTANCES
Encouragingly, after the sharp reduction in activity from the pandemic, Royal Air Maroc has seen a stronger-than-expected rebound as Covid travel restrictions have been eased.
"We should be finishing the year at about 90% of our 2019 network," he says. "We were expecting the recovery to be around 2024, now basically at the beginning of 2023 we should have recovered our network.
"Of course the current jet fuel prices are not helping, so we may have revenues, but profits are more complicated," Addou adds.
Indeed, he is realistic about the scale of the challenge of returning to the black while the airline's single biggest cost is on the rise, especially given the traditional small profit margins in the airline industry. "Oil represents 25-30% of our costs. If you double the price of oil, where can you get that profit?"
Neither is he relying on the surge in travel demand to continue, acknowledging the current circumstances are exceptional. "Now that they [passengers] can travel, they will pay whatever is needed for that, I don't think that will last. Inflation is here, oil prices are sky-rocketing, you cannot push much more the family budget. Next year we should go back to normality in terms of dealing with the business," he says.
He believes, however, that the airline goes into that period transformed by the work it has done during the pandemic, and ready to embark on the growth opportunity ahead.
"I think what we did as an organisation is build on the weaknesses we had at that time and tried to transform the airline," Addou says. "That is the best lesson we can take from the Covid period – there is always room for improvement, even when there is no business, and maybe that is the right opportunity to change things. So we did a transformation that is bringing good results."