More than four years into a major restructuring, group chief executive Tony Douglas sees Etihad Airways emerging from the pandemic with a fresh focus which places the core airline brand at the heart of its strategy.
In early March 2020, FlightGlobal was finalising plans to interview Tony Douglas in Abu Dhabi later that month. The Etihad Airways group chief executive was a little over two years into a major restructuring after the business's ill-fated equity-alliance strategy.
Focusing on the job in hand, Douglas had until that point kept a relatively low profile – especially by comparison to the headline-grabbing aircraft orders and airline deals which had marked the carrier's rapid rise and subsequent challenges. However, emboldened by faster-than-expected pace of recovery efforts, Etihad was in position to talk about progress.
By the end of March, international travel had ground to a halt and it was clear the pandemic was to deliver a fresh set of unprecedented challenges.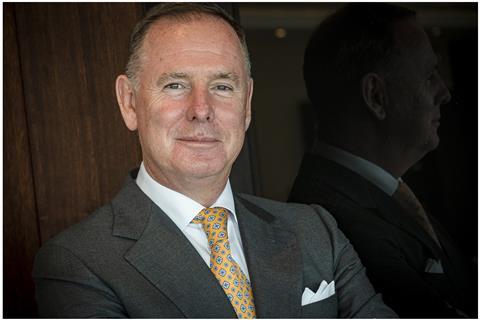 Yet despite the huge disruption and additional cuts that were to follow, Douglas believes the group remains on track to meet its original target of reaching profit in 2023.
"In some ways we are probably now ahead of schedule of what was the original plan," Douglas tells FlightGlobal. "We are on for 2023; I'd like to think it [will be] earlier in 2023 [rather] than later in it.
"I think the EBITDA number in particular – to have a $1 billion swing to a positive in the mid-$400 [millions] – is something that gives us confidence that we can deliver on that ambition."
He was speaking on the day Etihad disclosed a loss of $476 million. This not only marked progress on the $1.7 billion the group lost in the pandemic-hit 2020; significantly, it was also a 41% improvement on its performance of 2019.
At one level, that is a product of a nimble reaction to the changed market the pandemic created. Cargo, for example, which was largely viewed as the unglamorous part of an airline, has taken centre-stage for many since the crisis. Etihad is no exception.
"Cargo has been a life-saver," says Douglas. "Our cargo performance in 2021 was a 73% increase and the market not only continued to see growth in yield, but also in volume, and was a very key part."
Record cargo revenues topped $1.7 billion in 2021 and contributed more than half the group's $3.1 billion income for the year.
Cargo increased in importance given continued challenges in the international passenger business, which were particularly acute for an operator with a limited domestic market to fall back on. Passenger numbers of 3.5 million were still behind the 4.1 million Etihad flew in 2020 – and just a fifth of pre-crisis levels.
However, Douglas, describing the year as "a game of two halves", is encouraged by the improving trend. The airline carried more than two-thirds of its passengers over the second half and load factors climbed from the mid-20 percent levels to 70%.
Notably, conditions supporting the travel recovery continue to improve. Abu Dhabi has lifted the requirement for vaccinated travellers to have a negative PCR test before travelling – testing on arrival at the airport remains – while key markets in Asia-Pacific, such as Australia, are starting to reopen. "It has all started to normalise out a bit now," he says.
HOW ETIHAD RESTRUCTURED
Douglas believes one of the reasons the group has weathered the pandemic as well as it has is that restructuring began long before Covid-19.
That restructuring was necessary after an ambitious quai-alliance strategy, designed to fast-track network growth for the youngest of the big Gulf carriers, hit the buffers in 2017 as losses spiralled at Air Berlin and Alitalia, and Etihad retrenched amid its own heavy losses.
That was the point at which Douglas, the former London Heathrow and Abu Dhabi airports chief executive, took the helm of Etihad.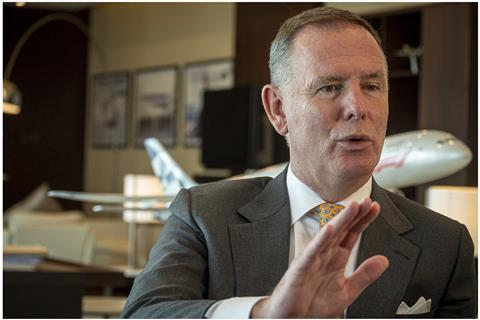 "The consequences of that were twofold," Douglas explains. "One was the direct liabilities that came from sizeable failings in different jurisdictions. But also then future liabilities as a consequence of having 155 aircraft on order, assuming that this quasi-alliance was going to grow at a rate that would justify it. And of course, a failed strategy then presents a balance sheet that was in desperate trouble and impossible to service itself.
"Not to be overly-melodramatic, [but this was] literally open heart surgery on the balance sheet, and a realisation that given the size of the exposure, this wasn't 'take two Panadol and the headache will go away'," he adds. "This is going to take some time, many steps to get one from what was a direction of growth [through the alliance strategy] to something that can genuinely self-sustain itself."
The carrier's restructuring included a major simplification of the business. Out went the multiple airline investments, as did a significant number of long-haul aircraft on order and a string of unprofitable routes. A simplified organisational structure, under which Douglas took responsibility for the core airline, was put in place.
The pandemic brought further need for structural changes, as the airline positioned itself for the new level of demand likely in the post-Covid travel environment.
At the end of last year, plans were announced for the divestment of Etihad's aviation support service units, including its engineering division, to Abu Dhabi holding company ADQ, further illustrating a clear strategy to focus on Etihad's core airline operations.
"We're no longer trying to grow for growing's sake. Big is not beautiful by definition," says Douglas. "We probably under-invested into the core Etihad brand, because getting yourself consumed in something like Alitalia can very rapidly become a drain upon anybody, even with significant resources. So it took quite a bit of time, obviously, to deal with the consequences. But equally, what we've got now is a wholehearted focus upon the core Etihad brand.
"The mandate is what it always was." he adds. "It's taking Abu Dhabi to the world and bringing the world to Abu Dhabi. We're proudly the national carrier. And I think you'll see a far more concentrated effort in that regard now [compared] to perhaps in the past, when we were spread a lot thinner, over many other brands associated with trying to connect our quasi-alliance."
Douglas has coined the term "mid-size carrier" to describe the airline's new model. "What we have defined as a mid-sized carrier is one that's got an obsessional attention to detail when it comes to customer service. One that's got a fundamental foundation around its environmental performance. But is probably a fleet size – today we're operating [67] aircraft – that will continue to grow as the market requires.
"But what we're not going to try and do is artificially stimulate by growing faster than the market. What we are not going to try and do is just go to head-to-head on price wars to steal it off somebody else – ie, buy into European airlines or Indian airlines. We'll try and align it more to the fundamentals of what Abu Dhabi as our home Emirate requires, and grow it sustainability off the back of that."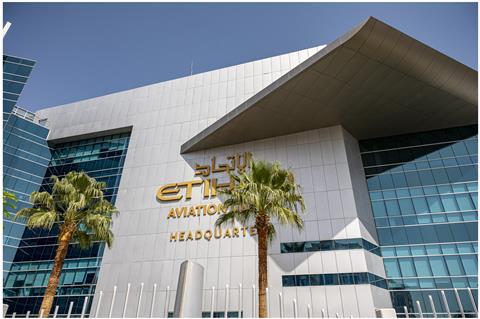 ALIGNING FLEET REQUIREMENTS
Perhaps the most tangible sign of the new mid-size carrier is through its fleet – and its subsequent development plans.
Etihad's fleet stood at over 100 aircraft before the crisis. However, even before the pandemic hit, it had taken steps to reduce number of aircraft types it operated and incoming aircraft on order.
"Previously, people could have almost jokingly said that we were the delight of your average aircraft spotter, because you could have stood at the end of the runways that we operated from and literally turn over the pages and tick them off. And I think we all know that there is a sizeable inefficiency and the cost that goes with that, in terms of multiple fleet types. And we were committed to multiple fleet types for all manner of legacy reasons. And that just takes time to iron out.
"And in so doing many of the performance benefits of last year, quite frankly, were a function of not having an extensive and over-extended fleet mix, but taking the operational efficiencies of 787s, in particular."
Etihad has 39 Dreamliners in the fleet – and a further 32 on order – and the type will be the backbone of the widebody fleet along with the Airbus A350-1000s which will enter service shortly. However, the carrier's commitments for the latter have also been pared back.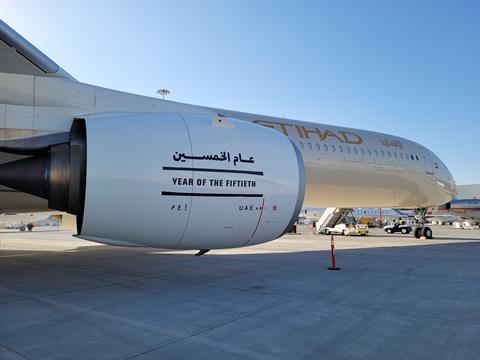 "We're in for 12," says Douglas. "And the first five are progressively entering into service from this year. The first three, for sure.
"We're really excited about bringing the A350 into the line-up as the second horse in the stable. And when it does have its big reveal, I think the product offering that one will see is quite exceptional. But it does so in a way where it's not at the expense of cost."
The carrier though has exited its Airbus A330 and A340 operations, and sold its Boeing 777s – though leased some back.
Gone too, likely forever, are Etihad's 10 A380s, which were grounded two years ago when the pandemic hit. "We don't see them re-entering into our fleet planning unless the yield on the ticket price and the demand could ever make them financially viable. Now with $100 oil price that is unlikely to occur any time soon/if ever.
"The A380 is an incredible product. It's something that all of us love from a travelling perspective. But the economics of it commercially don't work," he says.
Etihad retains a commitment for 777-9s, though Boeing's certification challenges of the type makes delivery timelines uncertain.
"It gives us the flexibility to grow as and when our market drives that. But equally, what we're no longer into is a whole series of deliveries that are going to give us indigestion, that by definition, are going to set us back again, because we've got a fleet bigger than we can actually sustain or warrant."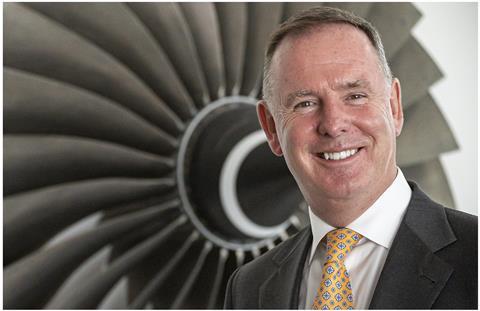 Etihad though has not completely lost is appetite for new aircraft. During the recent Singapore Airshow it disclosed a letter of intent for seven of the recently launched A350 Freighter.
"We're talking about a programme that successful delivery of is likely to occur at the point when our 777 freighters reach a natural retirement.
"There's probably an expectation, that over the next decade in particular, there'll be far more challenge around the cost of air freight and the carbon implications thereof," he says, suggesting it may only be a "matter of time" before regulators look at punitive measures like taxation to speed change in this sector. "What the alternatives are likely to be, is, in our opinion, A350 freighters, and that's the reason why strategically we went in. "
SETTING SUSTAINABLE TARGETS
Alongside operating efficiencies, Douglas see the 787s and A350s helping to drive development of a more sustainable future.
"Those two… are our poster children that are out there deliberately giving good evidence as to what we're trying to do in a collaborative way to move the sustainability agenda forward."
At November's Dubai air show Etihad struck an agreement with Airbus to collaborate on sustainability efforts under a programme that will use A350-1000 jets in the style of the carrier's 'Greenliner' initiative with Boeing. Etihad teamed with Boeing two years earlier to use a 787-9 as a testbed for sustainability initiatives.
That resulted in an October flight last year between Abu Dhabi and London Heathrow where carbon emissions were cut 72% over an Etihad equivalent flight in 2019.
That in part was because it was operated with a more fuel-efficient 787 rather than an A380. It also flew with a 38% mix of sustainable aviation fuel – though that it was short of its 50% target illustrates the continued challenges the industry faces in sourcing enough SAF. Optimising route planning, including elements such as a continuous descent, brought further savings.
"Now, the obvious punchline is sustainable aviation fuel is not repeatable on a regular basis [today]. And the optimum route planning isn't repeatable," he says. "But it's deliberately intended to draw a greater appreciation to the role of governments and policy setters and regulators, because without which, that will always be a handicap."
Douglas sees SAF as a key enabler to reaching its emissions targets. "It will be one of the big ways in which we can get, certainly to the step by 2035, which is a 50% reduction in carbon emissions, and a big jump towards the final objective, which of course, is 100% carbon reduction."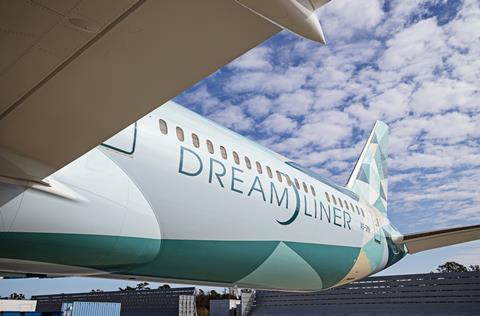 The theme of sustainability punctuates Douglas' answers and a raft of initiatives over the past two years point to the way Etihad is embedding this across different aspects of its business.
That includes eye-catching initiatives ranging from a $1.2 billion financing tied to environmental, social and governance targets to a recently launched 'green loyalty' programme for corporates offering rewards and incentives designed to support environmental initiatives.
This ties in with research Douglas says the airline has done which shows the differing priorities passengers have for air travel.
"What comes out of it loud and clear is the younger populace, not surprisingly, are far more conscious about the sustainability considerations and the carbon footprint as a result of travelling. Now, with that in mind, [the question is] how do you get engagement with people who have got a conscious choice to be able to choose something that is more likely to contribute to the way forward."
Are such measures enough to tackle the issue? "Blunt answer, sadly, it's almost certainly not enough. And I think everybody's acutely aware, there is no silver bullet to this," Douglas says, noting that while he hopes the pandemic may be drawing towards an end, he is aware bigger challenges remain.
"The sustainability challenge to commercial aviation is going to be around for decades, if not generations. It's a function of the physics of flight and the reality that there is a continued demand for people to want to be able to do so," he says. "So we have to go about it in a different way."