Freighter conversions fell 33% in 2018, with declines in the widebody, narrowbody, and regional aircraft freighter segments.
Cirium fleets data shows that 2019 saw 74 commercial aircraft converted to freighters, down from 110 in 2018.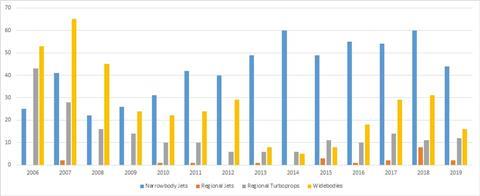 Widebody conversions halved to 16, compared with 31 a year earlier. The year saw the conversion of seven Boeing 767-300ERs to the 767-300ER BCF (Boeing converted freighter) standard, and seven to the 737-300ER BDSF (Bedek-designed special freighter) standard.
Of the BCF conversions, five were undertaken by Evergreen Aviation Technologies at Taipei Taoyuan Airport and two by ST Engineering Aerospace in Singapore. As for the seven BDSF aircraft, six took place at IAI Bedek's facility in Tel Aviv, and one in Mexico City, where IAI Bedek and Mexicana operate a joint venture.
Amazon's Prime Air Unit took four converted 767s, all BDSFs, and China's SF Airlines took three BCF examples. Other recipients of converted 767s were LATAM Cargo Colombia, DHL Aero Expresso, Atlas Air, UPS, and Kalitta Air.
In addition, a pair of Airbus A330-200s was converted to the A330-200 P2F standard by EFW in Dresden. Both aircraft went to Egyptair.
Narrowbody conversions also fell sharply, dropping to 44 conversions in 2019 compared with 60 a year earlier. The 737 lead with 13 737 "Classics" and 17 -800s converted, while there were 10 757-200SFs converted to the -200SF standard. Five 757s were converted during the year, a quarter of the 22 recorded in 2018.
Major recipients of the 737-800 BCF were Prime Air (four), China Postal Aviation (two), and SpiceJet (two). In addition, SpiceJet also took a pair of 737-700 BDSFs, and DHL took two 737-800 (BDSFs).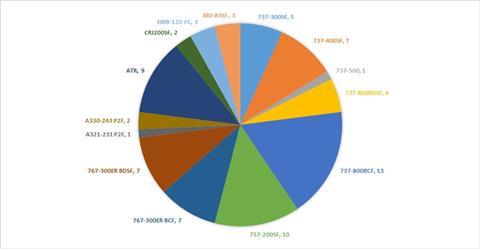 Speaking at the Airline Economics Growth Frontiers conference in Dublin, Robert Convey, an executive at conversion specialist Aeronautical engineers, attributed fewer narrowbody conversions to the grounding of the new 737 Max, which has reduced feedstock of 737-800s available for conversions.
One notable conversion during 2019 was the first A321P2F in Singapore. Launched in 2015, EFW's A321 P2F conversion programme is a collaboration with ST Engineering and Airbus.
ST quietly carried out the first flight-test of the A321P2F on 22 January, a sortie which, it says, lasted about 20min.
The year saw regional jet conversions drop to two examples, a pair of Bombardier CRJ200SFs, compared with eight in 2018.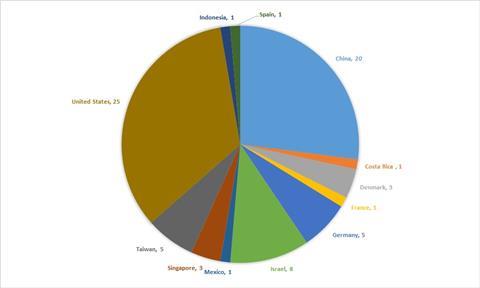 Turboprop conversions - the only category to improve during the year – rose to 12 from 11 in 2018. Converted turboprops comprised nine ATRs and three Embraer EMB-120 FCs.
Chris Seymour, head of market analysis at Ascend by Cirium, attributes the lack of conversions to the market cycle, set against a relatively poor year for cargo traffic.