As airlines recover from the operational upheavals of the Covid-19 pandemic, the US pilot shortage has been among the major factors limiting full restoration of carrier networks.
But supply-chain issues and labour shortages are presenting lesser-known problems for the maintenance, repair and overhaul (MRO) sector that are also affecting the ability of airlines to return to pre-pandemic operations.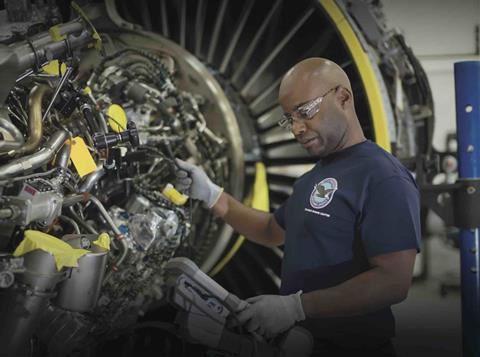 "Everyone's focused on the pilots, but the mechanic shortage is just as problematic," said Barry Biffle, chief executive of Frontier Airlines, during the company's fourth-quarter earnings call on 8 February.
The Denver-based low-cost carrier is sorting through a multitude of problems with MRO providers, including engine maintenance delays. "We've seen issues, especially in places where we have what is called 'on-call maintenance' – where we don't do maintenance every day," Biffle says. MRO response times have "deteriorated as a result of their staffing levels".
Chris Markou, IATA's head of technical operations, tells FlightGlobal that a range of supply-chain issues are affecting the MRO sector. Chip shortages have limited the availability of some electronic components, in addition to widespread shortages of raw materials.
"The strict lockdowns in China and travel restrictions there and across much of the region during Covid significantly impacted parts manufacturing and repair worldwide," he says.
As with many industries, the MRO sector is struggling with labour shortages, especially in hiring skilled technical personnel who require lengthy training, Markou says, noting that the problem is less severe in countries that provided payroll support to help companies maintain employment during the pandemic. Many seasoned aircraft mechanics took early retirement packages in 2020, and MRO shops have struggled to replace their expertise.
"The pandemic has reduced the number of available workers, causing a significant skills gap in the industry," says Toma Matutyte, chief executive of Locatory.com, an online marketplace for both commercial and military aircraft parts. "The shortage of skilled labour has affected the ability of MRO providers to deliver their services, leading to delays and reduced capacity."
Critically, lingering supply-chain issues are hampering the ability of MROs to meet agreed maintenance turnaround times. "All these issues lead to uncertainty about committing to the timing of delivery, something that operators have a hard time coping with," Markou says.
And many airlines that deferred costly maintenance early during the pandemic – when international travel was paused and airline revenue plummeted – are now seeking to make those repairs, as understaffed shops struggle to meet demand.
Airlines are budgeting more time for repairs, getting manufacturers to extend parts limits when possible and looking for alternative sources of parts. And it is unclear when the situation will improve, Markou says. "There is so much uncertainty in the world that it is very hard to even attempt to provide a prediction."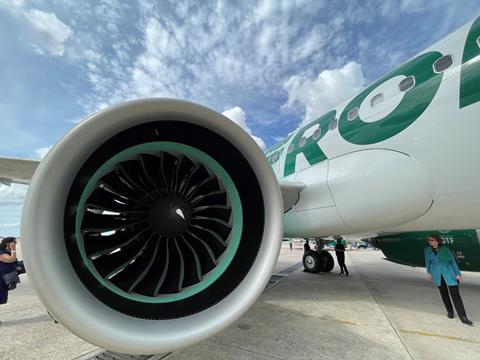 'ALL VERY MUCH DELAYED'
In a sign of the global airline industry's urgent need for parts, EirTrade Aviation, a Dublin-based aviation asset company, recently disclosed plans to disassemble a pair of Boeing 787 Dreamliners after only 10 years in service.
The 787s stand to be the first of the type stripped for parts since Dreamliners started flying passengers in 2011, according to the company.
EirTrade said on 28 February that the 787s will be taken apart at its facility at Ireland West airport in Knock, and that the used components "couldn't come at a better time for operators and maintenance of the aircraft looking to source used serviceable materials [USM]", the company says.
"As no 787s have been retired from commercial service to date, there is almost no USM market for this platform at the moment," says chief executive Ken Fitzgibbon.
Demand for aircraft parts is almost "universally outpacing supply", with labour shortages and supply-chain issues leading to much longer turnaround times for maintenance, says Jonathan Berger, managing director of Alton Aviation Consultancy.
"I mean, you name it – outside repair for components and engines are all very much delayed," he says. "It used to take 30 days to repair components. Now it's taking 90 to 120 days."
The widespread lack of spare parts "goes all the way back to raw material", Berger says. "Airbus and Boeing need parts to assemble and they don't have them… On the engine side, all the castings and forgings, they can't produce them fast enough, and Airbus and Boeing can't deliver an aircraft without engines."
Power plant manufacturers are struggling to provide parts to MRO shops, he adds: "They have to figure out 'Who do I want to piss off the most – my engine shops or my new engine deliveries? So no one's happy."
Next-generation engine technology is proving particularly troublesome. Specifically, Pratt & Whitney's (P&W) geared turbofan (GTF) is causing a "lot of headaches", Berger says. CFM International Leap engines also have issues, "but not to the magnitude that Pratt's facing right now," he says. "With some of these new-generation engines – unless they locked in a fixed hour-by-hour [contract] early – [airlines] are seeing very high shop-visit costs."
Ted Christie, chief executive of Florida-based Spirit Airlines, says issues with P&W PW1100G engines – which power Airbus A320neos – prompted Spirit to lower capacity expectations for 2023.
"Over the last six months, the GTF Neo engine has experienced diminished service availability, an issue that has been steadily increasing over this period," Christie said during Spirit's fourth-quarter 2022 earnings call on 7 February. "This is not just a Spirit issue. Pratt & Whitney continues to struggle to support its worldwide fleet of Neo aircraft as MRO capacity remains constrained and turnaround times for engines in the shop have been nearly three times longer than the historical averages" for earlier-generation engines powering A320ceo-family jets.
"Within a two-week period, we went from having two A320neo aircraft without operable engines to having seven A320neo aircraft sidelined due to these issues," Christie elaborated. "When operating, the Neo engine performance and fuel efficiency is great, but the engine's time-on-wing performance has once again declined."
Spirit is working with P&W to find solutions to increase time-on-wing performance, Christie said, but he acknowledged "it is frustrating that this had become an issue again".
"Like many in the industry, [P&W] is experiencing global supply chain challenges which are limiting the availability of structural castings and other parts," P&W tells FlightGlobal. "We're progressing on our mitigation strategies with our supply base and expanding MRO network capacity, and we're coordinating closely with customers on solutions to minimise operational disruption."
P&W expects supply chain pressure to ease in 2023, which it says will "support the output of both production and MRO engines".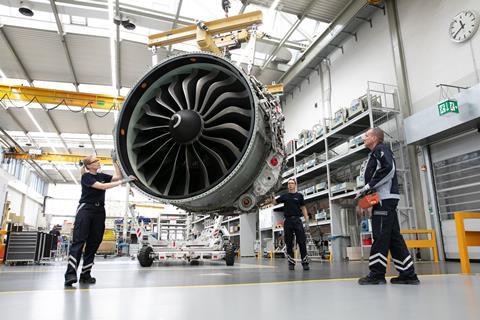 NO SILVER BULLET SOLUTION
Airlines initially reacted to the shortages by "robbing their parked aircraft", but that resource has been tapped, Berger says. "Then they went to the lease market to try and lease engines, but those are all used up." Airlines are therefore delaying aircraft retirements, keeping older planes in service for longer and leasing rather than purchasing aircraft "to backfill their aircraft that don't have engines".
There is no "silver-bullet" solution, Berger says. Widespread MRO issues will likely continue throughout 2023, he says, predicting the situation will lead to a summer of crowded airports and "really high load factors".
"You're going to see really stressed airport security personnel, gate agents, mechanics," he says. "The system is going to be stressed and it's going to be a rough summer, I think." He believes the material supply-chain problems will ease next year.
Matutyte of Locatory.com expects global maintenance issues to "improve gradually" as airlines continue rebounding from Covid-19 and supply chains "adjust to the new realities of the post-pandemic world".
Airlines will have some flexibility this summer because the global pre-Covid-19 fleet has yet to fully return to service, with many aircraft still parked or stored, IATA's Markou adds.
"During the peak summer [2022] season, shortages in flight crew and ground staff were more impactful than shortages in technical staff," he says. "A large number of aircraft are still parked and some may provide the capacity needed."