Strong business in the Kazakh domestic market and an increased focus on point-to-point and leisure routes are key to revamped activity at Air Astana as the coronavirus pandemic continues to reshape the airline sector.
Air Astana's main flying activity at the height of the crisis involved services from Kazakhstan's western oil fields to Amsterdam with an Airbus A321neo, alongside some ad-hoc repatriation and cargo charter work.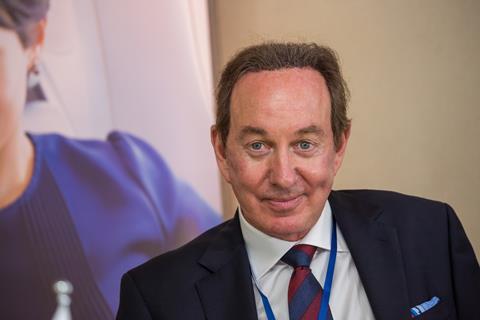 But since scheduled passenger services resumed in May as travel restrictions began to ease, domestic services have become a mainstay of the group's activities.
"Our domestic market is doing absolutely fine – that's been a life-saver," Air Astana chief executive Peter Foster explains in an interview with FlightGlobal. "We are above where we were last year."
That in part reflects the continued development of its low-cost operation FlyArystan – which Air Astana launched in May 2019, initially operating domestic flights from Astana.
"The domestic market is extremely resilient," says Foster. "On domestic there is an interesting phenomenon here. Kazakhstan is a very large country and has this very well developed rail network so a huge amount of travel has been done by rail, which has meant domestic air travel has been very low – which is the reason why we launched FlyArystan.
"What seems to be happening, is people don't want to go by rail," he says, highlighting the shorter journey times in an aircraft, together with the clear enforcement of measures such as mandatory wearing of masks on board.
"So it seems a lot of people have migrated from the train, particularly to FlyArystan, driven by that phenomenon. That is something we hadn't expected and that's one of the key reasons why the domestic routes are doing so well."
But international operations, where a swathe of travel restrictions remain in force, are a "completely different" story. "We have some international routes going – Turkey, Germany and Dubai – and they are doing quite well, but in general the long-haul markets, the hub and spoke markets, they are dead in the water," Foster says.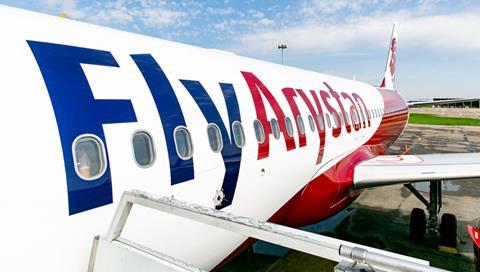 Before the crisis, international operations accounted for around 60% of Air Astana's business, but domestic services now represent 80%.
"For us the two biggest markets are Russia and China. In Russia we can only do one flight a week and we normally do 54 flights, and China we are not permitted to do anything yet - although we think we will probably be operating again on a very restricted frequency to China hopefully next month.
"And southeast Asia is completely moribund because the southeast Asian governments have gone for suppression of the virus as opposed to containment: nothing in and out."
The airline in August resumed Frankfurt services. While Foster says this route is doing fine, he notes that before the crisis Air Astana and Lufthansa were serving it with 16 weekly frequencies between them. "Now there are only five [flights] and even on that basis the load factor is hovering between 50% and 70% at best. So even that market, which is a strong one traditionally for us, is much reduced," he says.
"What people don't seem to want to do anymore is travel through big hubs, especially if they are leisure travellers," Foster observes. "People quite clearly want to get on a plane in point A and get off in point B and not hang around in busy airports and busy cities.
"So we are going to be doing a lot more flying point-to-point to leisure destinations, like Dubai – in our case its a leisure destination – Sharm el-Sheikh, De Nang in Vietnam, we are looking Nha Trang, we are looking at the Maldives. We are going to be doing a lot more of that type of flying in the future, particularly to the leisure markets.
"When we opened up Turkey and Dubai again about a month ago, the demand for those routes was huge. Leisure demand has not diminished. Business traffic has been absolutely pulverised."
CARRIER PREPARED FOR TOUGH WINTER
Alongside the network shift, the airline has taken measures to tackle its costs during the crisis, removing eight aircraft from its fleet and with roughly half its staff on reduced hours.
"It's been crucial to keep the team together, that has been the single biggest management challenge," says Foster. "We have had to keep in constant communication with people just so they know we are working on a restart and will be welcome back as things improve.
"Our liquidity is good. We didn't ask for or get any money from our government, and thus far its been fine. We have been able to preserve liquidity and raise money on commercial financial markets and through commercial banks without any government involvement, which is the way we like it. So at the moment, we feel in a relatively stable situation."
But he is aware that could change if a second wave of the virus this winter proves as disruptive as the first stage of the pandemic.
"Looking at our revised model, which is pretty much exclusively point-to-point, lots of leisure destinations internationally, some key regional routes where there is proven and sustainable traffic, and the domestic market – if we look at the new way the airline is expected to operate, I think 2021 might not be such a bad year for us if there is no major second wave.
"Now that is a very big if, a huge elephant in the room, but if it proves to be less dramatic then we are all fearing, then we think 2021 might be okay for us – albeit with quite a radically different model," Foster says.