Air Astana chief executive Peter Foster is upbeat about the airline's future in the post-coronavirus world, but sees a number of challenges before normalcy returns.
As with most of the world's airlines, Air Astana's fleet is on the ground. Of 36 aircraft, 34 are in storage, with a pair of Airbus A321neos operating basic services while the airline's home country, Kazakhstan, remains in lockdown. The five A320s operated by low-cost unit FlyArystan are also in storage.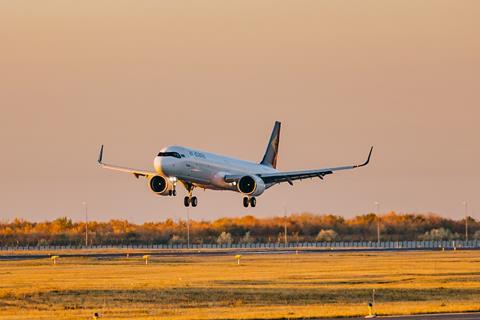 The Kazakh flag carrier's main flying activity now involves services from the country's western oilfields to Amsterdam with an A321neo. The company has some ad hoc work, such as repatriation flights for Europeans in Kazakhstan, and for Kazakh students studying abroad who want to return. There is also some cargo charter work.
Apart from "a few employees", says Foster, the majority of the company's 5,000 personnel are on leave. All staff have been asked to use up the balance of their 2020 annual leave, with salaries reduced to 50%.
"Our first priority is cash preservation," Foster states. "We were fortunate in that we went into this crisis after nine very good trading months. We entered March in very good financial shape, with a strong cash balance. That allowed us to plan our response to the crisis in a fairly measured way."
Air Astana's net profit for 2019 reached just over $30 million, a substantial improvement on the previous figure of $5.3 million. Revenues rose 6% to $893 million and the carrier transported 17% more passengers, a total of over 5 million, while unit costs fell.
As for dealing with the anxieties of the Air Astana team amid the pandemic, Foster believes that regular communications have been essential. Foster pens regular letters to staff. Other channels include an employee app and a staff magazine. Staff are made aware that there have been no job losses and that when the coronavirus pandemic alleviates they will have a role to return to. The carrier's relatively small size makes it easy to keep people informed.
The airline, a 51:49 joint venture between Kazakhstan's sovereign wealth fund and BAE Systems, believes its financial position is strong enough that it will not require government financial support to weather the crisis. Foster says that the airline has not reached out to the government and will not do so.
"We've always taken the view that governments are best kept out of the direct involvement in airlines," he says.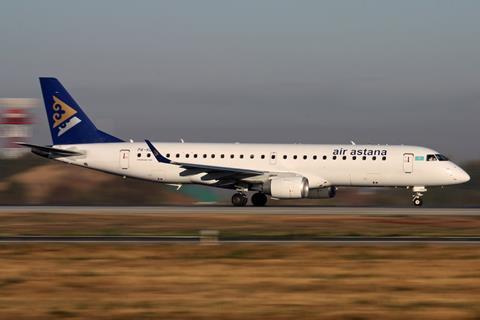 Foster points out that in any case the government has more pressing priorities, such as helping vulnerable elements of society, than supporting private companies. Air Astana has also held what Foster calls "relatively positive" discussions with lessors and financial institutions.
Still, the airline faces a range of challenges as the crisis continues. The restart of the aviation industry, when it happens, will come with its share of headaches.
Air Astana's stored fleet requires ongoing maintenance. One issue involves fuel tanks. While the airline possesses the chemicals required to keep algae from growing in the tanks, there is a challenge around the equipment necessary to apply the chemical. This is exacerbated by the massive disruption that coronavirus has inflicted on global supply chains.
Foster contends that disrupted supply chains will be a problem for all airlines once the re-start occurs.
"Supply chains have all been degraded," he says. "Airlines will be rushing to activate degraded supply chains as quickly as possible, which means there will be bottlenecks."
When flying ramps up again Air Astana is even considering a break with normal practice, and using spares harvested from grounded jets to support the in-service fleet.
"This is not something that we ever do, and we're going to have to start doing that," says Foster.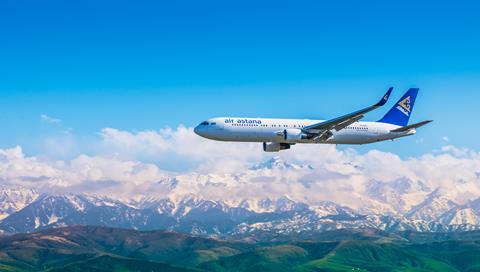 Jet fuel, on the face of it, is a positive for the industry given record low oil prices. Foster, however, kiboshes the idea that airlines stand to greatly benefit. He notes that refiners have stopped producing jet fuel largely because there is insufficient storage available. He feels that headline jet fuel prices "bear no relation to reality".
Another challenge will be pilot currency. The longer the crisis continues, the more pilots will require simulator training. Air Astana does not possess its own simulators and Foster expect simulator time to be at premium as airlines scramble to return their pilots to currency.
"How do we get access to simulator time and indeed perform line checks sufficiently quickly to get sufficient numbers of pilots requalified or recurrent so that they can operate commercial flights? The longer the quarantine lasts, the greater the problem becomes."
The airline has contingency plans for various re-start points: 15 May, 15 June, 15 July, and 15 August. Initially, it expects domestic air travel to pick-up as well as some limited international traffic. Leisure travel is unlikely to pick up quickly, with most travel involving people flying from their homes, where they are now locked down, back to the cities or locations where they work.
Foster says one fundamental unknown will be the regulatory regime that airlines will confront as the crisis abates. Social distancing could well be carried over to aircraft, requiring airlines to fly fewer passengers. This will have a clear impact on air fares. The evolution of the crisis, in which different countries adopted different measures at different times, bodes ill for an internationally unified emergence.
"This does not lead to any great confidence that there can be a unified approach to exit this crisis any more than there was for the entry. But we will see."
One casualty of the crisis will be that older types in the Air Astana fleet may be phased out earlier. The carrier is in the process of replacing its Boeing 757-200s with A321LRs, and its Embraer E190s with the new E190 E2. This will be accelerated.
"We had transition plans for both those fleets," says Foster. "Clearly this crisis is going to significantly accelerate those transition plans."