Aer Lingus could be forgiven for thinking things had taken a turn for the better when Ireland at the end of May cleared the path to lifting restrictions on all non-essential air travel next month.
As compatriot Ryanair – which received its first Boeing 737 Max this week – has highlighted on several occasions, Ireland has imposed one of the tightest regimes of travel restrictions during the crisis, to the extent that Aer Lingus was the most challenged of IAG's carriers during the first quarter of 2021 as its revenues collapsed 91%.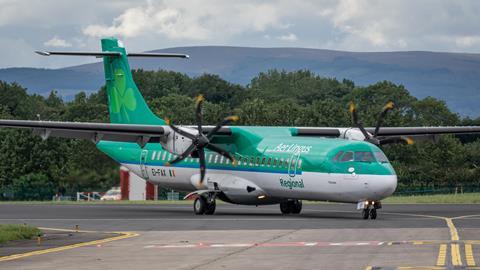 So Ireland's reopening to non-essential travel from 19 July offered a welcome step towards some kind of normality in the carrier's primary market.
But the collapse of Irish regional carrier Stobart Air, which was operating franchise flights on behalf of Aer Lingus, provided a harsh reminder of the impact of the crisis.
While state support has helped to keep national carriers in the air since the pandemic hit, private operators such as Stobart have found themselves at the mercy of a challenging market and the need to secure funding. For Stobart, that proved too much once its proposed investor's financing stalled.
So instead of focusing on the chance to kickstart international operations, Aer Lingus has been working to fill the gap in its schedules closer to home. Ironically UK domestic flights from Belfast were one of the few markets which offered Aer Lingus some respite from Ireland's strict travel restrictions.
That may also have been part of the thinking when Aer Lingus planned to launch its first transatlantic flights from the UK this summer. But in a further sign of the chaotic conditions airlines are attempting to operate in, the slow opening up in the UK air travel market amid the spread of the Delta variant of coronavirus has now forced Aer Lingus to push back the launch of Manchester flights to New York JFK and Orlando by two months to the end of September.
Airlines are used to rolling with the punches, but network planning in a market where even the certainties are uncertain is a near impossible task. But for now, at least, a punch-drunk Aer Lingus can turn its attentions to Ireland's reopening.
Subscribers to the Airline Business newsletter receive the Friday Briefing first every week. For more information, click here.