Swift lifting of Covid travel restrictions opens last 'locked' market, but return to 'normal' remains longer task
News in mid-March that US regulators were lifting the testing requirement for passengers arriving from China underlined a faster reopening of the last Covid-locked-down market than airlines could have dared hope.
Even in early December, as China's rhetoric around its zero-Covid strategy began easing, few were anticipating quite such a rapid reopening. That caution seemed justified as China's decision to ease restrictions, notably its quarantine-requirements, from early January initially prompted a string of states to reimpose testing of their own – citing concerns of a fresh Covid wave related to China's easing of its restrictions.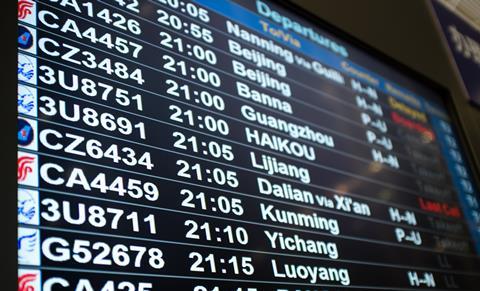 Most international airlines have adopted a wait-and-see approach before restoring capacity at any scale. Cirium schedules data shows that capacity on international routes to mainland China in January was still 90% down on the same month in 2019. That was 76% down in March and scheduled capacity for May is 64% below 2019 levels as airlines gradually reinstate flights.
Evolution of international capacity to mainland China
Month
Flights 2023
Change v 2019
Seats 2023
Change v 2019
ASKs 2023
Change v 19
Source: Cirium schedules data
Jan
4,043
-89.9%
942,564
-88.6%
2,795,908,743
-90.2%
March
9,291
-76.6%
2,088,736
-74.7%
6,612,889,049
-76.4%
May
14,540
-64.5%
3,246,164
-62.4%
10,657,341,527
-64.3%
The reopening of mainland China to international travel is a particular boost for Asia-Pacific operators. Trade body the Association of Asia Pacific Airlines (AAPA) says China accounted for about a fifth of Asia-Pacific international travel demand pre-Covid. That has dwindled to single digits amid the pandemic.
However, the sudden nature of the reopening means an immediate response from carriers in the region is not straight-forward. "You… must remember that until the beginning of December the Chinese government were still sticking to their 'zero-Covid' strategy… and nobody expected China to open up even in 2023," said AAPA director-general Subhas Menon, speaking at the Aviation Festival Asia in Singapore at the end of February. "So airlines… were not prepared, and they had put capacity elsewhere."
He also flags that Asian carriers are being cautious in their supply ramp-up. "Airlines in this region have learnt the lessons of the West: we saw what happened in Europe and [North] America, where they just put on as many flights as they could… and the airports couldn't cope with it," Menon says. "I think everyone is managing expectations, but this is a short-term issue."
Momentum though is increasing, particularly as counter-restrictions have been eased. For example, South Korean operators Korean Air, Asiana Airlines and Jin Air have all outlined moves to increase their operations into mainland China since Seoul eased entry restrictions for arrivals from China at the start of March.
Cebu Pacific's new chief executive Mike Szucs expects the Philippine carrier to restore all of its 25 international points – including in China – by April. The carrier's China capacity though will initially remain below pre-pandemic levels. "It will depend on how the market reacts," says Szucs.
A bullish AirAsia Aviation Group expects to surpass pre-pandemic capacity to mainland China by the year-end, with its Malaysian and Thai units leading the ramp-up in the coming months. The low-cost airline group expects to restore about 90% of mainland China capacity – or about 290 weekly flights – across its units by August this year. The figure is a significant jump from the current 67 weekly flights to China. By November, it projects Chinese capacity will be 11% above 2019.
LONG-HAUL AIRLINES RETURN TO CHINA
Outside of Asia, carriers have been steadily announcing plans to restore capacity. Air France-KLM, for example, has stepped up flights from Amsterdam and Paris to Beijing and Shanghai. The latter cities have been the prime focus for international carriers returning mainland China capacity.
Air France-KLM chief executive Ben Smith in Feburary said the group expects a "transatlantic-style" release of pent-up demand for travel to Asia because of China's reopening. "We weren't expecting to allocate the amount of capacity we are planning to allocate," he states. "We're moving some lower-performing flights from other routes over to Asia."
And while flights to China are taking up to three hours longer because of the overflight ban, not having to pay Russian charges has been "more than offsetting the increased costs that we were incurring on longer flights", Smith states. "The profitability… of our flights to China has been quite solid despite the fact we have to fly around Russia."
Closer to home, China's three largest carriers reported a significant jump in domestic passenger traffic in January, as they quickly added back capacity to their networks. In their first traffic results since Beijing ended its zero-Covid policy, the 'Big Three' – Air China, China Eastern Airlines and China Southern Airlines – also saw the gradual return of international traffic on the back of borders reopening.
China's carriers will take heart from the rapid ramp-up Cathay Pacific has undertaken since Hong Kong dropped quarantine restrictions last September. This helped Cathay post an operating profit for 2022, albeit on revenues at less than half pre-pandemic levels, and capacity was at around to 50% of 2019 levels in March. The Oneworld carrier expects to restore full passenger capacity next year.
IATA too flagged the impact of the reopening of Chinese market in strong traffic results for January. China's domestic RPKs rose 37% in January, the first month-over-month annual increase since August 2022. IATA director general Willie Walsh says: "The rapid removal of Covid-19 restrictions for Chinese domestic and international travel bodes well for the continued strong industry recovery from the pandemic throughout the year."
While travel rules to China may be returning to pre-pandemic highs, the same cannot necessarily be said about international relations. It remains unclear the extent to which geopolitical tensions between China and the USA, evident most recently by the row following the appearance of a surveillance balloon over the USA, could impact long-term demand.
Additional reporting Lewis Harper and Graham Dunn