Airlines urgently require regulatory bodies to waive the 80:20 slot rule for the northern hemisphere winter season, according to Lara Maughan, head of worldwide airport slots at IATA.
Absent decisions to do so by the end of July – particularly from the European Commission, which has regulatory oversight of half the world's almost 200 slot-constrained airports – dozens of airlines face a "black hole next winter" in terms of planning their schedules, Maughan tells FlightGlobal during a 13 July interview.
"Given that we already have [a summer season waiver] in place, [airlines] already know that summer 2021 can be built back on," Maughan says. "It doesn't really make sense now not to protect winter, because you are then going to have a black hole next winter."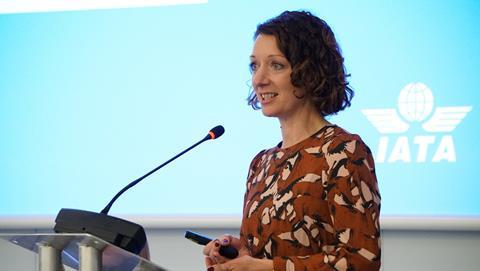 At a time when even the most optimistic predictions show few, if any, carriers operating 80% of last year's capacity by the end of this year, implementation of the 80:20 'use it or lose it' slots rule – which is predicated on a business-as-usual environment where demand often outstrips supply – could be unfairly damaging to a number of airlines, Maughan states.
Crucially, without a winter waiver in place soon, she adds, airlines face making critical decisions on their networks with no certainty on whether vital slots will still be theirs into the future.
Progress has been made in convincing the regulatory authorities of the urgency of the situation, she says, including those in Brazil, South Africa and the Asia-Pacific region.
But the European Commission is a big concern.
"We have a strong suspicion that they are not going to make a decision before September time, given the current negotiations," Maughan states.
A decision that late would leave airlines going into a critical period with reduced visibility of the factors underpinning their networks, she explains.
"In August, [airlines] have to return [slots] they intend to not operate," Maughan says of planning process for the coming winter season. "Under normal circumstances they can return a certain amount of slots at this point in August. And then they are measured forward on what they operate under the 80% rule for the rest of the season.
"So what we're asking is that we already have the waiver in place before they make those returns, so that the airlines essentially can return everything that they know already that they don't want to operate."
Such an outcome would give airlines the strategic certainty that they can return slots for the coming winter season with no risk of losing them for the equivalent 2021-2022 season.
WIDE RANGE OF CARRIERS RELY ON SLOT PROTECTIONS
The current uncertainty does not just affect the big hub carriers, Maughan explains, pointing out that many airlines do not operate from slot-controlled bases but still fly regular frequencies into such facilities.
She gives the example of an Asian carrier that might fly daily frequencies into a few of Europe's big hubs. For the coming winter season, that airline might already know that it will only be viable to operate those services thrice weekly.
With a waiver in place by the end of July, that carrier could use the August process to hand back the slots it knows it will not use, with confidence there would be no impact on its future slot rights beyond the coming season.
Such slots are often hard-won and expensive assets, and, in normal times, underpin networks that have taken "decades to build up", Maughan says.
But without a waiver in place, that carrier's choices are stark. It either relinquishes its rights to more than half its slots – a critical component of its long-term business model – during the August process, or it holds on to its daily slots in the hope that a waiver is eventually agreed. If it does the latter and no waiver comes, it faces losing the slots anyway.
And although operators might be able to reclaim lost slots through the usual channels in some cases, they could still lose their preferred time, for example, which has knock-on effects for the rest of their networks and the economic viability of routes.
The lack of a waiver altogether might also prompt some airlines to operate "ghost flights" in order to the meet the 80:20 requirement – a strategy inconsistent with the sector's environmental commitments.
"The timing now is everything," continues Maughan. "An airline already knows it's going to be x% smaller this winter. It can already see demand is so much lower… it now needs to reduce its schedule to reflect that. And consumers want to know what the airlines are going to operate, as do the airports.
"And they want to publish that plan, but they can't without the waivers being in place before that… They don't want to deconstruct their entire network without clarity on how the slots will be treated."
While the summer 2020 waiver was a "blanket" decision covering all slots, Maughan notes that the winter waiver would be slightly different. Any slots newly allocated for the coming winter season would be exempt from the waiver, she says, while IATA has stipulated that airlines must give at least two weeks' notice of their intention not to use slots, for the waiver to apply.
SHOULD SLOT ALLOCATION GUIDELINES BE SHAKEN UP?
Asked whether the shake-up of slots should be a natural consequence of the current upheaval in the global airline industry, Maughan agrees that "you can't freeze in time the entire slot portfolio forever" and that "at some point we all have to adjust to the reality that is now becoming very apparent, which is [that it's] now going to be a number of years to get back to traffic levels that we saw in 2019".
She suggest, however, that carriers will be much better placed to make strategic network decisions come the 2021 summer season, making further waivers unlikely – even if there may still need to be "tweaks to slot guidelines in terms of some additional flexibility".
"I think the possibilities of a second wave [or coronavirus infections] are very real, and that leaves a lot of uncertainty," says Maughan. "But everyone's hoping that come next summer there is an ability to put a flying programme together that reflects basically where the airline is heading, building back on the structure that they already had."