While the crisis facing airlines has dominated most of the headlines since the collapse of air transport demand during the global pandemic, the symbiotic nature of their relationship with airports means the latter are facing their own financial pressures from the slump in passenger numbers.
Airlines and airports have regularly campaigned together throughout the crisis – alongside other industry players – in a bid to support, safeguard and plot a recovery for the air transport industry. Indeed, in Europe airports and airlines even managed to find common ground around the usually divisive issues of slot rules in recently calling for a waiver to existing regulations for the upcoming winter season.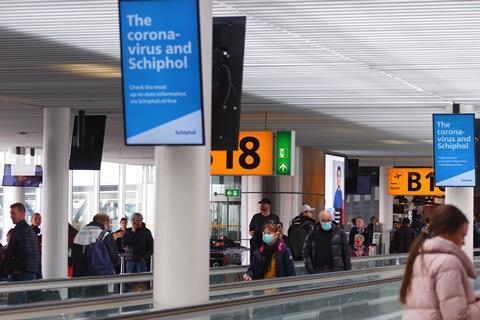 The result of airlines scaling back their capacity plans as the hoped for recovery in air travel demand has been stymied by a second wave of – if not the coronavirus itself – travel restrictions, is that airports are braced for a deeper hit to passenger levels in their own business.
"If you don't have the passengers in the airports, you don't have the passengers on the airplane," new ACI World director general Luis Felipe de Oliveira told FlightGlobal in July.
"We've seen in the press the news that airlines are in a bad financial situation, the airlines need bailouts, the airlines need loans," he states. "But in the end, we as airports need the same… We are suffering in the same way. Everybody is bleeding, and not only the airport itself but all the businesses that are linked with the airport."
In updated guidance issued at the end of August, the global airport body estimates passenger numbers will be 59.6% down on the 9.4 billion originally projected for 2020 – and 58.4% below 2019 levels.
Having seen passenger numbers fall to just 1.84 billion in the first half, and with little hope now for a strong recovery this year, ACI projects airports will handle 3.8 billion passengers in 2020. This equates to a loss of 5.6 billion passengers this year. It marks a further million in lost passengers this year from its earlier outlook, issued in May.
ACI expectations for airport revenues are down in line with reduced traffic. It has already reported a $50 billion fall in revenues over the first half of the year. It projects revenues will be down $33.4 billion in the third quarter and by $21.1 billion in the last quarter of the year.
This equates to the wiping out of $104.5 billion – around 60% – in airline revenues this year. That would see airport revenues total just $67.4 billion for 2020.
"The hopes for air travel rebound during summertime did not materialise, and the recovery remained sluggish," ACI says. "Airports in Europe and Asia-Pacific were hit particularly hard by the Covid-19-induced crisis in air transportation, falling short of $13.9 billion and $7.7 billion in Q3 alone."
The body points to the uncertainty that still surrounds the potential recovery, which is dependent on the progress of things such as development of a vaccine.
"Globally, passenger traffic volumes are forecast to not recover to 2019 levels before 2023, and markets that have significant international traffic will not recover until 2024," ACI says. "On the longer run, it is predicted that the global traffic will not return to previously projected levels within the next two decades, pointing to a potential structural change."
De Oliveira – who took up the ACI World role in June this year following the retirement of Angela Gittens and previously served as head of the Latin American and Caribbean Air Transport Association (ALTA) – notes that while an airline can sell or return aircraft to lessors, airports cannot sell "part of the building".
"We cannot rent to a mall. We cannot use the runway for car racing or that kind of stuff. It's something that is prepared and constructed exclusively for the industry," he notes.
Small and medium-sized airports in particular are therefore still "in a really bad financial situation", he states.
Facilities that are heavily dependent on one or two airlines are especially vulnerable, he notes, saying they "probably will suffer, because you are seeing the airlines reducing their fleets and networks".
While such airports might not "disappear" because the infrastructure would still be present, "temporary [airport] closures or even a heavy reduction in activities" are both possibilities, de Oliveira believes.
Future infrastructure developments are also threatened by the current crisis, he adds. Absent help from governments, airports might be forced to go to the markets for money – potentially jeopardising "a lot of future developments" as cash is instead spent on "basic capex", de Oliveira states.
EUROPEAN AIRPORTS ADJUST TO LOWER DEMAND
The crisis has prompted airlines and airports to keep temporary mitigating measures in place for longer. For example, Manchester airport in the UK, which has been hard hit by the country's quarantine rules, has mothballed one of the terminals it re-opened after the initial lifting of travel restrictions.
Others are planning to pause longer-term development work. While flights were restored at London City airport in June, it notes it has become clear that the recovery to previous levels will take longer than initially expected. As a result, it is pausing the next phases of its development programme, including a new terminal extension.
London City airport chief executive Robert Sinclair says: "Completing the terminal extension and new east pier very much remains part of our future, and, with the foundations for both in place, we stand ready to take those projects forward when demand returns."
Airports operator Groupe ADP is projecting that passenger traffic levels at Paris will not return to last year's high until the 2024-2027 timeframe.
Chief executive Augustin de Romanet outlined the outlook for a slow return to traffic at the French capital after disclosing a group first-half net loss of €543 million ($637 million). Passenger numbers are down 61% over the first six months at Paris Charles de Gaulle and by 90% in June
De Romanet says: "In this new operational and financial environment, Groupe ADP is going to review its strategic orientations in order to provide the company with the capacity to return to profitable and sustainable growth."
French transport minister Jean-Baptiste Djebbari was quoted on French radio as indicating the government is reconsidering timings for the planned fourth terminal at Charles de Gaulle.
But to deal with the shortfall of passengers in the near to medium term, airport operators have, like airlines, also been announcing job cuts.
Dutch airports operator Royal Schiphol Group outlined an adjusted cost outlook at the end of August, saying it is aiming to reduce overall operating expenses by 20-25% in 2021 and 2022. Among several measures planned towards that aim, Schiphol Group's workforce of around 3,000 employees will be reduced "in the order of several hundred positions".
That came shortly after London Gatwick airport's operator entered formal consultation with unions over proposals to axe 600 jobs across its business, about a quarter of its employees. The operator, which is still using only one of its two terminals, says its passenger numbers were down more than 80% for August.
Its London rival, Heathrow airport, meanwhile has served formal notice of its intention to change terms and conditions of staff contracts as it seeks savings. It comes after four months of talks with its unions. "With air travel showing little sign of recovery, these discussions cannot go on indefinitely and we must act now to prevent our situation from worsening," the airport says.
Ironically, given the many delays that have plagued the long-running saga of its development, Berlin's Brandenburg International airport is set to open at the very peak of the air transport crisis.
Plans to overhaul the Germany city's airport system date back to 1996. The project though has been beset by delays, most notably a series of safety inspection failures which prompted authorities to abruptly halt the airport's opening in 2012.
Despite the coronavirus pandemic, airport operator Flughafen Berlin-Brandenburg (FBB) is still aiming for a 31 October opening. But the crisis has brought further troubles, with German media reporting FBB will need an additional €300 million ($354 million) if it is to remain solvent on its opening day.
STATE STEPS IN FOR US AIRPORTS
In the USA, the $2 trillion CARES Act, passed by Congress in March, set aside $10 billion for airports across the country.
The goal was to keep airports safe, keep employees working and prop up the airports' credit ratings, the Department of Transportation said at the time. "The funds are available for airport capital expenditures, airport operating expenses including payroll and utilities, and airport debt payments," the DoT added.
The law provided funds in various categories with $7.4 billion, the largest pot, earmarked for commercial airports.
Another set of grants, worth at least $500 million, went to support the Airport Improvement Program (AIP). Annual AIP grants usually require a local contribution to the improvements – which could be anything from resurfacing a runway to buying a new snowplough – in addition to the federal grant. This year, the federal funding covered the entire amount.
Altogether, 3,284 of the more than 5,000 public airports and airfields in the USA received some type of funding, ranging from a high of more than $338 million for Atlanta's Hartsfield-Jackson International airport, the USA's busiest, all the way down to places like Valier airport, in rural Montana, which received $1,000.
Twenty-two major international commercial airports across the country received more than $100 million each through the CARES Act.
But despite the crisis in confidence in air travel, some major airports are forging ahead with their improvement and expansion projects.
New York's LaGuardia, the smallest of the three commercial airports that serve the northeastern US metropolitan area but arguably the most popular because of its proximity to the city, is going through a partial makeover as its Central Terminal becomes an architectural gem amid an otherwise utilitarian industrial landscape.
The new arrivals and departures hall at the Central Terminal, or Terminal B, opened to great fanfare in June. New York state's governor Andrew Cuomo called it "the first new airport built in 25 years in America".
Though that may be a bit of an exaggeration, the new 79,000sq m (850,000sq ft) terminal will serve as American Airlines' primary arrival and departure facility at LaGuardia, and will also be home to United Airlines, Southwest Airlines and Air Canada.
In 2019, more than 31 million customers passed through LaGuardia.
Terminal B is in the process of a complete $8.2 billion overhaul. The first portion to be constructed, the eastern concourse, was opened in December 2018. The western concourse is slated to open in 2021. When completed in 2022, the new terminal will include a new 35-gate terminal, a central hall, a parking garage, related roadways and supporting infrastructure.
Other US airports such as Daniel K Inouye International airport in Hawaii and San Francisco International airport are in the process of completing major construction projects that are designed to improve the passenger experience as they pass through those facilities.
Honolulu's Mauka Terminal is due to be opened next year, and SFO's Harvey Milk Terminal 1 was recently completed last year.
That said, the airport in the city by the bay in April pushed back its $1 billion Terminal 3 West project due to reduced passenger numbers and flight operations caused by the Covid-19 crisis.
In San Francisco, the airport also closed one of two international concourses to guests during the coronavirus crisis. Terminal A only reopened on 1 September, more than four months after it was shut down, as international flight operations begin to pick up again.
ASIAN TRANSIT HUBS FACE SHORTFALL
Airports across Asia-Pacific have also suffered as falling passenger demand, coupled with a bewildering list of travel restrictions, has seen networks dwindle to bare skeletons.
While domestic networks in the region, notably China's, begin to show signs of recovery, deep challenges remain for those airports without domestic networks – Singapore and Hong Kong being two prime examples.
To respond to falling traffic, Singapore's Changi airport shut Terminal 2 in April, for 18 months, and expedited planned upgrade works. A month later, it shut its newest terminal – Terminal 4 – as passenger numbers continue to plummet.
In June, Singapore announced it was pushing back the timeline of its mega Terminal 5 project by about two years, amid uncertainty over travel demand recovery. The terminal was scheduled to be completed by 2030, and was to handle up to 50 million passengers annually in its initial phase.
In Hong Kong, not much has been heard about the Three Runway System (3RS), the airport's much-vaunted expansion project to beef up capacity. It is expected to be completed by 2024, adding 30 million passengers per year to the airport's throughput.
As early as February, the airport had moved to consolidate flights into its main terminal, shutting a newer passenger concourse amid falling numbers.
It is a similar story with other airports in the region. In July, a group of local conglomerates withdrew their proposal to develop Manila Ninoy Aquino International airport, citing the impact of pandemic on the aviation industry.
However, like Changi, some other airports have taken the downtime to expedite expansion or renovation works.
The Airports Corporation of Vietnam, for example, has said it is proceeding with expansion plans at Hanoi's Noi Bai international airport, which include runway and taxiway works, as well as terminal expansion.
In Australia, work on the Western Sydney International airport, which will be the city's second airport, looks set to begin next year, with the airport "remaining on track" to open by 2026.
Australian minister for population, cities and urban infrastructure Alan Tudge said that the continued work on the airport during the pandemic was "an important element of Australia's economic response" to the crisis.
Additional reporting Alfred Chua, Lewis Harper and Pilar Wolfsteller