New airline members, a rail partnership and the roll-out of new digital applications illustrate how the role and activities of Oneworld, SkyTeam and Star Alliance have continued to evolve since the Covid crisis
While in recent years it appeared the appetite for new members joining global alliances had waned, Oneworld's move in June to bring Oman Air into the grouping marks its third new airline partner in recent years.
Oneworld, SkyTeam and Star Alliance, all now in their third decades of operation, had largely slowed the addition of new members, bar changes resulting from the impact of consolidation moves.
SkyTeam is technically the alliance which has most recently added a new full member, as it welcomed Italian carrier ITA Airways to the grouping at the end of October last year. That, however, marked a degree of continuity, as ITA is the successor carrier to Alitalia – a SkyTeam member for over 20 years which ceased operations in mid-October. Before that, SkyTeam's last new full member was Garuda Indonesia in 2014.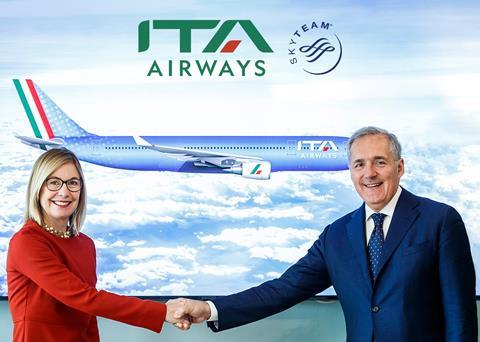 Star Alliance is the oldest and largest of the alliances, celebrating its 25th anniversary earlier this year and counting 26 full members in the grouping. However, its last full member to join was Avianca Brazil in 2015 – a short-lived membership as the airline collapsed in 2019.
"We never say never." says Star Alliance chief executive Jeffrey Goh. "We are not closed to new members, we are not closed to business. What we are now looking for is significant value add before we bring in a member. We are at 26 members, we have almost the world covered – with a few exceptions from Australia, Russia and Brazil.
"Now if a member airline came along and offered value proposition, we would consider the merits seriously. But right now our network is global and comprehensive and is very well covered."
Star Alliance's most recent recruit was Thai Smile, which joined under its connecting partner programme in 2020. The regional subsidiary of Star founding member Thai Airways was the second airline to join the grouping under the imitative after Chinese carrier Juneyao Airlines in 2017.
"With that model we have been able to integrate some of the low-cost, hybrid, regional airlines," Goh says. "Then Covid hit, so we have not been able to grow that model. But we look forward to looking at opportunities to work with local and regional airlines."
Star though has just unveiled plans for German rail operator Deutsche Bahn to become a non-airline partner of Star Alliance, offering surface connections to passengers of the carrier group later this year.
Deutsche Bahn will be the alliance's first intermodal partner from 1 August. It states that the tie-up will "intelligently connect" air and rail, and potentially other modes of transport as the model progresses.
Goh says the partnership "opens the doors" of the alliance beyond the airline world. "Our new model for intermodal partnerships creates the conditions for co-ordinated cooperation between different modes of transport in all Star Alliance markets," he adds.
Oneworld adds members
In contrast to the other two alliances, Oneworld has in the past two years added Alaska Airlines and Royal Air Maroc, and during last month's IATA AGM in Doha, announced that Middle East carrier Oman Air will join the alliance in 2024.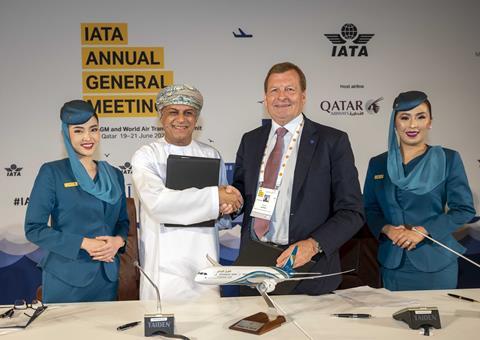 "We grow where it makes sense to grow," Oneworld chief executive Rob Gurney tells FlightGlobal. "There is always benefit from scale. For us what is important is the partners that we bring in have the same values that we do, offer [the right] product and service, and obviously enhance the network offering for our customers.
"It is very important there is a strategic fit both in terms of network and also the kind of values they aspire to. It is not growth for growth's sake. It's growth where it's important and it helps us in terms of providing a better network for our customers and provides some of the enabling mechanisms for some of our partners to expand."
The addition of the Muscat-based carrier will be Oneworld's third Middle Eastern member carrier, following Qatar Airways, which joined in 2013 and is sponsoring Oman Air's entry, as well as Royal Jordanian Airlines, which has been a member since 2007.
"They bring an amazing destination to our network, they bring three additional network points," says Gurney. "Strategically it gives us a really strong footprint in the Middle East.
"You overlay that with our member [Royal Air Maroc] in Africa, with their network in North Africa, and… start to see how in that bigger region of Middle East and Africa we are really starting to strengthen our presence," Gurney adds.
Oman Air chief executive Abdulaziz Al Raisi expects membership to support the Middle Eastern carrier towards its goal of facilitating greater tourism to its homeland. Oman has set itself the goal of attracting 11 million tourists annually by 2029 or 2030.
"Our main focus is on point-to-point traffic," he says. "It is about making Oman a destination." Although membership will also make Oman more of a hub for traffic, "it is not a focus", he adds.
Gurney sees the potential for greater co-operation within alliance members with Oman's arrival, pointing to what it has seen since Alaska joined Oneworld last year. Alliance members Qatar Airways and Finnair have both added codeshares with Alaska since it joined the alliance, with Finnair launching new services to Alaska's primary Seattle Tacoma hub.
Full global alliance members

| Star Alliance | | SkyTeam | | Oneworld | |
| --- | --- | --- | --- | --- | --- |
| Member | Joined | Member | Joined | Member | Joined/Joining |
| Air Canada | 1997 | Aeromexico | 2000 | American Airlines | 2000 |
| Lufthansa | 1997 | Air France | 2000 | British Airways | 2000 |
| SAS | 1997 | Delta Air Lines | 2000 | Cathay Pacific | 2000 |
| Thai Airways | 1997 | Korean Air | 2000 | Finnair | 2000 |
| United Airlines | 1997 | Czech Airlines | 2001 | Iberia | 2000 |
| Air New Zealand | 1999 | KLM | 2004 | Qantas | 2000 |
| ANA All Nippon Airways | 1999 | Aeroflot (suspended) | 2006 | Japan Airlines | 2007 |
| Austrian | 2000 | Air Europa | 2007 | Royal Jordanian | 2007 |
| Singapore Airlines | 2000 | Kenya Airways | 2007 | S7 Airlines (suspended) | 2009 |
| Asiana | 2003 | Tarom | 2010 | Malaysia Airlines | 2013 |
| LOT Polish Airlines | 2003 | Vietnam Airlines | 2010 | Qatar Airways | 2013 |
| Croatia Airlines | 2004 | China Airlines | 2011 | SriLankan Airlines | 2014 |
| TAP Porgual | 2005 | China Eastern Airlines | 2011 | Fiji Airways | 2018 |
| South African Airways | 2006 | Aerolineas Argentinas | 2012 | Royal Air Maroc | 2020 |
| Swiss International Air Lines | 2006 | Middle East Airlines | 2012 | Alaska Airlines | 2021 |
| Air China | 2007 | Saudia | 2012 | Oman Air | 2024 |
| EgyptAir | 2008 | Xiamen Airlines | 2012 | | |
| Turkish Airlines | 2008 | Garuda Indonesia | 2014 | | |
| Brussels Airlines | 2009 | ITA Airways | 2022 | | |
| Aegean Airlines | 2010 | | | | |
| Avianca | 2012 | | | | |
| Copa Airlines | 2012 | | | | |
| Ethiopian Airlines | 2012 | | | | |
| Shenzhen Airlines | 2012 | | | | |
| Eva Air | 2013 | | | | |
| Air India | 2014 | | | | |
Source: FlightGlobal
"You start to see this kind of critical mass," says Gurney. "People start to realise opportunities that weren't there before because there is a framework of co-operation in place.
"It happens in different ways," Gurney says of the addition of new members. "Sometimes airlines might form bilateral partnerships, and that could lead to an alliance membership, or sometimes the alliance membership itself leads to things. What we have seen with Alaska, for example, is… the west coast alliance with American [pre-dating Oneworld]."
Alliance moves in the works
Across the alliances it has been wider consolidation moves that have largely driven new members to join or – more often – partners to exit the groupings over recent years.
For example, long-standing Oneworld member LATAM – which could trace its alliance roots back 20 years to LAN Airlines – left the alliance in May 2020 after SkyTeam member Delta Air Lines took a stake and established a joint venture with the airline. That came after regulators blocked a planned joint venture with Oneworld partner American Airlines.
There has thus far been no sign of a LATAM move to SkyTeam – such a switch would see the quirk of its Brazilian operation, established out of TAM Airlines, being the first to have been in all three alliances.
Another notable departure from one of the alliances was China Southern Airlines, which left SkyTeam at the start of 2020 to pursue an independent strategy.
Ongoing consolidation moves may cause further churn, as both Air Europa and Asiana are set to tie-up with members in different alliances.
IAG, which includes Oneworld carriers British Airways and Iberia, is still hopeful of pulling together a revamped deal to acquire Spanish carrier Air Europa, a SkyTeam member since 2007.
Korean Air, a founding member of SkyTeam, hopes to secures regulatory approval for its merger with South Korean rival Asiana. The latter is currently a member of Star Alliance.
Even new SkyTeam member ITA may find its situation complicated, depending on the outcome of its search for a strategic partner, as the Star-aligned Lufthansa is bidding for a stake in the carrier alongside an Air France-KLM supported rival bid.
Speaking on a panel during the IATA AGM, Qatar Airways chief executive Akbar Al Baker noted that he does not see "a trend against alliances" but suggests that the ties binding member airlines have loosened.
"What I see happening is that the alliances have lost the discipline that they put in place when they launched," he states. "The people in the alliance have started to look where they have a little bit better interest than their own alliance.
"And we are doing this," he says. "We are part of Oneworld but if we have an opportunity when our other Oneworld partner in that area, that country, that region does not want to work with us, yes of course we will look at other opportunities because we are, at the end of the day, a business."
Nevertheless, Al Baker insists this "doesn't mean that there is not going to be alliances", even if "it's not necessary to be part of an alliance to survive".
In addition, political factors also mean both SkyTeam and Oneworld have suspended the membership of their respective Russian carriers, Aeroflot and S7 Airlines, following Russia's invasion of Ukraine.
Pandemic shifts the mission
Over more recent years, after the initial rush to re-establish networks, much of the focus for the alliances switched to implementation, customer services and developing technology platforms to better connect various member airlines.
Star Alliance's Goh says: "It came to a point where we realised we need to be addressing how we deliver a better customer experience in a global network and that is what we are very focused [on].
"There has been a lot of focus on the digital seamless experience and putting the control back in the hands of the customers," he says.
Significantly Goh notes how the pandemic has had an impact on the potential ways alliance technology can support the industry. For example, he points to how Star's biometric solutions, first developed to increase the seamlessness of travel across Star partners, can now play a role in addressing some of the operational pinch points causing challenges at airports.
"When Covid hit, it became a touchless solution. Now it is going to address the resource shortage we are seeing across airports. So this is why a lot of the innovation we have been doing, the digitisation and automation, are pushing forward the boundaries for better customer experience."
Star's biometrics platform is now in place at four airports – Frankfurt, Hamburg, Munich and Vienna – for use by Lufthansa Group carriers to enable contactless passing through security and boarding.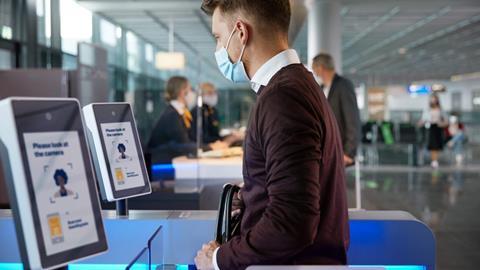 "I think it has propelled a lot of the thinking and execution amongst airlines," Goh says, pointing to the wider digital trends that have been embedded in customer behaviour during the pandemic. "So we need to understand that the new world is more about digital experiences for customers now.
Likewise while SkyTeam says its overall priorities – "powering the safest and most seamless customer experience" – is unchanged, it too has used its technology backbone to support carriers during the crisis
In the early days of the pandemic, the alliance's chief executive Kristin Colvile told FlightGlobal that the alliance had pivoted to creating the touchless, contactless journey – adding another layer of protection for customers and employees.
One example of this are Aeromexico and Delta Air Lines becoming the first of its alliance members to launch a touchless check-in product using SkyTeam's digital spine. The development enables passengers travelling on an itinerary that includes flights on both carriers to check-in digitally and get their respective boarding passes through either airline's self-service channels.
SkyTeam board chairman, Korean Air chief executive Walter Cho says "SkyTeam's innovative technology is digitising the travel experience to increase health, safety and convenience by avoiding the need to wait in line. Through our mission to be the most seamless global alliance, we are creating a raft of tools that keep customers informed and ready to fly, giving them greater confidence when travelling internationally.
"We are working fast to implement this new check-in technology across most members in 2022."
Oneworld's Gurney adds that the pandemic has created some new priorities for the alliance, but similarly notes this functionality builds on the technology developments already in play.
"That is really at the spine of our strategy – how we can digitally enable a much better customer experience. That is one really important part that hasn't changed during the pandemic," he says.
He points, however, to the work it has done towards smoothing processes to more seamlessly handling health credential checks.
"While the high-level strategies didn't change during the pandemic, we repurposed a lot of things," says Gurney. "Overall what we tried to do during the pandemic was the kind of things that required minimal airline involvement or were things the airlines were directly asking us to support them on. "
Supporting sustainability goals
Meanwhile, sustainability has moved up the airline and consumer agenda, and alliance chiefs believe there is a key role they can play here too.
Notably Oneworld has announced two major sustainable aviation fuel (SAF) offtakes among its member airlines, which Gurney says build on the alliance's net-zero commitments and demonstrate the value that can be achieved when its members work together.
"In terms of the values and delivery of meaningful change, we've got a huge commitment from all our CEOs on that," says Gurney. "We announced in September of 2020 a commitment to net-zero emissions by 2050; last October we announced a commitment to10% SAF usage by 2030; and we've just just placed a very significant joint SAF procurement."
Oneworld members have agreed to purchase 200 million gallons of SAF per year from renewable fuels producer Gevo, delivery of which under a five-year term is set to begin in 2027. It had in November made a joint commitment to purchase more than 350 million gallons of blended SAF from Aemetis for operations at San Francisco.
"We have been able to do pretty complicated things and to do them relatively quickly, which is really good and demonstrates that when you've got alignment on priorities, things happen and they happen at pace," says Gurney.
Star's Goh says the alliance, which has long worked on joint procurement of jet fuel for its members, is looking at similar opportunities on SAF.
"We are working hard," he says. "Sustainable aviation fuel is one of the main items that that would move the dial for achieving our net-zero carbon emission target. But sustainable aviation fuel is also like gold-dust at the moment, everyone is chasing ever litre, every gramme of aviation fuel."
He also sees potential opportunities with other technologies. "It is expensive for one airline, but if the alliance was coming together, you can defray the cost, for example, of capturing carbon from the atmosphere, so there are technological areas where we can collectively act. And these are the two areas we believe will move the dial in achieving net-zero by 2050," he says.
SkyTeam meanwhile has just completed its Sustainable Flight Challenge – an idea developed by KLM and involving alliance members. The two-week competition held in May was modelled on the London to Melbourne air race of 1934, but with the aim of seeing which airline can operate the most environmentally sustainable flight or generate the most significant innovation to further reduce aviation's impact on the planet.