American Airlines' pilots have harshly criticised a planned partnerhip with JetBlue Airways that could become a case study of how major US airlines plan to weather the coronavirus downturn.
But despite criticism from cockpit crew, industry analysts view the partnership as a win-win that gives American a needed boost in the US Northeast.
The announcement amounts to a declaration of "going steady" (rather than a full-on marriage), and came one day after Fort Worth-based American said it may need to furlough up to 25,000 employees – including 2,500 pilots. Executives have been warning the industry must shrink by a third and prepare for a long recovery.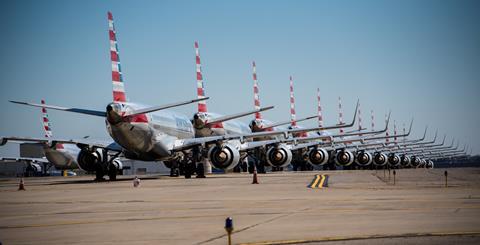 American's pilots are not happy about the new arrangement, saying management sold them out.
"We cannot imagine a more horridly timed announcement the day after announcing thousands of furloughs," says Dennis Tajer, head of the communications committee of Allied Pilots Association (APA), the union that represents American's 15,000 pilots. "Even more salt on the wound, JetBlue pilots just secured a no-furlough guarantee to allow the arrangement, while 2,500 of our pilots are being shown the door," he adds.
The union representing JetBlue's pilots, Air Line Pilots Association, International (ALPA) told its members on 16 July that a recently signed agreement with the company "protects all JetBlue pilots from involuntary furlough – under any circumstance – until May 1, 2021". That is seven months longer than American's pilots are protected.
Earlier this year, American committed to no involuntary furloughs until 1 October, in return for federal payroll protection support of $5.8 billion, granted through the CARES Act. That financial aid was designated to help keep the company running after passenger demand dropped sharply due to shelter-in-place measures.
American did not immediately respond to questions about APA's criticism.
TOUGH DECISIONS
The coronavirus has so far claimed two regional US carriers – Compass and Trans States Airlines – which shuttered operations in April. The majors, however, have been successful in staying afloat by securing US government support, cutting costs and scraping together liquidity from numerous sources.
They hope that fleet retirements, voluntary leaves and cost cutting, as well as potential customers' cabin fever after months of lockdowns, will propel the industry to a positive trajectory.
"In the Covid-19 world, airlines are clearly going to be smaller at the end of this year than they were at the start of the year, and they clearly have to make tough decisions," Cowen Securities airline analyst Helane Becker tells FlightGlobal on 16 July.
As a new wave of illness cuts across a swath of southern states, prompting leisure travellers to once again pull back on bookings made several weeks ago, American and JetBlue are offering the market another solution – a comprehensive cooperation plan between fierce competitors that was unthinkable just a few months ago.
"It is a great deal for both," says industry analyst Mike Boyd, president of Boyd Group International. "It allows what is essentially capacity-sharing, and also gets [American] back into the Boston market, beyond some minor spokes."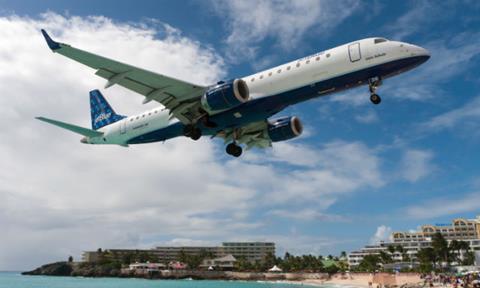 ENHANCED NETWORKS
American's East Coast hubs at Philadelphia and New York will be enhanced with JetBlue's strong Boston presence, and JetBlue customers will have more access to Europe through American's network – including new flights to Tel Aviv, Athens and Rio de Janiero beginning next year.
JetBlue intends to launch its own service to London.
Cowen's Becker says the deal announced today helps American "get the feed that JetBlue can provide, and JetBlue passengers get access to significant European routes".
The strategic partnership proposes codeshares and linked customer-loyalty programmes, though details of changes to frequent-flier plans are still scarce. JetBlue said in the announcement, though, that it will not join American-led OneWorld alliance.
That is different from American's West Coast partner, Seattle-based Alaska Airlines, which said in February it would join OneWorld as a full partner by mid-2021. Alaska's membership in the alliance prompted American to begin offering a direct flight between Seattle and Bangalore – a first from the northwestern US city.
The JetBlue partnership also in effect reverses American's long-running pullback from the northeastern US airports, beginning on 2017, when it started trimming underperforming routes out of the area, leaving the region open for other airlines like JetBlue to pick up capacity. JetBlue and Delta are top carriers at Boston and JFK.
The new codeshares will bring 60 new American routes into JetBlue's network and 130 JetBlue routes into American's operation, and allow customers to book those flights via either airline, they said.
While the deal focuses on the Northeast, it comes just a week after JetBlue said it was moving its West Coast focus city to Los Angeles International airport, from Long Beach, beginning in October. Los Angeles is American's primary West Coast and transpacific hub.
LONG-TERM BENEFITS?
APA's Tajer agrees there could be upside for American's pilots in the long term, but the conflicting news in a matter of days amounts to whiplash for the carrier's cockpit crewmembers.
"While there is some distant future organic growth for our flying as a result of this arrangement, that positive is being drowned by the sea of furloughs just announced hours ago," he says. "[We] continue to review the details and look for resultant increased flying for our pilots."
Boyd says the deal will minimally affect American's major US competitors – Chicago-based United Airlines and Atlanta-headquartered Delta Air Lines – because capacity is not being increased, but rather "renamed".
United said last week it could furlough more than 30,000 employees come October, while Delta added it hopes to attract enough volunteers to its early exit programmes to avoid mass layoffs when the government financial support runs out at the beginning of the fourth quarter.
So far, neither Delta nor United has announced partnerships or collaboration plans in the US market similar to the American-JetBlue move.