As Asia-Pacific airlines go into hibernation during the coronavirus crisis, order backlogs suggest that Airbus and Boeing have 902 aircraft scheduled for delivery into the region by the end of 2021.
It is important to note that the figure of 902 commercial jets, which foresees 370 deliveries to the Asia-Pacific in 2020 and 532 in 2021, is an estimate. A good many aircraft have already been deferred. More certainly will be. These transactions have yet to be formally announced and are not reflected in Cirium fleets data.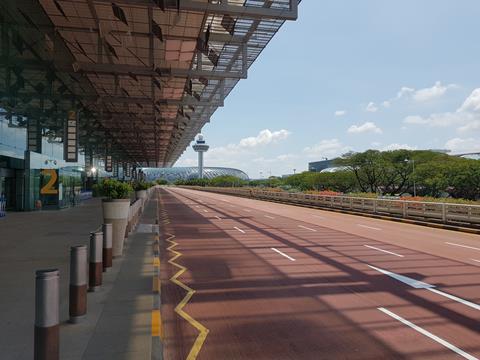 Nonetheless, the broader numbers give some indication of the scope of the order overhang facing Asia-Pacific carriers and the two big airframers.
New aircraft deliveries have collapsed in recent months as quarantines and lockdowns swept the region, not to mention the tremendous financial challenges facing carriers. Airline chief executives are unanimous that the coronavirus crisis represents an existential threat.
Cirium fleets data shows that in February 2020, Asia-Pacific carriers took just 11 new aircraft, compared with 36 in February 2019. China, under a massive lockdown in February as it fought the virus that originated in Wuhan, took no new aircraft whatsoever.
Early figures suggest March was almost as bad, with 13 aircraft delivered. This is just under a quarter of the 53 deliveries into the region in March 2019. Again, no aircraft were delivered to Chinese airlines.
Due to the popularity of the A320neo, Cirium estimates that Airbus has a total of 540 deliveries, across all aircraft types, scheduled for the region in the coming 21 months, compared with Boeing's 362 deliveries.
Overall, 429 A320neo-family jets are estimated as due for delivery before the end of 2021, followed by 258 737 Max jets.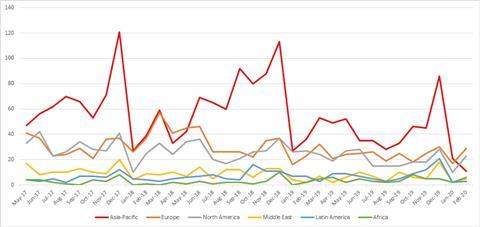 While the absence of the Max due to its global grounding created a capacity shortfall in late 2019 – in retrospect a relatively idyllic period for the industry – it is doubtful major low-cost customers for the type still have the appetite for an influx of new metal. Lion Air, SpiceJet, and VietJet Air are estimated to be receiving 100 737 Max jets by the end of 2021.
Lion Group accounts for 17 of these orders. The first 737 Max 8 crash in 2018 involved a Lion Air jet, and founder Rusdi Kirana was subsequently furious with Boeing's initial handling of the disaster. He told FlightGlobal in late 2018 that he intended to cancel all 190 units on order.
Among the legion of issues facing airline bosses with grounded fleets is the fact that quarantines and travel restrictions are likely to be lifted in a staggered manner, creating a bewildering maze for passengers and airlines. This is especially problematic for any 737 Max return, which itself could face a tiered re-certification by regional regulators.
China, the first country to ground the type in 2019, could paradoxically emerge as a bright spot for the 737 Max, where 115 examples are due for delivery by the end of 2021. Of these, 43 are bound for China's big three airlines: China Southern, China Eastern, and Air China. Should Beijing re-certificate the type in mid- to late-2020, the country's state-backed carriers and its reviving aviation sector could prove crucial for the troubled programme.
As for widebodies bound for Asia, Boeing and Airbus are at parity. Airbus is set to deliver 105 - including 71 A350-900s - and Boeing 104, including 58 787-9s.
One challenged programme could be the A330neo, with 21 deliveries scheduled in the region until the end of 2021.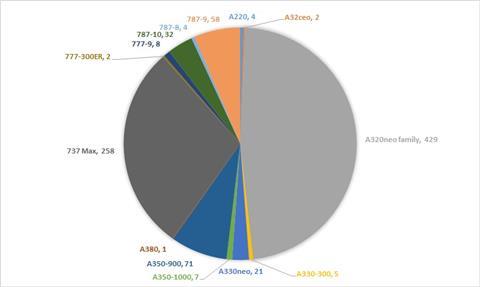 Malaysian long-haul, low-cost operator AirAsia X, which lost money in both 2018 and 2019, said on 28 February – one month before its coronavirus grounding – that it would defer its A330-900s and ask for lease reductions. The airline has nine examples due for delivery before the end of 2021. Overall it has 78 A330-900s on order, 28% of the type's total order book.
The A330neo's other big customer in the region over the coming 21 months is Garuda Indonesia with eight deliveries scheduled. Though it swung to profit in 2019, the company was struggling under a heavy debt load even before the coronavirus struck.
Singapore-based independent aviation analyst Brendan Sobie is bearish on the delivery outlook in the Asia-Pacific in the coming 21 months. He estimates that Asia-Pacific carriers will take 200 Boeing and Airbus jets for the rest of 2020 and around 300 in 2021, for an approximate total of 500 aircraft by the end of next year.
Sobie says his estimate reflects mainly deferrals that were negotiated before the crisis but not yet reflected in fleet data. He does not expect many newly-negotiated deferrals for 2020 given how far these aircraft are along in the production cycle, but he expects a significant number of new deferrals or cancellations for 2021 and beyond.
"Over the last few weeks, several Asian airlines have been trying to defer their 2020 deliveries but the manufacturers have been unwilling," he says. "Airlines generally cannot get out of agreements when it comes to near-term deliveries without a huge financial cost. Renegotiating medium- and long-term deliveries is somewhat easier, although it can still be challenging, impacting 2021 and beyond."