Prospective travellers in the Asia-Pacific are confronted by a dizzying array of immigration restrictions related to the coronavirus, although limited travel 'bubbles' mark baby steps toward a recovery.
The region's airlines have made much of their efforts to improve hygiene in the cabin through the wearing of masks by crew and passengers, more frequent cleanings, the reduction or elimination of meals, as well as safe distancing in waiting areas.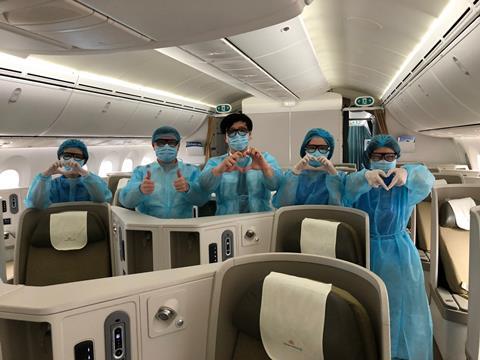 This is partially in response to passenger surveys that have shown - predictably - that hygiene is a concern amid the coronavirus pandemic. What will vex passengers far more, however, are the plethora of restrictions implemented both by regional destinations and those further afield.
Most countries throughout the Asia-Pacific have an outright ban on the entry of foreign nationals, though exceptions are made for citizens repatriating. Assuming citizens can get a repatriation flight, which are sometimes arranged through an embassy, they will be subject to tests and quarantines of varying durations.
Australia and New Zealand have virtually cut themselves off from the world and are contemplating a travel bubble between the two. This has yet to materialise, and in a letter to staff, Air New Zealand chief executive Greg Foran says that Auckland is unlikely to allow long-haul flights until 2021, and that much rides on the emergence of coronavirus vaccine.
China, where the pandemic originated, is making efforts to set up limited flights for business travellers in the region. While certainly welcome, these efforts are extremely limited. The proposals allow for "essential business" or official travel between a foreign country and China. Travellers will be subjected to swab tests at both ends of their journey. They will also need their sponsor to issue a detailed itinerary, which must be approved by relevant government agencies
The situation is by no means unique to Asia. According to IATA's coronavirus travel regulations map, only four big countries lack coronavirus restrictions. Of these, the most prominent is Mexico, which reportedly has over 100,000 confirmed coronavirus cases and has suffered over 12,000 deaths. Of the remainder, two - Libya and Yemen - are in the midst of civil wars, with Niger rounding out the list.
Singapore, which has thrived on easy and abundant transport links, sees a bleak future on the travel front.
"Movement of people will be more restricted," said Singapore prime minister Lee Hsien Loong in a 7 June speech. "International travel will be much less frequent. Health checks and quarantines will become the norm. It will no longer be so easy to take quick weekend trips to Bangkok or Hong Kong on a budget flight. Industries that depend on travel, like aviation, hotels and tourism, will take a long time to get back on their feet, and may never recover fully."
Aviation consultant Shukor Yusof, founder of Endau Analytics, sees the gradual openings as mixed news for airlines. While they provide a psychological boost for airline staff and may allow some stored aircraft to be reactivated, passengers are in no rush to fly given concerns about coronavirus.
"The cost-benefit relationship of flying doesn't make sense," he says.
Despite some signs of life with limited travel bubbles, regional and international travel resumptions of any volume in the region remain a distant prospect. The region's airlines – and the aerospace suppliers who rely on their strong growth – will remain in survival mode for some time to come.

Greg Waldron is the Asia Managing Editor of FlightGlobal, responsible for the team's airline, aerospace, and defence coverage across the region. He has worked at the company since 2009. In the airline space, Waldron has conducted dozens of interviews with airline leaders in the Asia-Pacific. He also covers areas such as MRO and safety. On the defence beat, Waldron has written extensively about the rise of Chinese airpower, as well as broader airpower developments around the region, such as indigenous fighter programmes, and regional acquisitions of foreign equipment. In addition, Waldron writes about commercial helicopters in the region and business aviation. Waldron worked has a freelance journalist with his work appearing in several business publications.
View full Profile