Atlanta Hartsfield International airport handled nearly 94 million passengers last year, still short of pre-pandemic highs but enough to see it retain its crown as the busiest airport in the world.
The Delta Air Lines' hub had long held that title, with the notable exception being during pandemic-hit 2020, when Chinese airport Guangzhou – boosted by the early reopening of the large Chinese domestic market – led the way.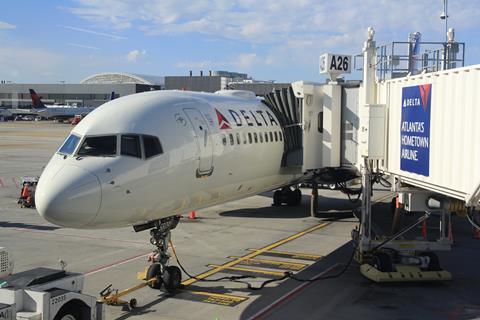 Since then, passenger numbers at Chinese airports have plateaued as strict Covid-19 travel restrictions remained in place while the majority of other markets gradually reopened. While most Chinese airports are yet to release passenger data for last year, they are unlikely to figure among the upper reaches of airports given China has only now taken steps to reopen.
A FlightGlobal analysis of preliminary 2022 airport traffic data underlines the strong pick-up in passenger numbers among US airports.
Leading airports by passenger number 2022 (preliminary data)
Ranking
Ranking
Passengers
2022
2019
City
Airport
Country
2022
2021
2020
2019
Source: FlightGlobal analysis based on preliminary airport traffic data published so far; *Chicago O'Hare calculation based 11m data;
1
1
Atlanta
Hartsfield Int'l
USA
93,699
75,537
42,919
110,531
2
10
Dallas-Fort Worth
International
USA
73,363
62,466
39,365
75,067
3
16
Denver
International
USA
69,286
58,828
33,741
69,016
4
6
Chicago
O'Hare International
USA
68,000*
54,023
30,860
84,649
5
4
Dubai
International
UAE
66,070
29,100
25,900
86,397
6
3
Los Angeles
International
USA
65,924
48,009
28,780
88,068
7
17
Istanbul*
Ataturk/International
Turkey
64,486
37,177
23,400
68,651
8
7
London
Heathrow
UK
61,599
19,393
22,110
80,884
9
9
Paris
Charles de Gaulle
France
57,474
26,197
22,357
76,150
10
21
New York
JFK
USA
55,300
31,212
16,631
62,551
Atlanta's 93.7 million passengers last year was a marked increase on the 75.5 million transiting the airport in 2021 – although the Georgia hub remains shy of the more than 110 million passengers recorded before the pandemic in 2019.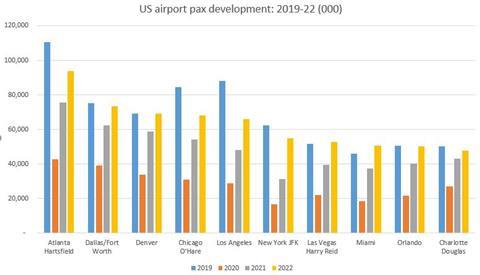 Dallas Fort Worth International airport was the second busiest airport and, in handling 73.4 million passengers, the American Airlines' hub was almost back to pre-crisis levels of 75 million. Denver International, which accommodated 69.3 million passengers in 2022, surpassed pre-crisis traffic levels.
Two other airports among the 10 busiest US hubs in 2022 also welcomed more passengers than before the crisis. Las Vegas Harry Reid airport, previously known as McCarran, handled 52.7 million passengers last year – a million more than in 2019. Miami International in 2022 handled almost 5 million passengers more than in 2019, passing the 50 million mark for the first time.
Analysis of the 20 biggest US gateways before the pandemic shows combined passenger volumes of just under 1 billion last year. While that is 30% higher than in 2021, it remains 11% down on 2019 numbers.
The strength of the US travel recovery, aided by a large domestic market and the strength of the US dollar, is further illustrated by comparison with passenger volumes at airports in another recovering market: Europe. While air travel capacity in Europe was checked in 2022 amid staffing shortages across the airport ecosystem, it was still a year of significant growth.
A FlightGlobal analysis of 27 of Europe's largest airports shows passenger volumes doubled year-on-year to 937 million in 2022. However, that remains 23% below 2019 volumes for the same airports. Notably, none of Europe's busiest airports before the pandemic surpassed pre-crisis levels last year.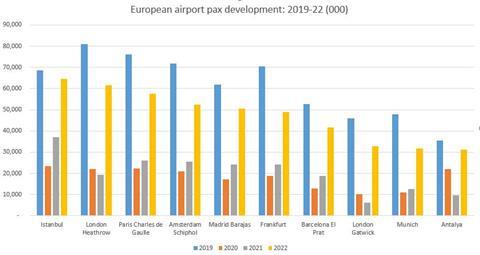 Istanbul airport was the busiest in Europe last year, handling 64.5 million passengers. That is just 6% shy of the 68.7 million passengers who travelled through Istanbul's main gateway in 2019 – a figure comprising combined traffic for Istanbul airport and the city's Ataturk airport, which Istanbul replaced during a phased period in 2019. Passenger volumes at Istanbul airport in 2022 jumped 73% above 2021 levels.
Strong growth enabled London Heathrow to jump above Paris Charles de Gaulle, Amsterdam Schiphol, Madrid Barajas and Frankfurt as Europe's second-busiest airport.
Outside of the USA and Europe, some Gulf-region airports recovered strongly. A strong final quarter last year helped passenger numbers top 66 million at Emirates Airline's hub Dubai International airport – year-on-year growth of 127% but still 20 million less than pre-pandemic highs. Qatar's Doha Hamad airport handled almost 36 million passengers – three million short of 2019 levels.
Last year was also notable for Bogota El Dorado airport in Colombia, which outstripped pre-crisis activity levels in handling more than 35 million passengers.
Passenger levels remain depressed at some of the Asia-Pacific region's biggest hubs – unsurprisingly, given the region's relatively late lifting of Covid-19 travel restrictions.
Singapore's Changi airport, however, reported some of the most striking growth, with its passenger numbers jumping from about 3 million in 2021 to 32 million in 2022. Changi's traffic last year, however, remained less than half of 2019 levels. While restrictions in Hong Kong began easing earlier than in mainland China, the opening came too late to make much difference in 2022, with the city's airport recording only 5.6 million passengers last year.
Beijing Capital had been the second-busiest airport behind Atlanta before the pandemic, though some traffic has moved to the city's Daxing airport, which opened in 2019. While figures for these airports in 2022 are not yet available, China's big three airlines all reported a fall in passenger numbers, capacity and traffic last year versus 2021.