A steady but low-key approach by airlines to returning the Boeing 737 Max to service since the type was given the first regulatory approvals late last year reflects both continued sensitivity to the customer reaction and a market that has lost all impetus amid the pandemic.
Seven carriers had as of mid-February returned just over 50 Boeing 737 Max aircraft to their schedules and fleets.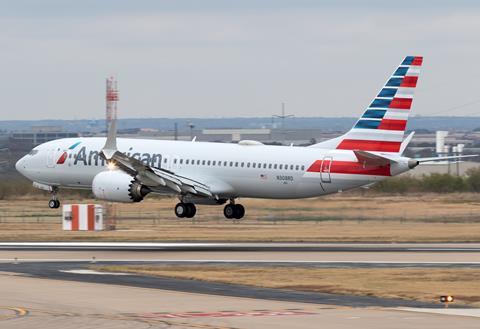 The early adopters have been in the Americas, in line with the first regulatory approvals. Cirium flight tracking data shows that as of 15 February, seven carriers in the region were operating around 150 daily flights with the type. On 17 February, TUI Group's Belgium unit became the first carrier outside the Americas to return the Max to service.
Brazilian airline Gol was the first to bring the aircraft back into service, launching a first flight on 9 December, just 10 days after the Brazilian regulator cleared the type. Aeromexico, American Airlines and Copa Airlines followed closely behind.
United Airlines, WestJet and Air Canada began flying the type in January and February. Southwest Airlines, the biggest 737 Max operator, will return it to revenue service in March, and Alaska Airlines is due to put its first example of the type into service around the same time.
For many airlines, the 737 Max is an integral part of a fleet renewal that has taken on additional urgency through the global pandemic. With fewer people travelling, and this reluctance likely to continue through the summer season, airlines are eager to return this more efficient type to their fleets in order to speed up retirements and replace older, costlier and more wasteful aircraft.
Copa, which is in the process of moving to an all-737 fleet, says it is looking to operate the aircraft on some of its longer routes to North and South America. The airline's Panama City "Hub of the Americas" is located almost exactly equidistant between San Francisco and Buenos Aires, with each city reachable in just over 7h on a 737 Max.
Copa's chief executive, Pedro Heilbron, senses opportunity there, even if leisure travel continues to dominate the recovery before business travel returns.
"We serve markets that will not recover to the pre-Covid capacity in probably quite a while," he said on the company's fourth-quarter earnings results call on 11 February. Widebody service is not likely to resume as it was prior to the crisis, at least not immediately.
"So it's not that we need business [travel] to come back to what it used to be. We will serve markets that are going to be underserved for a while, and we will be able to do well even before business travel comes back."
WestJet, which began flying the type again from 21 January, is operating the aircraft on two popular routes: Calgary to Vancouver and Calgary to Toronto. The airline said in January that after four weeks, it will evaluate further routes and frequencies. Prior to the grounding, it was also flying the Max to Hawaii and Halifax, in eastern Canada, which are among the airline's longest North American flights.
Canadian peer Air Canada turned the aircraft out on flights from Toronto to Halifax, Montreal, Ottawa, Edmonton and Winnipeg, beginning on 1 February.
The airline said during its fourth-quarter earnings call on 12 February that the Max, along with Airbus's A220, would become "the backbone of the fleet" as it begins to build back its network.
While American brought its 737 Max back slowly, beginning with one round trip between Miami and New York on the first few days of operation in late December, United Airlines took a different path.
On its first day back in the fleet, 11 February, the Chicago-based carrier sent the type on two dozen flights across the country.
Southwest Airlines, which plans to bring the type back on 11 March, is initially scheduling it on 32 daily flights to 15 cities.