It seemed the cruellest of ironies for an embattled airline industry that having waited two years for the travel-demand taps to be turned back on, the rush of customers sometimes proved too much for airport ecosystems to handle, with people once again unable to travel.
Recriminations continue on where the blame lies for the struggles in meeting recovering demand; airlines blaming airports for not preparing early enough and airports flagging onerous security checks and hiring processes, all set against the backdrop of an industry struggling to attract staff into some of the more arduous roles, often with anti-social hours.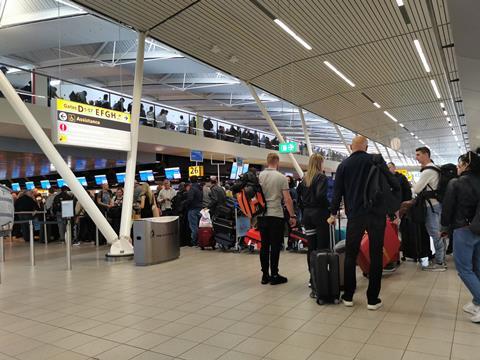 However, the more pressing issue for the industry is whether history might repeat itself in summer 2023.
On the one hand the crisis point for most airports has passed – though with the notable caveat that by its nature, an operational wrinkle at an airport can quickly cause chaos, as numerous past IT failures and weather disruptions have painfully illustrated. Indeed, while a number of airports were caught up in challenges during the initial ramp-up, most got a grip on their operations relatively quickly – albeit some only did so after capping peak-time capacity.
"It's not every airport globally or indeed in Europe. I live in Geneva and Geneva has had zero problems," noted IATA director general Willie Walsh, speaking in early November. Hardest hit have been the Amsterdam Schiphol and London Heathrow hubs. "The rest of Europe to a large degree has functioned okay. There have been isolated incidents, but it wasn't widespread and was short-lived in most cases," says Walsh
While Schiphol airport has retained capacity caps through until the end of 2022, Heathrow lifted departures caps at the end of October but flagged it was looking at other mechanisms to balance demand and capacity at peak times. Heathrow has since played down the likelihood of caps returning, but airlines have left it – and other airports – in little doubt of their expectations.
SEEKING SOLUTIONS
"People ask me 'are we going to face these same problems next summer?' If we do, heads should roll. There is no excuse for not getting the problems sorted," says Walsh.
Neither does he expect other markets to face the same ramp-up problems when remaining Covid restrictions are ultimately lifted, most notably in China. "If you look at China, the government is conscious of what has happened elsewhere and they are telling their airlines 'you better be ready if and when the market opens'," Walsh says. "They have plenty of advanced notice, they've seen the challenges in the US and Europe, and they don't want to repeat that."
One of the challenges in readying for pre-crisis flight activity is the wider issue of enticing staff back to some roles in an industry, which may have lost their appeal. Brussels Airports chief executive Arnaud Feist, speaking at a Eurocontrol event in October, said: "Our biggest challenge [in the industry] is the working conditions, the salaries. I think they should be reviewed to make the sector attractive again. We are not attractive any more. It is not just airports, we see it with border control," he says.
"Also maybe [we need to] think about ways of automating some of these tasks which are not attractive to people, to digitise. Baggage is still a very manual process, how can we automate it?"
Livia Spera, general secretary of the European Transport Workers Federation (ETF), also highlights the problem in securing ground staff. "People do not want to work in ground handling any more," she says. "It doesn't come as a surprise. Why should people go and work unsocial shifts to be paid much less than what they are paid in towns? The job is very hard. If you want to have people involved in a tough profession, you need to pay them."
Other contributing factors to disruption include the all too familiar issues of air traffic delays, labour strife and weather impact. Within Europe in particular, Eurocontrol director general Eamonn Brennan flags an additional supply/demand airspace pressure that results from the continued conflict in Ukraine.
The closure of Russian skies means the Eurocontrol area has effectively been handling 90% of 2019 capacity in 80% of the airspace. That is an issue that will only intensify as capacity further returns.
"Next summer doesn't look that good at the moment," Brennan says. "Why? The carriers are all putting extra aircraft on – we can see that from the deliveries and we have discussed it with the main carriers. We still think there will be airspace closures. What I mean by that is the war [in Ukraine] is not likely to go away or the effect of the war by next summer. It might, but we don't think so."