The European Commission has insisted that airlines do not need to operate so-called 'ghost flights' under current slot rules, after Ryanair waded into a fierce debate among stakeholders.
The row was ignited after Lufthansa Group chief executive Carsten Spohr told German newspaper Frankfurter Allgemeine Sonntagszeitung on 23 December that his airlines were being forced to carry out 18,000 "unnecessary" flights during the winter in order to secure slots at European airports.
Since Spohr's comments – which were made in the context of wider concerns among some carriers that slot rules should not revert to pre-crisis terms too quickly – airports have argued that current arrangements mean 'ghost flights' should be unnecessary, while low-cost carrier Ryanair has said airlines must give up their slots in such circumstances.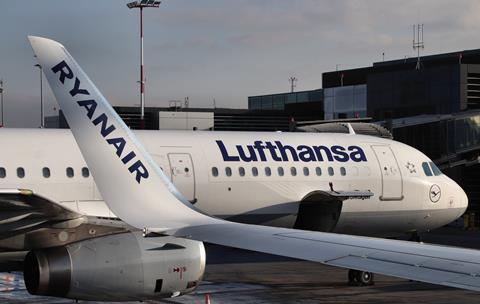 And on 3 January, Belgian transport minister Georges Gilkinet wrote to the European Commission to request it relax slot rules, given the low-load-factor flights that Brussels Airlines felt it needed to operate.
Perhaps hoping to put an end to the debate on 13 January, a European Commission spokesperson cited the already-reduced requirement for airlines to use 50% of their slots in the current winter season to retain them in the next equivalent season – down from the pre-pandemic level of 80% – as he argued that no further remedies are required.
"In addition to the lower slot use rates, companies may also request a 'justified non-use exception' to not use a slot, if the route cannot be operated because of sanitary measures, [for example] when new variants emerge during the pandemic," the spokesperson states.
"This relief system is working quite well for almost two years now and was widely welcomed by stakeholders."
The spokesperson adds that deciding to operate routes "is a commercial decision" by the airline and "not a result of EU rules".
Lufthansa has been contacted for comment on the Commission's explanation.
Wading into the debate on 12 January, Ryanair group chief executive Michael O'Leary called on the Commission to force airlines to release slots they do not wish to use, while describing low-cost airlines like Ryanair as "low-fare ghostbusters".
"Instead of operating empty flights just so they can block slots, Lufthansa should release the seats on these flights for sale at low fares to reward the German and European taxpayers who have subsidised it with billions during the Covid crisis," O'Leary states.
Many industry observers have suggested, however, that demand is being depressed by factors other than ticket prices, including rising Covid-19 cases and continued travel restrictions.
The Ryanair chief's comments continue a long-running tit-for-tat with Spohr; the Lufthansa chief is fond of claiming that "rock bottom" ticket prices from the likes of Ryanair send a message that airlines might not care about their carbon footprint, while O'Leary rarely misses a chance to highlight the state support Lufthansa has received.
The Commission's approach to slot allocation had earlier received the backing of airports body ACI Europe, which expressed its "dismay at the escalating industry and political rhetoric around so-called 'ghost flights'".
"A few airlines are claiming they are forced to run high volumes of empty flights in order to retain airport slot usage rights," said ACI Europe director general Olivier Jankovec on 6 January. "There is absolutely no reason why this should be the reality.
"As was clearly stated by the European Commission… slot usage rules need to achieve two things in the current circumstances: firstly, to protect airlines from the worst of unpredictabilities which are out of all our hands; secondly, and crucially, to also ensure that airport capacity is still used in a pro-competitive way."
Citing the 'justified non-use exception' arrangement, ACI Europe says airlines can "at any point" present a case to coordinators for the application of this provision, "allowing them to effectively use their allocated airport slots for less than 50% of the time".
It continues: "This provision is specifically designed to address the Covid pandemic, and covers not only outright travel bans, but also restrictions of movement, quarantine or isolation measures which impact the viability or possibility of travel or the demand for travel on specific routes."
The European Commission set a 50% slot usage threshold for the winter 2021 season, with the requirement due to rise to 64% for the summer 2022 season. Global airline association IATA welcomed the latter decision, but urged the Commission to be cautious about returning to the pre-crisis 80:20 ratio too quickly.
The rules apply at around 100 of Europe's airports, which were listed as slot-constrained pre-pandemic. The issue is particularly acute in the region, with Europe accounting for around half of the slot-constrained airports globally.
SLOTS TO TALK ABOUT
The debate about slots in Europe is proving to particularly divisive as the industry emerges from the Covid-19 pandemic.
For airports, passenger throughput is a big revenue source. Having airlines 'sit' on slots and not use them is therefore an unattractive prospect after almost two years of depressed income. It might, therefore, be better for the slots to be taken by airlines that actually want to operate flights today.
For carriers whose business models are built around strongholds at busy airports, slots are everything. They would argue it is unfair to lose what are highly valuable assets because of the unprecedented – and temporary – impact of the pandemic.
Other airlines – including market disruptors – see things differently. They view carriers retaining unused slots as an anti-competitive situation, making it harder for them to take advantage of market opportunities that would otherwise exist.
Most stakeholders would agree on one thing, however: for an industry under intense scrutiny for its environmental footprint, operating empty flights is not a good look.