The reopening of few markets from Covid-19 border restrictions was so eagerly awaited and hard-campaigned-for as routes across the North Atlantic.
While fully vaccinated US visitors had been able to travel into the European Union since the summer of 2021, it was not until 8 November of that year that restrictions were lifted on European travellers – part of the wider lifting of US borders to international air travel. That was the cue for the restoration of a series of routes.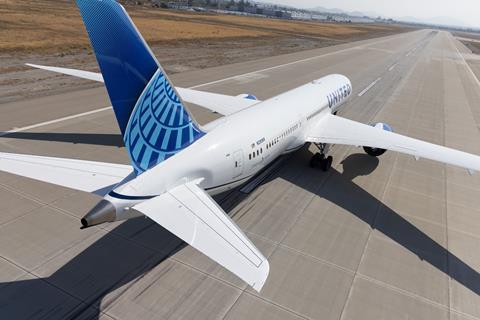 A year on, and with Covid restrictions and concerns having eased further over that period, airlines on both sides of the Atlantic have grasped the opportunity with both hands.
That reflects both the appeal and strength of the transatlantic market, together with continued restrictions in alternative long-haul markets – notably Asia-Pacific routes, where countries reopened borders more slowly and where the closure of Russian airspace to European carriers has hit the viability of such routes.
Cirium schedules data covering flights between the USA and the EU countries plus Norway, Iceland, Switzerland and the UK shows flights 5% down on 2019 levels and seat capacity down 7% in November this year.
WHERE HAVE US CARRIERS ADDED FLIGHTS
While the bulk of capacity has returned to traditional markets and city pairs, there have been a number of routes added – either new to a carrier or to the market altogether.
From the US side, Cirium schedules data shows Delta Air Lines and United Airlines both operating more capacity this November than in 2019.
US carrier transatlantic capacity November 2022 v 2019
Airline
Flights
Change
Seats
Change
ASKs
Change
Source: Cirium schedules data based on flights between USA and EU, Norway, Switzerland and UK
United Airlines
3,083
2.9%
771,035
8.8%
5,333,451,188
9.6%
Delta Air Lines
2,943
10.6%
756,711
12.1%
5,001,099,260
11.6%
American Airlines
2,013
-10.2%
542,866
-9.8%
3,695,587,515
-10.3%
JetBlue Airways
300
n/a
42,720
n/a
232,679,278
n/a
United is operating 9% more seat capacity and is the biggest carrier in terms of transatlantic capacity.
It has added Chicago O'Hare-Zurich and Denver-Munich – routes also served by its joint-venture partners on North Atlantic flights Swiss and Lufthansa respectively – and joined the fray on Boston-London Heathrow,
It also operated summer services connecting Chicago with Milan, and Newark with French resort Nice, Bergen in Norway and Spanish leisure routes Palma de Mallorca and Tenerife. It was the only scheduled carrier serving the two Spanish points from the USA, and will add to that next summer by launching a service to Malaga.
That forms part of further expansion of its transatlantic services in 2023, which also includes the restoration of its Newark service to the Swedish capital Stockholm, which it served prior to the pandemic.
Speaking during a third-quarter results call, United Airlines chief commercial officer Andrew Nocella said that the carrier's Atlantic passenger revenue per available seat mile (PRASM) increased more than a fifth versus the third quarter of 2019 and that a couple of the newly added routes were among its best performing during the summer.
"It's also worth noting that business traffic for long-haul segments across the Atlantic have recovered at a faster pace than domestic," Nocella says. "It's our observation that a Zoom meeting is simply less practical in a global setting. We remain optimistic that business traffic will continue to get better from this point forward."
He adds: "Where the dollar stands [versus other currencies] is incredibly useful from a US-origin point of view for transatlantic travel. And this season was incredible based on the numbers we've seen. This fall is also incredible based on everything we're seeing.
"So….it's full speed ahead across the Atlantic. And we are very bullish on the outlook, not only there, but across our entire global network."
Delta Air Lines also included flights linking New York JFK to Stockholm – a route it last served five years ago – as part of its expanded network across the Atlantic this year.
Cirium schedules data shows Delta is flying 12% more seat capacity on the transatlantic in November than in the same month in 2019.
It too has detailed its plans for next summer. That includes flights from New York JFK to Geneva and London Gatwick, routes it last flew in 1993 and 2008 respectively. It will also revive services from Atlanta to Edinburgh, a route it briefly served in 2006-07 and which no other carrier operates, as well as Los Angeles-Heathrow, which Delta last flew in 2015.
"The level of demand, not just to the UK, but to the whole of Europe, is truly unprecedented," said Delta chief executive Ed Bastian, speaking at a press event in Tampa on 2 November marking the launch of flights to the Florida city by its British joint venture partner Virgin Atlantic..
"We attribute [that] obviously to the fact we've had so many Americans that haven't been able to go [to Europe] for up to three years, and there are all demographics of society that are travelling internationally."
Neither does he think this is a flash in the pan. "There's no way you are going to satisfy that demand in a six- or nine-month timeframe; I think this is going to continue for several years."
The robust demand picture is supported by the strength of the US dollar, which he says makes it "an incredible market to fly to Europe".
While economic headwinds exist, Bastian believes consumers are prioritising travel. "Consumers are funding a lot of that travel by stopping spending on stuff. We see the traditional lines in services and experiences coming back to more normal trends, and they still haven't caught up to where they need to be.
"But the consumer still has a decent amount saved for this post-pandemic period and they are no longer getting boxes piling up on their doorsteps. They are actually leaving their doors to go see someone else's boxes in some other part of the world."
American Airlines' seat capacity across the Atlantic is around 10% lower in November this year than in the same month of 2019, Cirium data shows. It has, though, strengthened its presence through its northeast alliance with JetBlue Airways, the most notable new arrival in the market.
JetBlue's ambition to serve the sector were in process before the pandemic, and it finally debuted in the market with launch of New York JFK-London Heathrow flights in August 2021.
It now serves both Boston and JFK from both London Gatwick and Heathrow airports, using its single-aisle Airbus A321LRs. Norwegian had formerly operated both routes from Gatwick.
Further services are in the works. "We see an opportunity out of New York and Boston to fly to a number of European markets, and we are confidently progressing with those plans," JetBlue chief executive Robin Hayes said during the carrier's third-quarter results call in October.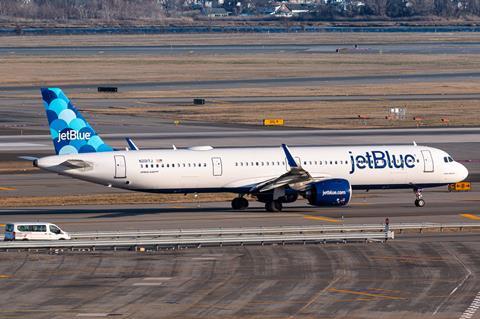 While JetBlue remains a small player in the market, Hayes sees room for newer operators to prosper on the transatlantic alongside traditional players.
"When I think about the transatlantic historically, it's always had a mix of legacy and low-cost carriers. And so, I think that's going to continue. I mean, we saw with Norwegian, a large number of low-cost carrier seats, come out of the market.
"We believe with the LR and the [A321]XLR, we have the right airplane to serve these markets," he says highlighting both economy customers and premium travellers using its Mint cabin. "We think that's a niche that most customers want to be in. And so, we feel very confident that we have the right plan to continue to serve these markets."
WHERE HAVE EUROPEAN AIRLINES ADDED FLIGHTS?
While JetBlue brought a new player into the single-aisle transatlantic market, the pandemic put paid to one of the pioneering operators in the long-haul leisure segment. Norwegian in January 2021 announced it was dropping its long-haul operations. While its remaining transatlantic services had been grounded by pandemic, its network had already been pared back as part of a wider restructuring to simplify the airline and focus on its core short-haul business.
It was, though, still operating 35 routes between European cities and the US in March 2020, almost half the capacity of which was on flights from London Gatwick.
Norwegian transatlantic routes March 2020
Airline
Routes
Destinations
Source: Cirium schedules data
Amsterdam
1
New York JFK
Athens
1
New York JFK
Barcelona
4
Fort Lauderdale, New York JFK, Los Angeles, San Francisco
Paris Charles de Gaulle
7
Boston, Denver, Fort Lauderdale, New York JFK, Los Angeles, Orlando, San Francisco
Rome Fiumicino
3
Boston, New York JFK, Los Angeles
London Gatwick
11
Austin, Boston, Chicago, Denver, Miami, New York JFK, Los Angeles, Orlando, Seattle, San Francisco, Tampa
Madrid
2
New York JFK, Los Angeles
Oslo
2
Fort Lauderdale, New York JFK
Stockholm
3
Fort Lauderdale, New York JFK, Los Angeles
It had also flown out of Paris and Air France-KLM chief executive Ben Smith had earlier this year flagged how its exit from that market had taken "an enormous amount of pressure off our economy yields on the transatlantic" and had supported yield growth in the segment – a sentiment he reiterated in the group's third quarter results.
One new entrant that has attempted to take advantage of Norwegian's withdrawal from the sector is compatriot carrier Norse Atlantic Airways. The start-up began operating in mid-June and has built a network connecting three European cities – Oslo, Berlin and London – with four US destinations: New York, Fort Lauderdale, Orlando and Los Angeles.
However, amid concerned over the effect on demand from high inflation and fuel prices, and a slowing of the post-pandemic travel surge, it has cut back "excess capacity" from certain US routes. It has also made its Los Angeles services from Berlin and Oslo seasonal.
Another European start-up seeking to capitalise on a previous carrier's model is Icelandic operator Play Airlines. The airline is following the path of defunct Wow Air – or at least the Icelandic carrier's narrowbody operations – using Airbus A320neo family jets. In April Play launched it first US flight, a service connecting Reykjavik with Baltimore/Washington airport. It has since added flights to Boston and New York Stewart airport – marking the return of international flights from the airport, which had been a popular alternative destination for long-haul, low-cost operators.
Icelandair meanwhile credited the strong transatlantic performance as the driving factor behind its third-quarter profits. Iceland's location provides it with the opportunity to act as a connecting point into Europe for US travellers, and vice-versa. Tourism is also thriving in Iceland, with strong flows from the US.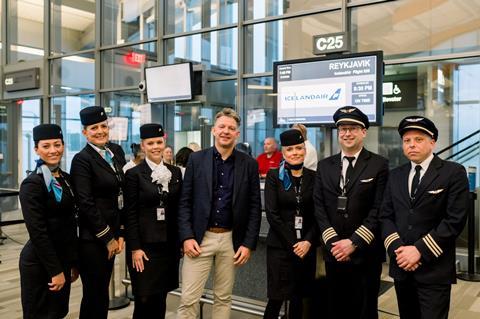 "The US has been strong in recent months. The US dollar stayed strong, so the flows have been stronger from North America," Icelandair chief executive Bogi Nils Bogason tells FlightGlobal during a wider interview in late October.
Icelandair's North American network included the launch of a seasonal service to Raleigh-Durham. Bogason says: "Our service has been well received so we decided to extend the operations until the beginning of January and also start earlier next spring, because we see there is strong demand there. Even with the uncertainty there are opportunities for our network."
He notes Raleigh is an example of a market has that developed as people have moved since the pandemic. "We saw an opportunity there," he says. "There was a market that was growing that we jumped on and bookings have been strong and we are analysing further opportunities like that."
Leading European airline transatlantic capacity November 2022 v 19
Airline
Flights
Change
Seats
Change
ASKs (m)
Change
Source: Cirium schedules data based on flights between USA and EU, Norway, Switzerland and UK
British Airways
2,286
-11.7%
665,034
-6.6%
4,594
-5.8%
American Airlines
2,013
-10.2%
542,866
-9.8%
3,696
-10.3%
Lufthansa
1,282
-24.8%
390,261
-30.8%
2,967
-30.7%
Air France
1,176
20.6%
351,438
9.9%
2,466
10.2%
Virgin Atlantic Airways
1,120
-12.6%
326,916
-16.1%
2,226
-14.3%
Aer Lingus
946
0.6%
248,664
1.4%
1,458
2.5%
KLM
622
-1.6%
192,900
1.3%
1,384
1.7%
Iberia
446
4.2%
135,136
3.0%
921
5.8%
SAS
548
6.6%
133,754
-0.4%
959
1.7%
Icelandair
630
24.0%
116,900
12.1%
561
11.0%
TAP Portugal
442
13.0%
91,416
-12.9%
553
-15.0%
ITA Airways
298
-15.3%
79,236
-13.4%
587
-12.3%
LOT Polish Airlines
210
-16.7%
57,120
-15.1%
443
-14.6%
Eurowings Discover
164
n/a
48,446
n/a
363
n/a
Norse Atlantic Airways
130
n/a
43,940
n/a
268
n/a
Alongside Norwegian dropping its transatlantic flights from Gatwick, the south London airport has also not seen a return from Virgin Atlantic yet. The airline shifted all its flights to London Heathrow when the pandemic hit, including its Las Vegas and Orlando flights.
Virgin Atlantic in November added Tampa from Heathrow, marking its third route to Florida and the first time Tampa has been connected via Heathrow. British Airways serves the route from Gatwick, while Norwegian also flew on the route prior to the pandemic. That comes after Virgin launched flights to AustIn in Texas earlier in the summer.
"The US is our heartland, it's not called Virgin Atlantic for nothing. By the end of [November] we will already be daily on Tampa," Virgin's chief customer and operating officer Corneel Koster explains.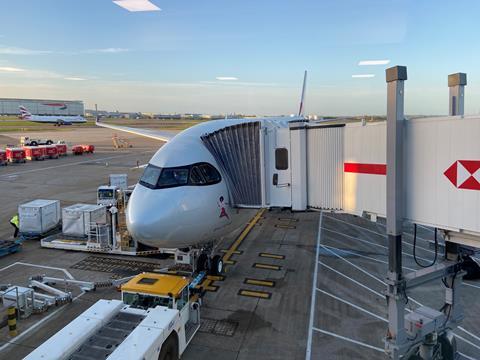 Notably the airline is using its new A330neos on the new route. It took delivery of the first of 16 Airbus A330-900s at the start of November, debuting a new upper class product, including its 'Retreat Suite'.
"A new aircraft is a great opportunity to elevate and lift our customer experience, to make it even more Virgin, to offer better connectivity, better personalisation, more comfort," says Koster.
"Initially this aircraft will be on Boston and Tampa. The next destination you will see it on will be Miami, but eventually you are going to see this on a lot of our routes, and I'm sure eventually it will turn up on New York too."
More routes are on the horizon too, as the airline adds to its fleet. "We are going to take another three of these [A330-900s) and another A350, so next summer we will be five aircraft larger than we [were]," he says.
For its part, BA's transatlantic capacity was back up to 87% of pre-pandemic levels in the third quarter. That includes it serving Portland for the first time this summer. Delta had previously operated Portland-Heathrow on a seasonal basis for three years before the pandemic.
While the strong US dollar rate has been a driver of demand on the transatlantic, BA chief executive Sean Doyle points to strong all-round demand in that sector. "We haven't seen any real clip down in UK point of sale, that has been very strong," he said during the airline's third quarter results call at the end of October. "In Europe, point of sale continues to perform well and the US point of sale has been very robust. So I think the exchange rate movements aren't really having an impact on the mix of traffic we typically generate."
Some of the most notable route additions since the pandemic have been from BA's sister carrier Aer Lingus. That includes its first transatlantic service from outside Ireland, after last December launching Manchester flights to New York JFK and Orlando – alongside a Barbados service.
Aer Lingus chief customer officer Susanne Carberry says: "We knew there was significant demand for direct transatlantic services from the north of England region to North America and the Caribbean. We are really pleased with how the routes have performed for us to date.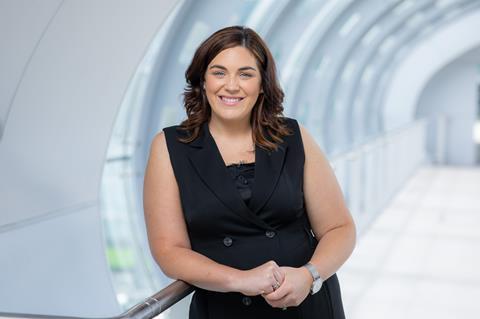 "This winter we are focused on maintaining our schedule. Our focus remains on continuing to embed our three routes while we continue to expand our network as a whole," she adds.
It is also planning to start flights to Cleveland from Dublin next summer using A321LRs. That marks the first flights linking Cleveland to Europe for over a decade, barring a year when both Icelandair and Wow linked the Ohio city to Reykjavik. Aer Lingus will next summer also restore flights to Hartford, Connecticut, meaning all bar Minneapolis of its pre-Covid US routes will be restored.
Another IAG carrier, Iberia has launched flights to Dallas/Fort Worth, a route already served by Oneworld partner American Airlines. Fellow Oneworld carrier Finnair also this summer added services to the Dallas/Fort Worth, as well as the first direct flights linking Helsinki to Seattle.
Dutch carrier KLM was another to add Austin flights this year, while partner Air France will in December will restore daily flights to Newark from Paris Charles de Gaulle for the first time in almost a decade.
Another French operator, premium transatlantic operator La Compagnie, added a Milan Malpensa connection to Newark earlier this year.
Lufthansa has put St Louis back on its transatlantic map for the first time in almost 20 years. The airline began serving the Missouri city thrice-weekly in June from Frankfurt. St Louis has been without a nonstop European service since American Airlines dropped its London Gatwick flights in October 2003. Two years earlier TWA ended its Paris Charles de Gaulle flights, the last time continental Europe had been served directly from St Louis.
The German carrier's new leisure operation, Eurowings Discover, this summer also operated the first flights between Salt Lake City and Germany.
Restructured German leisure carrier Condor's routes this year include its first connections from Frankfurt to Boston, Los Angeles and San Francisco.
In Italy, while the name is different, the network is quite similar for ITA Airways. It has taken on all but the Rome Fiumicino-Washington Dulles route of predecessor Alitalia's US services.