As the easing in Covid travel restrictions and vaccination roll-out across Europe slowly progresses, airlines in the region have been mapping out how quickly to ramp up capacity.
All carriers in the region are looking to boost capacity as markets re-open after a winter in which international passenger services were severely curtailed by strict travel restrictions across large parts of Europe.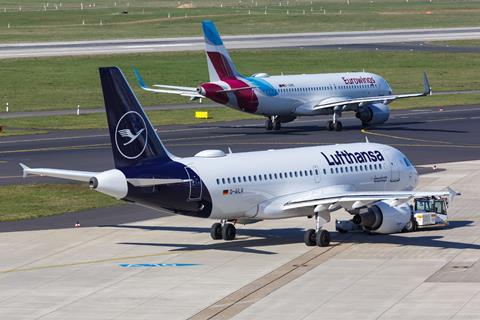 But the extent to which airlines are returning to pre-crisis levels of activity, outlined during a number of recently quarterly results disclosures, differs widely.
While budget carrier Wizz Air is eyeing matching 2019 capacity levels by August, British Airways and Iberia parent IAG expects its third-quarter capacity to still not have reached half of its pre-crisis levels.
Selected European airline quarterly capacity versus 2019
Airline Group
Jan-Mar
Apr-Jun
Jul-Sep (forecast)
Source: FlightGlobal analysis of company data, *Oct to Mar, **data for July/August only
Air France-KLM Group
48%
48%
60-70%
Lufthansa Group
21%
29%
50%
IAG
20%
22%
45%
EasyJet
14%*
17%
60%
Wizz Air
33%
90-100%**
This reflects a range of factors including the levels of restrictions still in place in home and key destination markets, how much of their activity is in the faster-returning short-haul European leisure and VFR markets, the role in cargo in helping reduce the required break-even passenger load factor for a flight, together with the wider network and risk approach of the airline.
In Russia for example, where airlines have been able to shift capacity to a sizeable domestic market, Aeroflot Group passenger numbers were already in June only 17% below pre-crisis figures.
While capacity in itself offers only one part of an airline's story – load factor and yields drive the profitability of these flights – it does provide a snapshot of how close airlines are getting to returning to their pre-crisis level of activity.
Air France-KLM
The SkyTeam carrier group's capacity reached almost half pre-crisis levels in both the first and second quarters – the highest capacity versus 2019 among the three major European network carrier groups.
Air France-KLM expects to operate 60-70% of 2019 ASKs in the third quarter of this year. That represents a slight lifting on the 55-65% capacity range for the quarter it had projected in early May.
Lufthansa Group
Lufthansa Group, which includes Austrian Airlines, Brussels Airlines, Eurowings and Swiss International Air Lines alongside the German carrier's operations, expects to operate 50% of pre-crisis capacity in the third quarter. That compares with 21% in the first quarter and 29% in the second quarter. The group's capacity was already notably higher in June – at about 40% of 2019 levels.
It sees full-year group capacity at about 40% of 2019 levels.
IAG
The parent of British Airways Aer Lingus, Level and Spanish carriers Iberia and Vueling is projecting the lowest return to pre-crisis capacity levels of the three major European airline groups for the third quarter. It sees capacity reaching 45% of 2019. That marks, however, a doubling on the levels it put in the market in the second quarter, which represented 22% of capacity.
IAG expects 2023 to be the earliest point when activity will return to pre-pandemic levels, but with leisure and domestic traffic recovering faster than premium and long-haul, it expects passenger unit revenues still to be below 2019 levels at the end of 2022.
Ryanair
Low-cost carrier Ryanair has not issued capacity guidance, but in releasing its first quarter results on 26 July said it expected to carry 10 million passengers in August. That represents around two-thirds of the passenger levels it flew in the same month in 2019.
That would mark a near doubling of the 5 million passengers Ryanair carried in June. It already almost reached that point in carrying 9.3 million passengers last month. Load factor also hit the 80% level for the first time since the crisis.
It expects to carry 90-100 million passengers in the year to March 2022 - close to two-thirds of the 148 million it flew in the year prior to the crisis.
EasyJet
Pan-European low-cost carrier EasyJet expects to fly 60% of pre-crisis capacity between July and August. This marks a more than a trebling in capacity by this metric, having flown 17% of 2019 levels between April and June.
Notably the carrier has shifted more of its capacity into European Union routes noting stronger booking demand in these markets than in its home UK market.
Wizz Air
The budget carrier has consistently been the most bullish in terms of returning capacity to the market and in the carrier's first quarter results on 28 July its chief executive Jozsef Varadi laid claim to being "the first major European airline to fully recover capacity" to pre-Covid levels during the third quarter. Wizz expects to operate 90% of 2019 capacity in July and 100% in August.
The carrier had already reached 62% of pre-crisis capacity levels in June, a sharp increase on the previous months. Wizz capacity stood at only 33% of 2019 levels for the three months end June as a whole.