A string of major permanent job cut announcements from European carriers over the past week underlines the extent to which the airline industry will be smaller when passenger services return to some kind of normality.
Much of the reduction of the industry is expected to come in the shape of airline failures – especially as many operators in Europe were struggling to secure financial sustainability even before the pandemic.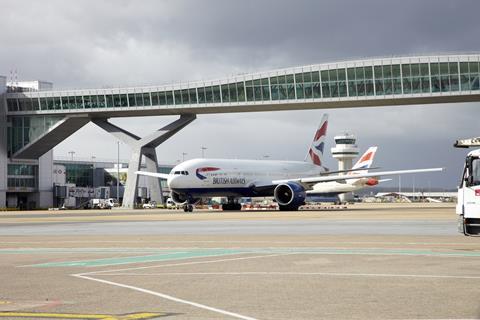 But the scale of the labour savings being sought– albeit the number of jobs impacted may be lower than the headline numbers if productivity gains and concessions are struck – illustrates that Europe's biggest carriers expect to be smaller in the mid-term.
IAG's British Airways has announced a move to cut 12,000 jobs, while Lufthansa group chief Carsten Spohr has spoken of 10,000 "excess" jobs.
Those cuts are based on the reduced scope of operations. Both IAG and Lufthansa project that passenger levels will not return to 2019 levels before 2023.
Air France-KLM says for 2021 it plans a structural capacity reduction of at least 20%"of its fleet versus 2019, as the group expects passenger demand not to recover to pre-crisis levels for "several years"
Neither is business model a shield. While network airlines have drawn much of the attention for planned reductions in cuts, low-cost carrier Ryanair is expecting to shed up to 3,000 jobs from July and shut a number of European bases, as it projects that a post-crisis recovery will take at least two years.
Adding to this is pressure to address climate change objectives. This pressure is already prominent across much of Europe and governments may use their new-found influence in airlines to drive faster progress. This is already evident, for example, in the conditions to reduce domestic flights set for the state bail-outs of Air France-KLM.
Will airlines cut fares to spark demand?
But lower levels of capacity will not necessarily translate into reduced competition.
Speaking at a media briefing on 5 May, IATA chief economist Brian Pearce said he expects the early stages of the restart to be a low-fare environment as airlines try to stimulate demand from consumers who are "fairly cautious".
"We would expect demand to be relatively weak, as borders and restrictions open up," Pearce says, pointing to the example of the Chinese domestic market - the first to open after the outbreak. "There has been an improvement in China because of the return to work and some VFR traffic, but its been relatively weak and bookings in China's domestic market are still two-thirds down on where they were last year.
"The second reason for thinking fares will be low is there is a lot of over-capacity, a lot of aircraft that will potentially be chasing relatively few passengers as the market opens. Airlines have parked much of their fleet. [But] because they are, for the most part, very expensive assets with fixed obligations to pay, clearly there will be an incentive to deploy them at any opportunity. So we think there is substantial potential for over-capacity as a result.
"Potentially there is also strong competitive pressure on most routes," he adds. "Over 80% of seats globally are flown on routes where there are two or more airlines. So despite the consolidation we saw before the crisis, and despite the consolidation we think is likely after, we still think there is going to be substantial competition on most routes.
"We think that will mean low fares and indeed that is what we have seen in the Chinese domestic market," says Pearce.
How will carriers deploy their capacity?
The make-up of the initial networks of airlines will in part be dictated by which markets are able to lift restrictions. But when international markets open up, network carriers seem likely to concentrate their efforts on their core hubs and trunk routes.
"It's inevitable that there will be retrenchment to main hubs and routes if we simply look at the amount of capacity which has been grounded and likely to stay so," says John Strickland, director of JLS Consulting.
"With demand projections - though imprecise - being weak, consolidating to main hubs also makes sense. It delivers operational cost savings and will ultimately be a way to protect slots at key hubs and bases.
"British Airways has already indicated it may not return to Gatwick - which is an important base but not a hub - and it's quite possible that the Lufthansa group could permanently reduce activity at one or more of its disparate hub airports outside of Frankfurt and Munich," he adds.
CTAIRA analyst Chris Tarry adds that such is magnitude of the situation, it means carriers will question everything including "where they fly to and why they fly there" if the contribution is not compelling.
"The focus will be on routes where there is real and potentially profitable demand and an end to what are perhaps best described as 'have metal, will fly' strategies," he says. "Furthermore, in the initial stages of a return to travel this will be in domestic markets or where 'bubbles' have been created.
"We have seen some carriers set out their plans for reduced frequencies and networks and we have modelled a range of outcomes including where multiple daily frequencies are reduced to a maximum of two for at least the first full season," he notes.
What will happen at Gatwick?
One of the early examples of how airports maybe impacted by carrier cuts is at London Gatwick.
Virgin Atlantic has just announced it will temporarily shift its operations to London Heathrow - though it says it will retain its slots in order to return to the airport when demand improves. British Airways had already shifted its operations at Heathrow earlier during the crisis and recent reports, citing a company memo, suggest that it may not reopen its base after the pandemic.
Gatwick has enjoyed a transformation in its traffic fortunes in the decade since the financial crisis. But its growth path after that crisis is also illustrative of how traffic patterns alter after such shocks.
Cirium schedules and passenger data show it was not until 2013 that Gatwick returned to the passenger numbers and seat capacity levels it had prior to the financial crisis.
Notably capacity in terms of ASKs was not to pass pre-crisis levels until two years after that - reflecting the relatively higher level of short-haul capacity at the airport as low-cost carriers drove post-crisis growth.
London Gatwick capacity and passenger development: 2007-2019
Year
Flights
Seats
ASKs
Passsengers (000)
2007
225,950
34,929,527
90,269,752,793
35,218
2008
247,278
40,366,710
96,406,070,267
34,215
2009
236,649
38,146,698
82,042,361,495
32,399
2010
236,863
38,472,940
81,308,183,301
31,380
2011
239,639
39,674,340
83,698,407,706
33,681
2012
236,023
40,311,249
86,766,448,127
34,245
2013
240,374
41,324,536
87,179,419,683
35,463
2014
249,850
44,297,475
93,210,303,064
38,117
2015
260,047
46,757,085
97,649,612,263
40,269
2016
273,110
50,045,700
107,269,185,754
43,137
2017
279,340
51,870,712
117,114,903,321
45,562
2018
278,008
52,464,934
127,425,308,122
46,075
2019
278,660
53,211,037
128,687,752,813
46,568
Source: Cirium schedules and passenger data
It was not until 2015 that capacity in terms of ASKs began to jump, driven largely by expansion on long-haul routes by Norwegian and, later, BA.
Notably BA's own history at Gatwick also suggests it might be some time before the carrier returns to its previous levels at London's second biggest airport. The airline only returned to significant growth at the airport in 2016, and even last year, its seat capacity at Gatwick still remained below pre-crisis peaks.
In contrast, BA was by 2012 operating higher than pre-crisis levels of capacity at Heathrow - albeit aided by its acquisition of BMI.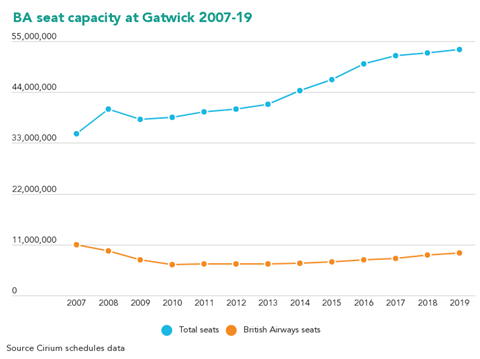 BA's own future at Gatwick appears tied to negotiations on the carrier's proposed restructuring. IAG chief executive Willie Walsh, speaking during a first quarter results briefing on 7 May, said: "I would like to see us continue to have a presence at Gatwick, but that's just a personal opinion. Its not going to influence the consultation.
"We'll see what happens with that [consultation] and that will clearly influence tne decision we ultimate take with regards the restructuring that's going to take place of British Airways."
Will ripple effect trickle through the sector?
One of the reasons BA re-embraced Gatwick so enthusiastically in recent years was as a defensive response to the growth of Norwegian at the airport.
Norwegian's financial struggles, which had already prompted it to slash capacity even before they were compounded by the coronavirus grounding, means the carrier will remain in hibernation until next spring, before returning as a much smaller operations.
While this perhaps takes some of the pressure off BA to protect its Gatwick position, other players are already eyeing opportunities at the London airport. Jozsef Varadi, chief executive of central European carrier Wizz Air - which has already developed a strong presence at London Luton - told Bloomberg it wil be in the frame for slots vacated at Gatwick as it would like to build a base there.
So will the coronavirus crisis create fresh opportunities for low-cost carriers to make further inroads into more primary airports where routes are vacated by network operators - either in short or long-term?
"I think the extensive short haul networks of these network carriers will come under review and we are likely to see elimination of some routes and downsizing of capacity on others," says Strickland.
"Given the losses these networks create (except for BA) I'd expect all options to be up for grabs including operation by regional partners, such as capacity purchase agreements, or renewed focus on what LCC's may be able to deliver on a lower cost and lower risk basis."
Tarry points to the example seen after the last crisis. "We saw after the great financial crisis a retrenchment by some LCCs and a focus on flying more from 'somewhere to somewhere', which in part was a key in a focus on higher yield passengers," he says.
"In some cases the opportunity to directly compete with the network operators may be determined by the 'use it or lose it' rules being reinstated," he says. European regulators have so far suspended slot rules until the end of the summer season to prevent airlines running 'ghost flights' simply to protect slots.
"We also saw in Europe a sharp fall in short breaks that were important to LCCs," he adds. "VFR traffic is likely to recover first but other leisure traffic is in large part a function of a destination's willingness and capability/capacity to accept tourists.
"Any event has always provided an opportunity for LCCs to accelerate. But this time may be different," Tarry says.
Strickland notes that the approach of the budget carriers is also likely to vary by their circumstances. He notes that EasyJet is reducing its fleet size - in part due to shareholder pressure from Steliois Haji-Iaonnou.
"[EasyJet] will have to consolidate to airports where it maintains important number one or two positions. It doesn't have any other choice," he says. "Ryanair and Wizz are still growing and I would see both airlines being far more opportunistic in moving into new markets and bases."
This in turn may create opportunities for Europe's regional carriers.
European Regions Airline Association director genreal Montserrat Barriga says: "I think there will be opportunities because, for example the Ryanairs and EasyJets, may decide to abandon some of the routes that may not be profitable for them any more because there are not enough volumes of passengers on those routes.
"So those routes may become available for regional carriers to operate, and I think that is a possibility."

Based in London, Graham has been with FlightGlobal for over 20 years predominantly working across its online news platforms and Airline Business. With a focus on developments across the airline industry as a whole, and within Europe in particular, Graham has also edited FlightGlobal daily papers from events such as the IATA AGM, moderates industry panels and co-presents the Airline Business podcast.
View full Profile