On this face of it, plans to revive a loss-making UK regional operation at a time when all airlines, regardless of model, are struggling to survive would seem unlikely.
But the apparent sealing of a deal by Flybe administrators with one of the carrier's previous shareholders, Cyrus Capital, illustrates continued faith from some in the model even in these most challenging of circumstances.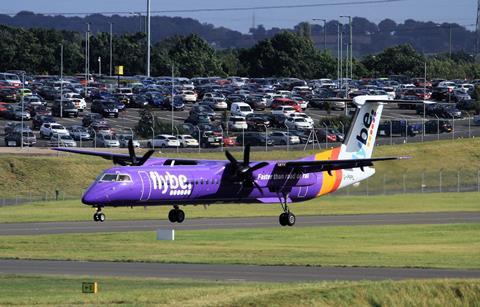 UK regional carrier Loganair's chief, Jonathan Hinkles, reminds how difficult the operating environment remains for airlines.
"It really is incredibly difficult in terms of the market. What we saw was something of a recovery coming through July and August and then, as this second wave of Covid-19 has come through, and a lot more social restrictions imposed – particularly in Scotland which is our biggest market – that's really dropped right back," he said during the 19 October panel debate at the Airlines 2050 event.
"We got back to a recovery level of about 50% of last year. That's now trending back down to about 30% of last year and we are having to take capacity out of the market as a result."
He sees potential opportunities that might eventually emerge from the crisis.
"I think there will be a right-sizing of aircraft for the markets. It's probably not a bad place…to be the carrier with the smallest average fleet size in terms of seats per aeroplane. Because there will be markets…that may actually be dropped by other carriers that may present an opportunity for us," he says.
"We haven't seen that yet. But I think, as that difficultly [between providing frequency without overcapacity] becomes more acute for some carriers, we may well see some fallout from the networks."
Speaking during the same debate, and referencing the Flybe deal and Bain Capital's earlier move for Virgin Australia, PA Consulting's senior commercial aviation expert, David Huttner, noted there remained some investor appetite in airlines, even in these challenging conditions.
"There are people out there, if the price is right. [Although] it is a bit of a trick to find out where that is," he says. "There will be consolidation, there will be failures and we are seeing parties out there who are willing to invest if obligations and debts can be restructured."
AIRLINE FAILS TO MAKE CONNECTION
Flybe ceased operations in March this year as the early impact of the coronavirus outbreak dashed any hopes of saving the struggling carrier. It has since being overseen by four joint administrators.
Their efforts to sell the company were bolstered after they won a legal tussle to retain the carrier's operating licence, crucial to the airline's retaining its airport slots.
Administrators had already said a sale of the business and certain assets was possible and that "a number of parties" had shown interest in such a transaction.That was followed by multiple reports on 19 October that administrators had agreed to sell the assets to Thyme Opco with a view to resuming regional operations in 2021.
UK Companies House records show Thyme Opco's parent is part-owned by DLP Holdings – a Luxembourg company wholly-owned by funds managed by Cyrus Capital Partners, and the vehicle through which the investment firm took its stake in Connect Airways last year. The Thyme companies are also owned by two directors of Connect Airways, Lucien Farrell and Johnathan Peachey.
Connect Airways was the consortium joint venture which it acquired control of Flybe in early 2019 under a plan to revamp the carrier as a Virgin Atlantic feeder operating under the Virgin Connect brand. Its acquisition amounted to a rescue of the airline, providing it with desperately-needed funds.
Flybe's situation deteriorated further, in part because of regulatory delays and an increasingly uncertain climate. This forced shareholders and the government to intervene to shore up its finances at the beginning of 2020. Ultimately Flybe's collapse in March brought an end to the operation, four decades and several re-inventions since its founding.
But many of its challenges – notably overcapacity from a major fleet expansion which took years to unwind – were legacy issues which contributed to persistent losses. It made pre-tax losses in seven of the 10 years to 2018.
The hope of potential investors is that, freed of these legacy issues, the airline can develop a profitable niche serving the UK regions.
"If you look at regional aviation in the UK…fundamentally many of the routes we have – or potentially have – in our network are reasonably uncontested, difficult to access by road and rail, too thin a route for many airlines to jump on, and we absolutely have a right to win," Virgin Connect's chief executive Mark Anderson told FlightGlobal in an interview last October.
With respect to the Cyrus deal, a Thyme Opco spokesperson is cited as saying the carrier, which was one of Europe's biggest regional operators, plans to start small and restore regional connectivity in the UK.
Flybe had been operating routes across 21 UK airports last October in its own right, as well as routes under franchise agreements with other UK regional carriers. Alongside a strong network of domestic flights, it also provided services from UK regional airports to Ireland and mainland Europe.