Istanbul airport handled 64.5 million passengers in 2022, making it the busiest in Europe last year, while airports elsewhere in the region have reported doubling or tripling of passenger figures.
Figures released by Turkey's state airports authority show more than three-quarters of Istanbul airport's passenger volumes were generated on international routes in 2022, a year in which tourism drove a strong recovery.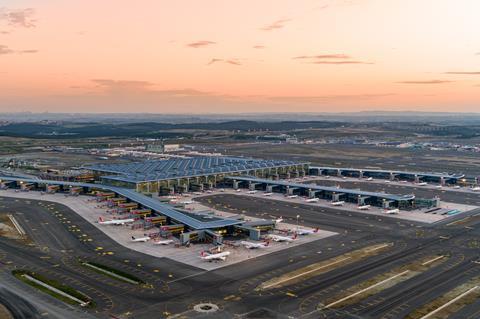 The 64.5 million-passenger figure is 6% shy of the 68.7 million passengers who travelled through Istanbul's main gateway in 2019 – a figure comprising combined traffic for Istanbul airport and the city's Ataturk airport, which Istanbul replaced during a phased period in 2019. Passenger volumes at Istanbul airport in 2022 jumped 73% above 2021 levels.
Two other Turkish airports recovered to handle more than 30 million passengers last year; Antalya at just over 31 million and Istanbul's Sabiha Gokcen airport, at slightly less than 31 million passenger.
Full-year passenger figures for 2022 so far released by major European airports underline the recovery among the region's bigger hubs as Covid-19 travel restrictions gradually eased.
Leading European airports by 2022 passenger number reported so far
City
Airport
Country
2022 (000)
Change v 2021
Change v 2019
FlightGlobal analysis of preliminary airport figures disclosed by operators/regulators
Istanbul
Airport
Turkey
64,486
73%
-6%
London
Heathrow
UK
61,599
218%
-24%
Paris
Charles de Gaulle
France
57,474
119%
-25%
Amsterdam
Schiphol
Netherlands
52,500
106%
-27%
Madrid
Barajas
Spain
50,664
110%
-18%
Frankfurt
Main
Germany
48,918
97%
-31%
Barcelona
El Prat
Spain
41,640
121%
-21%
London
Gatwick
UK
32,839
421%
-29%
Munich
Airport
Germany
31,643
153%
-34%
Antalya
Airport
Turkey
31,200
42%
-12%
London Heathrow airport more than trebled passenger numbers year-on-year in 2022, handling almost 62 million travellers. Almost a quarter of Heathrow's passenger volumes were generated from the key transatlantic market. Still, Heathrow's passenger traffic remains almost a quarter down on the nearly 81 million passengers who travelled via the airport before the pandemic in 2019.
Growth in 2022 pushed Heathrow, which was the busiest passenger airport before the pandemic, to be Europe's second busiest by passenger volume last year. Another London area airport – Gatwick – led recovery in passenger numbers last year among leading hubs. Gatwick's passenger numbers jumped from 6.3 million in 2021 to nearly 33 million last year – though that figure remains about 30% less than Gatwick's pre-pandemic high.
Russian airports, which had been among the busiest in Europe in 2021, were hit by Ukraine-related sanctions that limited travel to the country from many international markets. While full-year figures for Russia's two busiest hubs of Moscow Sheremetyevo and Domodedovo airports have not yet been published, data for St Petersburg airport shows passenger number almost unchanged last year on 2021.