JetBlue Airways will become too dependent on much-larger American Airlines.
That is among chief reasons the US government sued on 21 September to force American and JetBlue to end their recently implemented partnership in the Northeast USA.
The pact gives American too much sway over JetBlue, the government says. It also threatens JetBlue's ability to remain a successful low-fare counterweight in an industry significantly consolidated.
US attorneys laid out that argument in the Department of Justice's (DOJ) 36-page federal lawsuit, filed in a federal court on 21 September. The suit asks a judge to order the carriers to jettison a pact known as the Northeast Alliance, which they began implementing this year.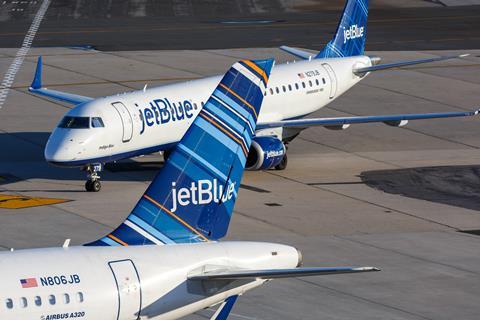 Fort Worth-based American and New York-based JetBlue are defending the alliance, saying it will increase, not degrade, competition.
The government's suit describes JetBlue as unique among US low-cost carriers, citing its significant presence in New York and Boston and noting that JetBlue, like larger competitors, offers two classes of service.
(JetBlue has first and economy classes on flights to London and on some transcontinental routes, though most of its domestic flights are economy-only.)
Those factors have made JetBlue a powerful competitor amid a period of consolidation that left American, Delta Air Lines, Southwest Airlines and United Airlines controlling 80% of the US domestic air travel market, the government says. "In the face of consolidation, JetBlue has provided an important and steadfast source of competition."
US attorneys view JetBlue's alliance with American as eroding JetBlue's competitive punch.
The Northeast Alliance applies to the carriers' operations in Boston and New York City's three main airports of LaGuardia, JFK International and Newark Liberty International. It involves codesharing, revenue sharing, slot sharing and coordinating schedules.
Under the deal, JetBlue has already been expanding in New York by using take-off and landing slots held by American, JetBlue confirms.
The suit notes that JetBlue has an outsized presence in Boston and New York. (Indeed, 36% of its flights will depart those cities in September, according to Cirium schedules data.)
For that reason, "two-thirds of JetBlue's business will be bound up with American as part of the Northeast Alliance", the government says. "JetBlue will be beholden to its larger partner."
The suit says American can wield that influence to shape both JetBlue and the larger air travel market.
For example, if American views JetBlue's Alliance contribution as favourable, American can "reward" the smaller airline by granting it more New York lots or more code shares, the government says.
But, if JetBlue fails to satisfactorily deliver, American can "punish JetBlue and bring it to heel".
"American can, for example, cut off JetBlue's access to American's infrastructure in New York, including scarce take-off-and-landing… slots, on which JetBlue will come to rely," the suit says. "Or, American can terminate the arrangement altogether, leaving JetBlue compromised for having relied upon American."
JetBlue and American insist they will fight the lawsuit. In statements released on 21 September, the carriers say their agreement will increase competition by offering more choices to customers. It will also let them better compete against more-dominant New York players Delta and United, making the Northeast air transport market more equitable, they say.
Thanks to American's slots and "feed", JetBlue says it is significantly expanding its Northeast operation, having announced 32 new routes, including nine it has not previously served.
The DOJ's suit also details why it thinks the pact will lead to higher fares, particularly on routes served by both airlines. If either carrier exits such routes, fares will rise due to less supply – but American and JetBlue will still each benefit by sharing "in their now-ally's increased profits", the suit says.
"Neither airline will have the incentive to undercut the other on price because doing so would simply reduce the revenues each earns under the revenue-sharing arrangement," government attorneys argue.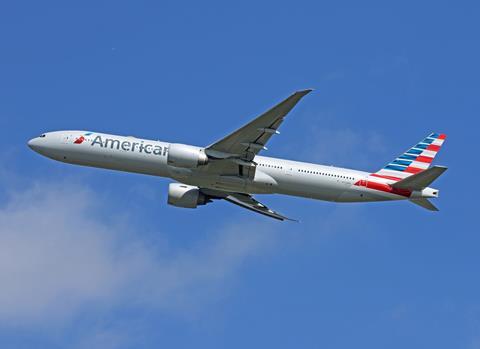 The suit also warns that the alliance will effect air service outside Boston and New York, calling attention to Philadelphia, where American operates a hub. American is likely to cut capacity there because it will rely increasingly on JetBlue's New York operation, about 80 miles (129km) north.
The DOJ also takes aim at the transatlantic market, which in recent decades has likewise been consolidated under control of relatively few airlines.
JetBlue shook up that segment in August when it launched its first transatlantic flights from JFK to London. The carrier plans in 2022 to begin Boston-London flights.
The DOJ's suit notes that American's executives had feared JetBlue's entry would cause transatlantic fares to plunge – as much as 50-60% on the Boston-London route.
The alliance will erode that competitive pressure, the government warns.
"Any effort by JetBlue to undercut American on price would reduce the revenues JetBlue earns under the revenue-sharing arrangement," the suit says. "JetBlue will have less incentive to compete aggressively with American in those markets". It will also have less interest in entering "new transatlantic markets where it would compete with American".
For those reasons, the government calls the American-JetBlue deal a "conspiracy" under a US antitrust law called the Sherman Antitrust Act.
"There are no transaction-specific and cognisable efficiencies that outweigh the likely competitive harms of the Northeast Alliance," the government says.