Low-cost carriers may already hold a strong grip on the short-haul European market from Italy, but it is not stopping them from expanding their presence this summer.
Notably Wizz Air is opening a series of bases in the country as part of a clear focus to develop its presence in Italy. Ireland's Ryanair – already the biggest operator by capacity in Italy on short-haul routes within Europe – has also added bases and capacity, while niche carrier Volotea has steadily lifted its capacity within the country.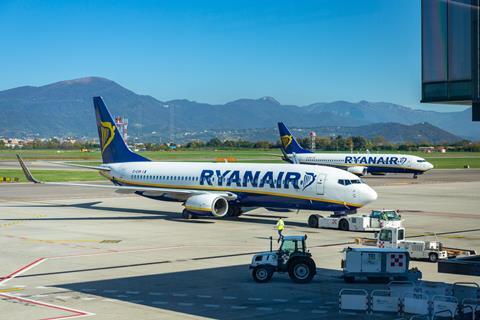 All three airlines have been among the most aggressive within Europe in terms of their intent to rapidly bring back capacity post-pandemic and Italy has been one of the primary markets in their sights.
This in part is driven by the same dynamic that has long made the country attractive to pan-European low-cost operators. The Italian aviation market has always been a fragmented one, with a number of strong leisure and business destination markets at which they could develop presence; strong domestic demand linking the north and south of the country; and plenty of opportunity given the struggles of the country's home operators.
That this latest push comes as Italy works on forming another successor operation for flag carrier Alitalia and following the collapse of Air Italy merely adds to the sense of deja vu.
The same ingredients were in play back at the turn of 2008, when the current Alitalia was established out of a merger of its former assets and those of Italy's then second biggest carrier Air One.
Cirium schedules data shows that in August 2009 – the first summer of the revamped Alitalia and Air One combination – the Italian operator accounted for around a fifth of European short-haul Italian seat capacity. Ryanair was already breathing down its neck as the second biggest operator on these routes with a 19% share, while EasyJet and Meridiana followed.
However schedules data shows for this August shows how the low-cost carriers have tightened their grip in the intervening decade. Ryanair is set to account for almost a third of European short-haul seat capacity – compared with Alitalia which represents only 9%. Both EasyJet and Wizz are set to fly more seat capacity on Italian routes than Alitalia this August.
Capacity on Italy-Europe flights (including domestic)
Airline
Aug 21 seats
Share (%)
Aug 19 seats
Share (%)
Change vs 19
Source: Cirium schedules data
Ryanair
4,219,368
30.7
4,108,104
24.2
2.7%
EasyJet
1,548,636
11.3
2,257,350
13.3
-31.4%
Wizz Air
1,386,578
10.1
566,540
3.3
144.7%
Alitalia
1,243,766
9.1
2,216,123
13.1
-43.9%
Volotea
841,344
6.1
620,690
3.7
35.5%
Vueling Airlines
725,542
5.3
887,202
5.2
-18.2%
Lufthansa
373,044
2.7
535,346
3.2
-30.3%
British Airways
288,084
2.1
426,228
2.5
-32.4%
Air France
253,800
1.8
332,948
2.0
-23.8%
KLM
230,412
1.7
242,242
1.4
-4.8%
TOTAL
13,736,963
100.0
16,967,940
100.0
-19.1%
Volotea and Vueling are the next biggest carriers, meaning five of the six largest operators on European routes from Italy are from the low-cost sector and account for 63% of the seat capacity.
These shares are based on seat capacity across Italian European routes being down around a fifth this August on pre-crisis levels.
WHAT FACTORS ARE IMPACTING THE MARKET
This situation is being driven both by the front-foot growth of low-cost carriers, aided in this Covid recovery period by the relative strength of leisure and VFR demand, and by the capacity cuts and challenges among network carriers in general, and at Alitalia in particular..
Alitalia was in limbo even if before the pandemic hit. The airline entered extraordinary administration more than four years ago, when then key shareholder Etihad Airways Group baulked at a further round of investment without securing staff agreements on cost-savings. A drawn-out sale process was further complicated by the pandemic, prompting Italy to issue an emergency state decree to renationalise Alitalia and establish a successor operation.
Plans for the new carrier, dubbed Italia Trasporto Aereo (ITA), reportedly called for a fleet of around 50 aircraft serving a network of more than 60 destinations. That compares to a pre-pandemic fleet of over 100 aircraft – a level to which the business plan aimed to return by 2025.
Italy had hoped the new operation could begin flights in April, but its launch has been complicated by efforts to secure approval from the European Commission for the plans.
There appears to be some signs of progress, however: the two sides at the end of May reached "a common understanding on the key parameters to ensure economic discontinuity between ITA and Alitalia". That has since been followed by what the Commission describes as a "constructive meeting" on 30 June between Competition Commissioner Margrethe Vestager and Italian ministers.
"We remain in contact with the Italian authorities," says a Commission competition spokesperson.
But the delays mean, even before any concessions are agreed with the EC, that by the time Alitalia's successor takes to the skies, it will have ceded more than four years of growth to its rivals.
RYANAIR KEEPS FOOT ON THE ACCELERATOR
Though Ryanair and other low-cost carriers have also been impacted by the crisis, they have been quick off the mark in restoring capacity in those markets where they can.
Capacity plans remain fluid, but Cirium schedules data for August indicates Ryanair plans to operate nearly 3% more seat capacity on Italian European routes than the same month in 2019. That includes a new two-aircraft base at Turin which opened in mid-June – its 16th Italian base overall.
That comes on top of the Venice Treviso base it opened in March, the addition of three more aircraft at its Rome Fiumicino base from August, as well a further expanded domestic network totalling more than 100 routes – in which it the biggest player by seat capacity in the Italian domestic market in August.
Ryanair's biggest three bases by seat capacity in August include the secondary airports of Milan Bergamo and Rome Ciampino, as well as Bologna. However Italy's primary hubs of Milan Malpensa and Rome Fiumicino also feature among the budget carrier's 10 biggest airports.
While EasyJet has been more cautious in how quickly it is returning capacity, Cirium data shows it is set to be the second biggest operator by seat capacity in August – though its total seat capacity will be around 30% down on pre-crisis levels.
It operates across a number of Italian airports, but its biggest base by a distance remains Milan Malpensa – at which it is comfortably the biggest operator.
NEW COMPETITORS WIZZ AND VOLOTEA
EasyJet has more recently been joined at Malpensa by Wizz Air, which opened a base at the Milan hub as part of series of expansion moves unveiled as lockdowns were lifted last year.
Indeed, the presence of Wizz Air and Volotea, which will this summer rank as the third and fifth biggest operators, respectively, on European routes out of Italy, are among the major differences now to the last time Alitalia was relaunched.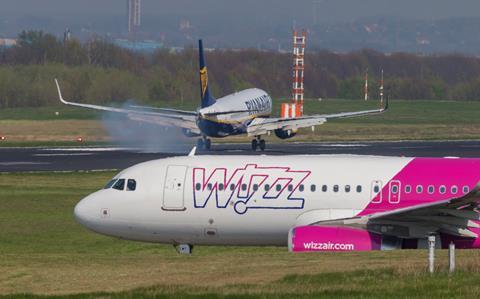 Malpensa is one of a number of new bases Wizz has launched in Italy since the pandemic hit. Naples will become the latest when it opens a two-aircraft base from the southern Italian city later this summer – one of six bases in the country Wizz will have launched since the pandemic.
Whilst operating across a number of Italian airports, Wizz deploys its largest capacity from Malpensa and Fiumicino.
Volotea only launched in 2012 and from the outset has made Italy one of the prime markets in which it operates. In keeping with its strategy of focusing on niche and under-served markets, its biggest operations are out of smaller Italian airports; neither Rome nor Milan feature among its 10 biggest Italian sites. Indeed this summer it will operate just two routes to Greek resorts out of Rome Fiumicino.
Instead its focus has been across a range of Italian airports, serving more than 20, led by its presence at Olbia, Venice and Verona.
It is not just Alitalia that has been struggling among local carriers. Air Italy, the rebranded Meridiana, that was part-owned by Qatar Airways, collapsed immediately before the pandemic hit. Whilst much of the focus of the carrier was to be on long-haul flights, it was operating a dozen domestic routes in August 2019.