China's imminent lifting of the requirement for arriving passengers to quarantine may remove the biggest remaining outlier in terms of Covid-19 travel restrictions, but the muted response from international governments and airlines is a reminder that a return to normality will not be immediate.
Beijing recently dropped leader Xi Jinping's "zero-Covid" policy, and has since begun easing related travel restrictions. Notably from 8 January, China is removing the requirement for arriving passengers to quarantine, though a PCR test within 48h of departure will still be required.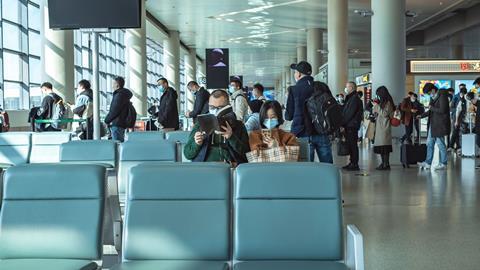 However, the spike in Covid cases within China resulting from the easing of restrictions has prompted many governments to join the USA in reimposing testing requirements for Chinese arrivals.
IATA director general Willie Walsh, a vocal critic of the effectiveness of such travel restrictions, has hit out at the measures – noting the virus is already circulating widely within these countries' borders. "It is extremely disappointing to see this knee-jerk reinstatement of measures that have proven ineffective over the last three years," he says.
Moreover, the easing of restrictions by China has not resulted in an immediate flood of international airlines looking to return capacity or lobbying vocally against returning travel restrictions in home countries. It seems airlines shorn of the Chinese market for almost three years, and with their own capacity and ramping-up challenges still to contend with, are happy to bide their time before returning to a market where the course of the pandemic is still uncertain.
Most US and European carriers say they are still evaluating the situation and have made no decisions yet on restoring capacity beyond previously published schedules, which airline booking engines and Cirium schedules data indicate are set to step up, chiefly to Beijing and Shanghai, this summer.
A complicating factor for European carriers considering a return is the continued impact the closure of Russian airspace – in place since the invasion of Ukraine – has on the efficiencies of serving Asian destinations. With little optimism for an early end to the Ukraine conflict, that in turn seems likely to lead to further competitive challenges given Chinese carriers are still able to overfly Russia.
Within Asia, carriers with large exposure to the Chinese market – like those in Thailand or Vietnam – have so far been cautious about announcing a large capacity ramp-up. This is despite flights to Asian cities like Singapore, Bangkok, Tokyo and Seoul being the most searched-for in China following the announcement of restrictions easing.
Chinese carriers themselves have moved to add back some international capacity; Air China and Hainan Airlines both outlining plans to step up their flights to the USA. There is also an increase in flights to certain Asian points from April, though they still remain well below pre-pandemic frequencies. Airlines like China Southern Airlines and China Eastern Airlines have also announced a small uptick in frequencies to Australia, a popular destination for Chinese tourists.