The new director general of airports body ACI World has grand plans to increase the profile and reach of the organisation – but knows he must first oversee the industry's recovery from an unprecedented crisis, as the coronavirus pandemic halves passenger traffic in 2020.
"The short-term [goal] is of course to help the industry," Luis Felipe de Oliveira tells FlightGlobal during a 17 July interview. "And that [must be achieved] together – airlines, airports, governments, all the ecosystem that is around the aviation industry. We need to work together to get out of this crisis."
De Oliveira – who took up the ACI World role in June this year following the retirement of Angela Gittens and previously served as head of the Latin American and Caribbean Air Transport Association (ALTA) – notes that airports are on track to lose some 60% of their income this year, or nearly $100 billion (€87 billion), as passenger numbers plummet by more than 50%.
His concern is that while governments have bailed out airlines in many cases, airports have been forgotten.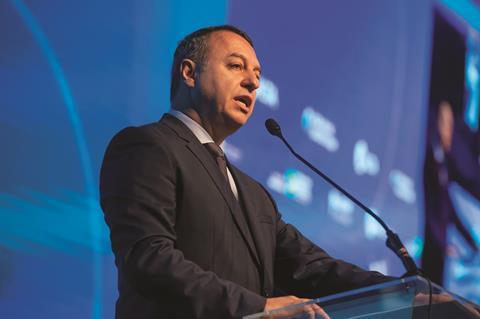 "We've seen in the press the news that airlines are in a bad financial situation, the airlines need bailouts, the airlines need loans," he states. "But in the end, we as airports need the same… We are suffering in the same way. Everybody is bleeding and not only the airport itself but all the businesses that are linked with the airport.
"If you don't have the passengers in the airports, you don't have the passengers on the airplane."
He notes, however, that in contrast to the airline sector, a higher proportion of airports "are owned by governments, and of course that means we don't have, in most of the cases, private investors… some governments tend to bail out and continue to manage the airports, even in these difficult times".
But while "an airline can bring the airplane back to the lessor or sell an aircraft", de Oliveira notes that airports "cannot sell part of the building. We cannot rent to a mall. We cannot use the runway for car racing or that kind of stuff. It's something that is prepared and constructed exclusively for the industry".
Small and medium-sized airports in particular are therefore still "in a really bad financial situation", he states.
Facilities that are heavily dependent on one or two airlines are especially vulnerable, he notes, saying they "probably will suffer, because you are seeing the airlines reducing their fleets and networks".
While such airports might not "disappear" because the infrastructure would still be present, "temporary [airport] closures or even a heavy reduction in activities" are both possibilities, de Oliveira believes.
Future infrastructure developments are also threatened by the current crisis, he notes. Absent help from governments, airports might be forced to go to the markets for money – potentially jeopardising "a lot of future developments" as cash is instead spent on "basic capex", de Oliveira states.
PASSENGER EXPERIENCE COULD SEE PERMANENT CHANGES
As airports grapple with these challenges, the passenger experience is already beginning to change as a result of the coronavirus outbreak, de Oliveira observes.
He likens the health challenges faced by airports today to the security challenges posed by 9/11, and suggests that just as tighter security became a permanent fixture in airports, "health will be the same".
De Oliveira cites the ICAO Council's Aviation Recovery Task Force (CART) document – which is aimed at providing guidance to governments and industry operators to safely restart the air travel sector – as a "great achievement" in ensuring that airports understood early on during the crisis exactly what these health measures should be.
"We did very well working with ICAO and the other organisations like IATA on the CART document, which is a great achievement. [ICAO] was able to deliver something [quickly] – a very good thing as well. It's fantastic, it's a live document.
"In the short-term we need to get people back… and [to] treat health as an important topic for the airports and the airlines for the future."
Towards that aim, de Oliveira explains that on 24 July, ACI is launching an "airport health accreditation" scheme linked to the CART document, through which airports will "receive a stamp that they are following the procedures and they are doing everything they can to keep the [required] levels of health in their airports".
Amid such efforts, de Oliveira urges governments to avoid applying "different [measures] that are outside of the CART" – and baulks at the idea that airports should pay for such schemes.
He also says that consistency in the application of health measures across the world is important, citing CART's function in this regard.
HOW CAN SOCIAL-DISTANCING HAPPEN IN A BUSY AIRPORT?
Regarding the practicalities of social distancing in airports, de Oliveira is philosophical about the challenges ahead as traffic increases.
"The airports are working hard to have all the measures to cope with social distancing – with the cleaners, with the availability of alcohol gel to clean the hands, with masks," he says. "If travel came back to [pre-crisis levels], of course social distancing is something that it would be very difficult to respect inside the airports.
"Basically, we need to take care, we need to be careful – boarding, immigration, customs – but the reality is in the future, if we use the mask, if we take care of the basic stuff in terms of the hygienisation and controls, we will be able to be in a safer space, even with all the people."
He also explains that the adoption of technological developments, such as "touch-free journeys" and "seamless" airports, may be sped up by the current crisis.
"I believe that the situation we are in today will help us to be a little bit faster in the implementation of certain technologies," de Oliveira states.
He notes that while such technology already exists in some cases, implementation is not just contingent on airports affording the associated costs. "Some of them need to be authorised by the local governments, for example," he states of developments such as biometric technology and artificial intelligence-based solutions, which often come with complex data-sharing sensitivities.
"In my personal view, the situation we have today will help to speed this process with the governments," he continues. "Because with the vast use of this technology, the prices are probably going down, that's why the big airports started investing these technologies, then in the near future it will spread to the small and medium airports as well."
LONGER-TERM AMBITIONS FOR ACI
Looking to his longer-term priorities in leading ACI, de Oliveira states that the organisation is "very powerful" but notes that its confederated structure is not necessarily the best way to tackle global challenges.
"That's why we need to find a way that we can work more and more together, especially in global tasks… having a common view in many areas.
"We have this opportunity to embrace the ACI brand and make it even better than it is," he adds.
To achieve this, de Oliveira says that "the whole industry needs to consider us as a partner, and there are certain things that we need to change… if you see our logo, we are the voice of the airports, but I think in certain ways we need to be the voice, the eyes, the ears… everything that is linked with the industry.
"We need to turn ACI into an organisation that is not only an airport organisation, we need to turn ACI into an industry organisation that is respected not only by our airports and by the governments that we work together with and represent, but the whole industry."
While ACI has a strong relationship with ICAO, for example, de Oliveira suggests closer relationships are needed with bodies such as "the big regulators around the world", including the FAA, EASA, China's CAA and Brazil's ANAC.
"These big influencers in terms of the regulatory framework around the globe are very important for us. That is the way ACI will turn little by little into a more important organisation, recognised by many more entities across the industry."
And while ACI has around 600 members in its World Business Partners programme, de Oliveira believes "the interaction is not as I'd expect", noting his experience at ALTA with encouraging better engagement with affiliated businesses and organisations.
He cites technology and sustainability as two areas where stronger partnerships can be forged.
"It is something that you will see more and more in ACI, and of course we are working already on certain kinds of joint project.
"We have long-term projects we are working on that we are inviting certain key players of the industry to support and help us and to deliver these projects, and of course bring a better product and service for our members and the general public as well."