If the narrative among pan-European low-cost carriers over recent years has been one of consistent rapid growth, the approach to restoring capacity of the leading players since the pandemic has been anything but uniform.
Analysis of traffic data released by EasyJet, Norwegian, Ryanair and Wizz Air over recent days illustrates the wide-ranging approaches to bringing capacity back into the market, from the aggressive return of Wizz to the hibernation mode of Norwegian.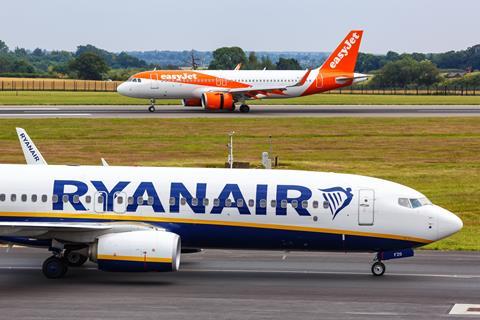 While direct comparison is challenging – given the slightly different ways in which the traffic data has been released – it is clear that Ryanair and Wizz have adopted the most ambitious approach to returning capacity.
Wizz has been seeking to seize the initiative, announcing a number of planned new bases and underlining a determination to exploit market opportunities.
In August, the peak month for traffic in Europe since the initial wave of travel restrictions was eased, Wizz flew 80% of the capacity it flew in the same month in 2019.
That compares to Ryanair flying 60% of its planned capacity in August – though direct comparison is not possible as Wizz's capacity flown is compared with 2019 levels, rather than the higher originally planned 2020 figure used by the Irish operator. Wizz had been the fastest-growing European low-cost carrier, albeit from a smaller base, in the lead-up to the crisis.
European low-cost carrier traffic development: July-September 2020
Airline
Jul
Aug
Sep
Ryanair
Passengers (m)
4.4
7.0
5.1
% of planned capacity flown
40%
60%
53%
Load factor
72%
73%
71%
EasyJet
Passengers (m)
2.2
4.3
2.9
% of planned capacity flown
24%
52%
39%
Load factor
83.9%
76.1%
71.6%
Wizz Air
Passengers (m)
1.8
2.4
1.6
% of previous year capacity
74%
80%
60%
Load factor
61%
71%
65%
Norwegian
Passengers (m)
n/a
0.3
0.3
% of previous year capacity
n/a
6%
7%
Load factor
n/a
62.1%
52.8%
Source: FlightGlobal analysis of airline traffic data
Wizz has also attempted to diversify to several new markets, announcing a string of small new base operations on top of its previously in-train Abu Dhabi operation. Some of these initiatives have, however, found themselves delayed by the fresh travel restrictions, though the network moves continue – Wizz most recently unveiling plans to operate Norwegian domestic flights from November
While Ryanair, Europe's biggest low-cost carrier, resumed fuller operations after Wizz, it remains the largest operator by a distance over the last three months. It flew 7 million passengers in August compared with 2.4 million at Wizz.
Indeed, Wizz is also behind EasyJet in terms of passenger numbers, even though the latter has adopted a more cautious approach to capacity. EasyJet operated just over half its planned capacity in August, in flying 4.3 million passengers.
Norwegian was an outlier even before the crisis. The low-cost carrier had been retrenching as it sought profitability amid mounting financial pressures after years of rapid capacity expansion.
Since the crisis Norwegian has remained in hibernation mode – operating between 20 and 30 aircraft on short-haul routes only – as it targets next spring to resume wider operations. By contrast, EasyJet had over 200 aircraft operating at peak points in August.
Neither Vueling or Eurowings have released monthly data for the period yet as their figures are released on a quarterly basis as part of the results of their respective parents, IAG and Lufthansa Group.
TRAFFIC RECOVERY LOSES ALTITUDE
One trend that is consistent across the low-cost carriers is that demand – and with it capacity – has fallen since a swathe of new travel restrictions were implemented across Europe in September.
EasyJet, Ryanair and Wizz all reported a notable drop in both passenger levels and capacity in September compared with August – above and beyond reductions which could be attributed to August typically being a busier month for air travel than September. All cite the increased level of travel restrictions across Europe as the chief contributing factor for the drop.
With little sign of any immediate change in the travel environment, all too have indicated capacity is to be further curtailed for the rest of the year.
EasyJet is again the most conservative in its capacity outlook. The airline expects to operate around 25% of its capacity during the final three months of the calendar year.
Ryanair, which had already cut its planned capacity by a fifth for September and October, has taken a further 20% out of its October capacity plan. The budget carrier now expects to operate at around 40% of its 2019 levels in October. Group chief executive Michael O'Leary subsequently on 23 September said that "at the moment, November and December look like they're booking at around 10% of our normal volumes".
Likewise Wizz has also twice scaled back its capacity ambitions since fresh travel restrictions took hold in Europe. It had originally hoped to fly around 80% of its capacity in the final quarter of the year, but cut that to around to around 60%. It has since cut this to project capacity of around 50% of previous year levels.