A fresh forecast from airports body ACI World estimates that global passenger levels will more than halve in 2020 as the coronavirus pandemic takes its toll in air traffic.
ACI World today outlined its fresh projections estimating that the crisis will result in a reduction of 2 billion passengers at airports during the second quarter alone and 4.6 billion across 2020 as a whole.
That compares with the record high of 9.1 billion passengers handled at airports in 2019.
ACI World had at the outset of the year forecast a 4.6% increase in passenger levels to reach 9.5 billion. It had already scaled this back as the crisis took hold and at the start of April forecast a reduction of 3.6 billion in global passengers numbers this year.
In line with its new forecast, ACI World expects this even deeper drop in traffic to result in a more than $97 billion reduction in revenues for airports in 2020.
"The impact of the Covid-19 pandemic on airports, the wider aviation ecosystem, and the global economy continues to worsen and represents an existential threat to the industry unless governments can provide appropriate relief and assistance," says ACI World director general Angela Gittens.
"As traffic and revenue have collapsed, the airport industry has taken all possible measures to preserve stability, but the challenge remains that a significant portion of airport costs are fixed.
"Jobs need to be protected and airports given financial support so people can rapidly return to work while operations can be scaled up to meet demand as the industry restarts."
But she adds: "Financial relief and assistance is urgently needed but it is crucial for the prospects of a balanced recovery that any assistance benefits the entire aviation ecosystem and does not target once sector over other."
Growth rates had fallen even before crisis
Passenger traffic growth had slowed in 2019 among the world's leading airports, even before the first impacts were felt of the coronavirus pandemic.
Analysis by FlightGlobal of data researched by Cirium for the leading 100 international airports shows collective passenger numbers stood at just over 4.61 billion in 2019. That marks an increase of 3% on 2018. That growth is in line with the 3.4% rate ACI World reports across all airports in 2019.
This 3% growth though was notably lower than the 5.4% increase leading airports reported in 2018 and marked the lowest rate of the last decade. Indeed growth rates among the leading hubs only dipped below the 5% level twice during that period.
That is in line with the fall seen in airline passenger traffic among leading operators, as carriers pulled back planned capacity growth in the second half of the year amid slowing economic activity and the ongoing grounding of the Boeing 737 Max.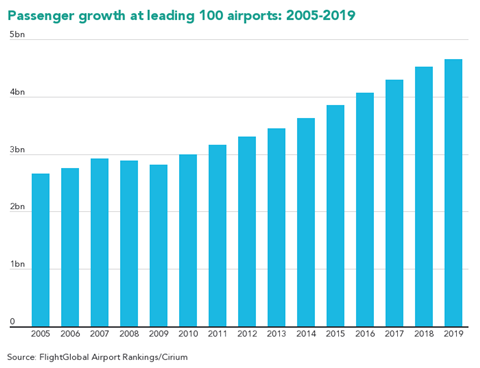 Atlanta remains world's biggest hub
Delta Air Line's Atlanta Hartsfield-Jackson hub reinforced its place as the biggest airport in world in 2019. Passenger numbers climbed 2.9% to over 110 million.
But behind Atlanta, passenger numbers slipped back at several major hubs - as local issues compounded the more challenging market.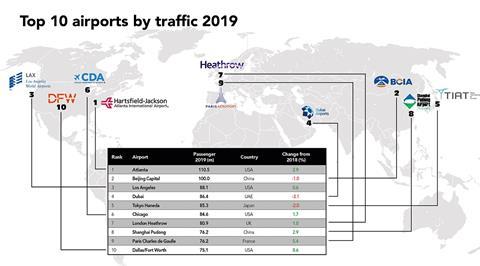 Notably passenger growth at the world's second biggest airport, Beijing Capital airport, slipped 1% to 100 million. That though in part reflected the opening in September 2019 of a second gateway to the city, Daxing. The latter airport is designed to provide relief for congestion at Beijing Capital and a number of carriers moved flights over to Daxing in the last three months of 2019.
Another of the recent fast-growing major global hubs, Dubai International, also recorded a drop in passenger levels in 2019. Passenger numbers fell 3.1% at Emirates' home airport. Alongside tougher market conditions, that reflected the 45-day closure of the airport's southern runway for refurbishment.
Dubai Airports chief executive Paul Griffiths, says: "While customer numbers in 2019 were lower than the preceding year, the impact of the 45-day closure of the runway, the bankruptcy of Jet Airways, as well as the grounding of the Boeing's 737 Max accounted for an estimated 3.2 million passengers over the course of the year, and indicate underlying growth at Dubai International."
The slip in passenger levels enabled Los Angeles International airport to move up to the third biggest airport in the world with 88.1 million in 2019.
Another US airport, Dallas Fort-Worth, was the fastest growing of the 10 biggest global hubs. Passenger numbers rose 8.6% to over 75 million at the US airport, seeing it return to the top 10 for the first time since 2015. That was driven by a near 10% jump in passenger levels at its primary carrier American Airlines, which accounts for almost 64 million passengers at Dallas/Fort Worth.
Hong Kong though dropped out of the top 10 as air travel demand to the territory was hit by the ongoing protests and unrest over the second half of the year. Against this backdrop, passenger numbers at Hong Kong International airport fell 4.2% to 71.5 million.
Other notable drops in traffic among leading airports included the reductions at India's two biggest airports, Delhi and Mumbai.
This reflects the collapse of the country's second biggest airline, Jet Airways. The latter began reducing services early in 2019 as aircraft were gradually repossessed amid its mounting financial problems, ultimately resulting in its grounding in April.
Passenger numbers at Mumbai airport, where Jet accounted for around a quarter of the capacity, were down almost 6% at 47.1 million. Passenger levels were down 2% at India's biggest airport, Delhi, to 68.5 million.
While lower, the relatively low level of traffic reductions in relation to the size of Jet's operations, illustrates the extent to which other carriers moved to rapidly replace capacity on Indian routes.
Which leading airports grew fastest in 2019
In 2018 passenger levels at Delhi had increased 10.1% - one of three top 50 airports to report double-digit growth that year. By contrast, last year none of the 50 biggest airports in the world grew at a double-digit rate.
The highest rate of passenger growth in 2019 among the 50 biggest hubs in the world was at Moscow Sheremetyevo, where passengers levels grew 9% to 49.4 million.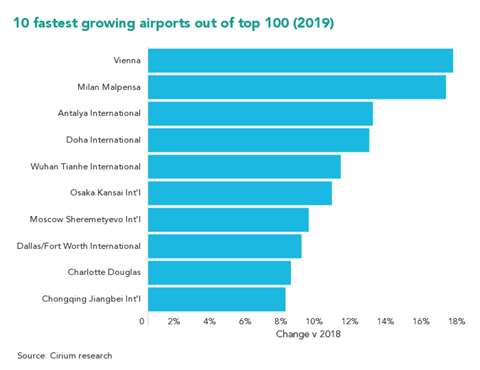 Six airports across the top 100 airports reported double-digit growth in 2019 - compared to a dozen in 2018. That is led by three European airports; Vienna, Milan Malpensa and Antalya.
The fastest rate of growth reported was 17.1% at Vienna as passengers at the Austrian hub reached 31.6 million passengers. That reflects the push to fill the void following the collapse of Air Berlin and its Niki subsidiary, which saw a rush by low-cost operators to fill the void. Notably that included Ryanair expanding through Lauda - the Austrian unit established out of Niki - while Wizz and Level opened Vienna bases and EasyJet significantly raised its capacity.
Vienna Airport had already anticipated that rapid capacity expansion to end, even before the coronavirus crisis - originally projecting passenger growth of 3-5% in 2020.
All this was before the game-changing coronavirus pandemic. The sharp economic impact related to the prolonged national lockdowns means that passenger levels will not only be sharply down this year, but may take several years to return to 2019 levels.
While major carriers consolidating their operations around their key hubs may take the edge off some of the traffic losses for the bigger airports, history suggests it will still take time to recover.
When the financial crisis hit in 2008, passenger levels among the top 100 airports remained down in 2009 and only returned to growth in 2010. Given the economic forecasts of the scale of this crisis, it seems likely that 2019 will remain a traffic high for some airports for potentially many years.
Supporting documents
Click link to download and view these files