In an environment where a rebound in travel to pre-crisis levels in most international markets is off the horizon until next summer or beyond, the speed and scale of the recovery in the US-Mexican market is a stand-out.
Cirium schedules data shows that by May this year, seat capacity on routes between the USA and Mexico was already outstripping pre-crisis levels. That came just a year after the nadir of the crisis, when available seats in the market dropped from a little over 3 million in May 2019 to just 330,000.
US-Mexico monthly seat capacity trend: 2019-21
Month
2019 seats
2020 seats
2021 seats
Source: Cirium schedules data
January
3,374,188
3,331,894
3,278,732
February
2,990,084
3,085,845
2,825,018
March
3,562,103
3,439,971
2,956,671
April
3,231,587
984,285
2,938,524
May
3,059,603
334,219
3,331,636
June
3,181,497
647,451
3,585,026
July
3,365,763
1,150,896
3,841,137
August
3,049,090
1,365,752
3,663,725
September
2,345,200
1,381,069
3,127,752
October
2,580,419
1,875,498
3,343,378
November
2,892,924
2,440,111
3,605,340
December
3,475,587
3,204,829
4,208,861
This trend has continued despite the spread of the Delta variant of Covid-19 in the region, which caused US carriers to dampen some of their early year recovery hopes, and the FAA's downgrading of Mexico's safety status to Category 2 under the International Aviation Safety Assessment (IASA) programme.
Cirium schedules data for October shows capacity in the US-Mexican market is some 30% above pre-crisis levels.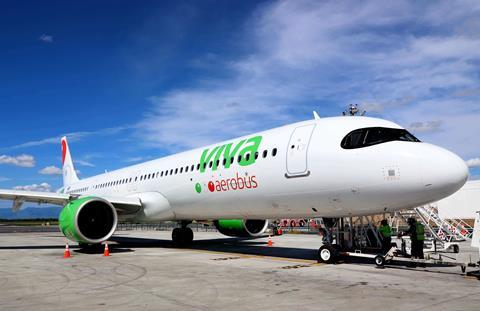 Of the 14 airlines serving the cross-border market in October 2019, all but two are showing an at least double-digit percentage increase in capacity this month by comparison. The only exceptions are US leisure carrier Sun Country Airlines, which has cut capacity on its Mexican routes, and grounded Mexican budget airline Interjet.
Low-cost segment operators have been particularly prominent in growing their footprint on cross-border routes.
Volaris, the biggest low-cost and third largest operator in the market overall, has lifted its seat capacity by 28%. It is flying more than 100,000 seats in October compared with the same month in 2019.
Behind it Southwest Airlines has increased its seat capacity 45%; JetBlue Airways has doubled its capacity; Frontier Airlines almost tripled its seats in the market; and ultra-low-cost carrier Spirit Airlines has lifted its seat capacity by more than three times.
But leading the pack in growth in the market is Mexican carrier VivaAerobus. It was offering 56,000 seats on US-Mexico routes in October 2019. That now stands at over 230,000, making it the sixth biggest player in the market.
Biggest operators on Mexico-USA routes by seat capacity
Airline
Seats Oct 2021
Seats Oct 2019
Change
Source: Cirium schedules data
American Airlines
643,489
530,915
21.2%
United Airlines
595,605
466,781
27.6%
Volaris
470,496
366,378
28.4%
Delta Air Lines
333,790
279,748
19.3%
Aeromexico
284,246
250,575
13.4%
VivaAerobus
230,700
56,136
311.0%
Southwest Airlines
196,972
135,278
45.6%
Alaska Airlines
175,598
124,480
41.1%
JetBlue Airways
161,888
80,364
101.4%
Spirit Airlines
137,754
38,402
258.7%
Frontier Airlines
91,852
32,200
185.3%
Aeromar
16,152
3,168
409.8%
Sun Country
4,836
6,588
(26.6%)
InterJet
0
209,406
(100.0%)
Total
3,343,378
2,580,419
29.6%
VivaAerobus has been among the most aggressive in returning capacity since the pandemic. Last November it laid claim to being first airline in the Americas to return to 100% of its pre-crisis capacity.
While at the point of the Mexican safety downgrade in May, VivaAerobus stressed that the US routes comprised only 14% of its overall capacity, Cirium schedules data shows its expansion into the US market has seen it add a dozen new routes since October 2019. The majority of these new routes were added over the winter and connect to points in bordering Texas, namely Dallas/Fort Worth, Harlingen, Houston and San Antonio.
Cirium schedules data show that Mexico City-Houston, one of the new VivaAerobus routes, has overtaken Mexico City-Los Angeles as the biggest route by seat capacity. Volaris has also started on the route, the two Mexican carriers moving into the space vacated by Interjet since its grounding at the end of 2020.
But much of the additional cross-border capacity increases have been focused on Mexican resort Cancun. Capacity has, for example, more than trebled on Newark-Cancun flights, as United Airlines has doubled its frequency and been joined on the route by new entrants Frontier and JetBlue.
Indeed, it is US carriers that have driven the 76% increase in seat capacity this October compared with 2019 on US-Cancun routes. Frontier, JetBlue and Spirit have all significantly lifted capacity on Cancun routes, while the US majors have expanded off a high base.
By contrast VivaAerobus, which operates a single service to Cincinnati, is the only Mexican operator on Cancun-US routes, accounting for less than 1% of overall seat capacity between the two.